Posted on
Wed, Sep 1, 2010 : 6:30 p.m.
Panhandling in downtown Ann Arbor a concern at DDA meeting; action on skatepark grant delayed
By Ryan J. Stanton
Concerns that panhandling and other crimes may be on the rise in downtown Ann Arbor were aired today at a meeting of the Downtown Development Authority.
Ray Detter, chairman of the Downtown Area Citizens Advisory Council, said downtown residents have been complaining a lot more lately about aggressive panhandling along State and Liberty streets, including at Liberty Plaza, a small city park located at the corner of East Liberty and South Division streets.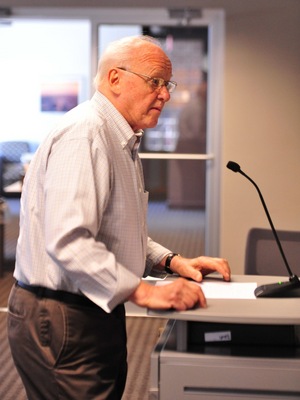 Ryan J. Stanton | AnnArbor.com
Detter and others agreed that the problems, especially at Liberty Plaza, appear to be making a comeback, which Detter attributed to reductions in police patrols. Later in the meeting, DDA board members discussed the loss of downtown beat cops.
"We would all like bicycle patrols and beat cops restored," DDA board member Russ Collins said. "Safety is not only a statistic, but it's also a feeling and a sense of security, so proactive (police enforcement) or a presence can be beneficial."
Detter said Sloan Plaza, a high-rise residential condo development along East Huron Street, near Division Street, recently had an instance where a homeless person broke into the lobby and stole minor items, another case where a bicycle was stolen, and a "smash and grab" where a parked automobile was broken into. He said there also are increased reports of homeless people sleeping behind Sloan Plaza at night.
City Council Member Sabra Briere, D-1st Ward, told AnnArbor.com in a phone interview later that she is planning to introduce a resolution soon calling for the resurrection of a city task force to look at panhandling and other crime issues in the downtown.
"We have an increased number of homeless - that is not going away," Briere said. "Some aspect of that problem with the homeless contributes to the panhandling ... so both things need to be addressed."
A task force that was formed in 2001 is often credited by community leaders for curbing problems at Liberty Plaza and elsewhere in the downtown earlier this decade. The task force came up with the panhandling ordinance currently on the books in Ann Arbor, but a lack of enforcement downtown has some claiming it's not working now.
Briere said she's not sure if downtown beat cops are the answer.
"We can't solve whatever this problem may be by now saying we're going to throw money at it, because frankly we don't have money," she said. "We need to engage the community. We need to have businesses involved. We need to have the downtown residents involved."
In other action at today's DDA board meeting, a proposal to have the DDA kick in $50,000 for the Ann Arbor Skatepark initiative was tabled.
DDA board member Newcombe Clark, who is proposing the DDA support the skate park cause, pushed to table the agenda item before it could be discussed.
Clark learned before the meeting that the Friends of the Ann Arbor Skatepark, the nonprofit group trying to raise money to create a recreational area for skaters at Veterans Memorial Park, has decided against endorsing his resolution. That's because the resolution, in keeping with the DDA's mission to focus its resources downtown, asked that the $50,000 be spent within a quarter-mile of the downtown limits.
That rules out Veterans Park, but Clark said he was hopeful the DDA's money could be spent on signage or other skating-related facilities near downtown, while leveraging additional dollars from the county that could be spent at Veterans Park.
Trevor Staples, chairman of the Friends of the Ann Arbor Skatepark, said last week he was "stoked that Newcombe is enthusiastic about the skate park." After a story appeared on AnnArbor.com and Staples received phone calls from community members, he posted additional comments on the skate park's website this week.
"I feel that it's important we point out that the Friends of the Ann Arbor Skatepark was approached by Newcombe Clark with the resolution for DDA funding that he wanted to bring for a vote before the DDA," Staples wrote. "The Friends of the Ann Arbor Skatepark declined to support the resolution because we could not figure out how the dollars could be used for the skate park, unless the skate park was moved. This is not an option."
Clark had a different story today.
"I was approached by the skate park, as other DDA members were, about possible funding from the DDA for their efforts," Clark said, adding that he was "stretching to find" a way for the DDA to support the project despite its location outside of downtown.
Clark argued that funding a facility for skateboarders in Ann Arbor — even outside the downtown boundaries — ultimately would benefit the downtown.
"Giving skaters a proper facility helps make our downtown safe and is less hard on the infrastructure," he said, characterizing it as a relatively small amount of money.
Clark said it's his intention to bring up his resolution for discussion at the next DDA Partnerships Committee meeting at 9 a.m. next Wednesday.
"Understanding that there is a prism that everything is looked through this time of year — and I can understand some of the trepidation that some of the board members have — I'd be certainly open to tabling it to Partnerships," Clark said.
DDA board member Roger Hewitt was the only one to voice an opinion on Clark's resolution, saying only that he had "a number of problems" with it.
Staples said the skate park committee spent more than a year working with city officials to find the most appropriate location for the skate park. He said he also has talked with DDA members about the viability of another skating spot downtown, but for now his group's focus is on securing funding for the skate park at Veterans Park.
Ryan J. Stanton covers government and politics for AnnArbor.com. Reach him at ryanstanton@annarbor.com or 734-623-2529.