Posted on
Thu, Apr 8, 2010 : 6:15 a.m.
Ann Arbor officials talk about need for cuts to police and fire
By Ryan J. Stanton
Ryan J. Stanton | AnnArbor.com
Ann Arbor City Administrator Roger Fraser recalls better times — just a year ago — when the city had a balanced two-year fiscal plan that included spending $83.25 million in 2010-11.
But with the economy sinking further, and after slashing general fund spending to $77.88 million, the city still has about $1.53 million in red ink to worry about as it heads into the new fiscal year in July.
The Ann Arbor City Council ultimately will approve a balanced budget, but the cuts will be felt this year, Fraser said.
Fraser laid out the details of his 2010-11 budget plan at a town hall forum Wednesday night attended by about two dozen residents and taped for rebroadcast to the entire city on CTN.
As the size of city government shrinks, Fraser said city officials continue to pursue opportunities for regional collaboration and explore privatization of operations. He spoke of efforts under way to consolidate services with Washtenaw County and other surrounding municipalities and reminded the crowd of successful efforts to form a joint city-county office of community development in recent years.
"Many of you will remember that several years ago there was a countywide millage that authorized the overhaul of public safety radio systems," he said. "That is the 800-megahertz initiative. We are in the process this summer of establishing a joint dispatch operation with the county for police services, and again, the experiment here is to have county employees and city employees working side-by-side."
Talks of regional cooperation on fire services also are ongoing, Fraser said, announcing plans for increased cooperation this summer.
"We've recently reached an agreement with the city of Ypsilanti and Ypsilanti Township where we have a functional fire district," he said. "And what that means is that, rather than assigning people to fires based on political boundaries, we're taking a look at where the equipment is, where the stations are, and where the fire is. And the closest equipment, the closest people — whether they're in Ypsi city, Yspi Township or the city of Ann Arbor — respond to that fire," he said. "We've developed a set of protocols around that that we're in the process of formalizing."
Fraser's budget contemplates reducing the city's full-time employee count from 766 to 706. That includes eliminating 20 positions in police and 20 in fire.
On the minds of residents Wednesday night was how those cuts would play out in terms of the city's ability to protect and serve.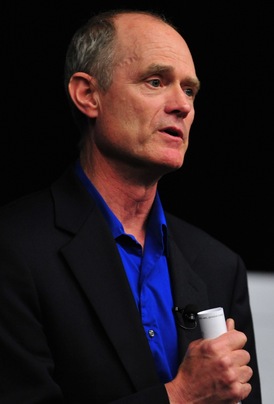 Ryan J. Stanton | AnnArbor.com
"We're not proposing in this budget that we can provide the same level of services in 2011 that we did in 2010 or 2009," Fraser said. "We will do everything we can to minimize those impacts. But it's going to take a whole lot of creative work on the part of our people — both managers and folks on the line — to try to optimize what happens. You'll see some changes."
With police and fire making up half the general fund budget, Fraser said they couldn't be protected from cuts in this year's budget.
"As we talked with council about this, it was their belief and it's my belief that we didn't want a community that was strictly police and fire — that we cherish our parks and we cherish a lot of things that we do," Fraser said. "We need still to do code enforcement, we still need to do good planning — we need to do a lot of those things — and so this is an effort in some ways to catch up, because safety services now represents about 52 percent of our total budget. It used to be closer to 40 percent."
Mayor John Hieftje said the City Council isn't necessarily going to agree with all of Fraser's recommendations, but his comments at Wednesday's forum supported many of Fraser's notions.
"One of the things that we have been fortunate of in Ann Arbor is that our crime rate has been going down," Hieftje said. "Now it doesn't go down steadily every year ... but it's down 15 percent from 2002 and 2003."
Hieftje said it's important to have four firefighters on the scene of a fire as soon as possible and, despite cuts, the city will do everything it can to make that happen.
Fraser said the new fire chief believes that even with 20 fewer firefighters, all five stations can be kept open — though there may be "rolling closures" where a station may be closed on a given day.
"One of the strategies that we believe may very well work is we have two stations where we have more than one engine company," Fraser said. "And if we distribute all of those trucks to the five stations, we can keep them all open, and that's what we're hoping to do. We're also at the same time planning to reduce the number of supervisory and managerial ranks in the service and push down the number of people out of the administration and onto the street."
Fraser addressed how city leaders came to achieve a 3 percent reduction in compensation for all nonunion employees — a budget directive handed down by the City Council.
Fraser revealed the reduction, which affects him, doesn't actually involve any decrease in pay. He and the city's budget team worked to achieve the savings by increasing employee costs for health insurance, among other changes to benefits.
"We have a longevity program that allows people who have a certain number of years to get a flat-rate amount just for longevity — it starts at the end of five years and it increases in five-year increments after that," Fraser said. "That goes away. There are a number of things like that that, in total, wind up to a 3 percent reduction in total compensation for nonunion employees."
Fraser said the city has been able to make those kinds of changes unilaterally with its nonunion employees. The city has not had luck, however, trying to wrest concessions from the city's labor unions.
"Because of the state laws related to collective bargaining — particularly for emergency services personnel — we have had very little success," Fraser said. "For police, particularly, they still have fully paid health care. Their contributions to retirement have not changed. They still have virtually all the benefits that they had in 2005. We're negotiating at that, but they can be as obstreperous as they want to be and our recourse is to go to 312 arbitration."
One resident at Wednesday's forum asked Fraser why the number of traffic citations is down and whether it corresponds to a decrease in police officers.
"It's sort of an interesting trend," Fraser said. "It's not just in Ann Arbor, but it's around the state that it's down. The other thing that was also part of our revenue shortfall that I mentioned (is that) the district court is down several hundred thousand dollars in revenue compared to their forecast. Their actual caseload has fallen off. The number of filings in the district court has dropped dramatically, and that also then directly relates to the amount of money they collect."
Fraser said he was at a loss to explain the trends as one would typically expect the numbers to increase in a tough economy.
As further cost-cutting is considered, Fraser said the city owes it to citizens to explore privatizing operations like the Huron Hills Golf Course. He also plans to explore outsourcing building inspections, plan review and other planning functions.
"The Chamber of Commerce has complained and complained and complained that we have not made adequate use of the private sector to provide services ... and that the private sector can do it more cheaply than we can," Fraser said, adding those arguments could very well prove true.
Fraser said the city also will be evaluating over the next year whether it makes sense to get out of the solid waste business. He noted that between now and June 2011, between 40 and 60 people in the city's AFSCME union — many of whom work in solid waste, street repairs, etc. — are expected to retire.
"Their contract expires a year from now," Fraser said. "We believe that there are reasons why a number of them will want to go on before we start seriously sitting down and talking about a new contract. And with that in mind, we're also trying not to hire replacements for those folks."
Ryan J. Stanton covers government for AnnArbor.com. Reach him at ryanstanton@annarbor.com or 734-623-2529.