Posted on
Wed, Apr 7, 2010 : 6 a.m.
Ann Arbor city administrator unveils 2010-11 budget recommendations
By Ryan J. Stanton
Ryan J. Stanton | AnnArbor.com
Ann Arbor City Administrator Roger Fraser is expected to lay out his recommended 2010-11 budget at a town hall forum tonight. But even after trimming millions of dollars, his plan doesn't entirely close the city's projected budget gap.
The 240-page budget document obtained by AnnArbor.com outlines Fraser's proposals to reduce city services and cut costs with little reliance on new revenue.
Ann Arbor residents are invited to attend tonight's town hall meeting from 7 p.m. to 9 p.m. at CTN's studios at 2805 S. Industrial Highway. Fraser and other city officials plan to answer questions after the budget is presented.
Fraser's budget recommends reducing the city's work force from 766 to 706 full-time employees. He proposes the following job eliminations:
20 in police services
20 in fire services
10 in public services
6 in community services
2 in 15th District Court
1 in the attorney's office
1 in financial and administrative services
Reductions in staffing levels — combined with other cuts — have closed most of the $5.2 million gap. But even with general fund expenditures reduced to $77.88 million, Fraser's budget still leaves a $1.53 million deficit for the next fiscal year.
Fraser points out several lingering issues could have a material impact on the budget. Those include a potential $2 million transfer from the Downtown Development Authority, a special assessment district for the cost of street lighting, an increase in parking fines, and results of new DDA parking system recommendations.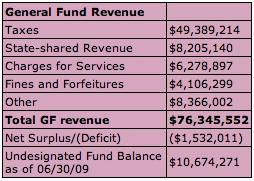 Fraser also notes next year's general fund budget has $3 million in one-time expenses. Minus those costs, the general fund is structurally balanced with $74.86 million in recurring expenses and $76.35 million in recurring revenues.
Fraser said his staff has worked to reduce recurring expenditures by $6.36 million — or 7.8 percent — compared to fiscal year 2009-10. But recurring revenues also are decreasing by $8.16 million, or 9.7 percent.
The city's undesignated fund balance as of last June was $10.67 million, which could absorb the deficit if money from the DDA and other sources doesn't materialize.
"This proposal has been difficult to prepare in light of the hard choices that need to be made in order to present a balanced plan," Fraser wrote to the mayor and council members in his budget memo this week.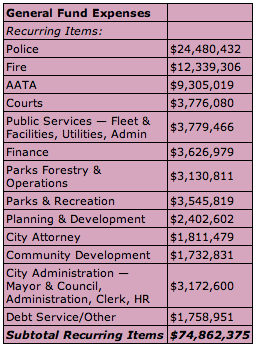 "It is tedious and painful work to prepare a budget when the economic times are so very bleak, as now. We know that our job is to serve the citizens of Ann Arbor in the very best way possible with the money we have available. Getting to consensus around an expenditure plan is more difficult than ever when the choices look and feel draconian."
As directed by the City Council, Fraser's budget includes a 3 percent reduction in total compensation for all nonunion employees, including himself.
Fraser said while the city has been able to reduce compensation costs for salaried and fire department employees, negotiations with the rest of the city's bargaining units remain ongoing. The firefighters union agreed to a 4 percent reduction in pay in its last contract in exchange for the promise of no layoffs through June. It now appears layoffs will be forthcoming starting July 1 under Fraser's budget.
Fire department spending is being trimmed to $12.34 million, about a $1.85 million — or 13 percent — reduction from the amount budgeted at the start of 2009-10. The number of full-time employees is dropping from 94 to 74.
Police department spending is being trimmed to $24.71 million, about a $1.75 million — or 6.6 percent — reduction from the amount budgeted at the start of 2009-10. The number of full-time employees is dropping from 182 to 162.
Overall, the city's spending on public safety is being reduced by $3.6 million — or about 8.9 percent. It marks the first time in several years that the fire department has seen notable cuts. 
The police department has been cutting back for the last several years, dropping from 210 full-time employees just two years ago to the 162 now proposed in next year's budget.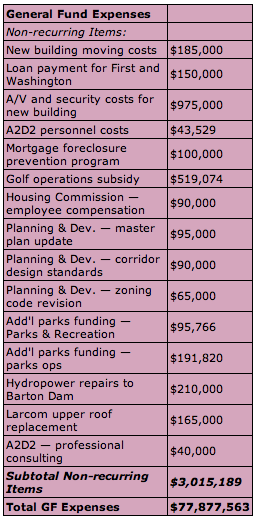 Fraser's proposal shows the budget for the mayor and council growing from $348,917 to $354,818 next year, largely due to an increase in transfers to the city's information technology fund.
The Ann Arbor City Council will get to make changes to the budget before it is finalized and adopted. Fraser plans to go over the budget in detail at the council's next meeting at 7 p.m. April 19.
A public hearing on the budget is planned when the council meets again at 7 p.m. May 3. The council then meets one more time at 7 p.m. May 10 for a work session before the budget is adopted May 17.
Fraser said the state of Michigan and the city of Ann Arbor continue to face serious challenges. He points out municipalities likely will be the last entities to recover due to a lag in property tax revenue increases.
The city's reliance on property taxes continues to increase as other forms of revenue — such as state-shared revenue — decrease or remain flat. At the beginning of this decade, the city received more than $14 million annually from the state. By last year, that had dropped to about $10.7 million, then down to $9.1 million this year. Fraser's budget has that going down to $8.2 million next year.
Compounding the city's problem, Fraser said, property tax revenue is on a decline driven by a negative inflation rate, a weak real estate market resulting in lower taxable values, and the removal of the former Pfizer property from the city's tax rolls due to its acquisition by the University of Michigan.
In addition, the city will see increased costs for retiree pensions and health care next year, Fraser said.
"As the city adapts to the economic environment, it is important to remember the many changes city government has already undertaken over the past decade," Fraser said. "Virtually every area of the city has been restructured and reorganized. Staffing levels ... have fallen from 1,005 to 706 FTEs."
Total spending across all city funds in 2010-11 is budgeted at $341.9 million, while $359.9 million is shown on the revenue side. Though the general fund shows a deficit at this point, other funds collectively show an $18 million surplus.
Tom Crawford, the city's chief financial officer, said despite the fact that some funds will show a surplus next year, many of those are restricted funds that can't be tapped to balance the general fund. The surplus is scattered across funds like the pension, employee benefits, water and sewer. Each has restrictions on its use.
Here's a look at some of the key impacts in the general fund under the proposed budget for 2010-11:
Community Services

Reduce funding to nonprofit organizations (-$260k)
Eliminate transfer to affordable housing fund (-$100k)
Restructure planning and development, including eliminating one full-time employee (-$75k)
Keep Mack Pool and the senior center open while incorporating task force recommendations (-$140k per year versus prior year's operating budget)
Increase various parks and recreation fees ($60k)
Allow football parking at Allmendinger and Frisinger parks ($34k)
Increase select planning and development rental housing inspection fees ($70k)
Public Services

Lengthen mowing cycle from 19 to 23 days, but keep hand trimming (-$112k)
Eliminate maintenance in 17 parks, except for right-of-way (-$52k)
De-energize certain lighting on DTE poles (-$120k)
Shift right-of-way tree planting to storm water fund (-$142k)
Implement loading zone fees ($20k)
Parking revenue from 415 W. Washington and S. Fifth Ave. surface lots ($180k)
Increased facility operating expenditures reflecting new court/police building ($277k expense)
Remove plan for installation of new parking meters, except Depot Street (-$449k)
Financial Services

Eliminate vacant budget office position (-$90k)
Reallocate accounting position to new financial system project (-$82k)
Eliminate professional consulting except auditor, fraud hotline and labor work (-$65k)
Recognize cost savings from installation of new phone system (-$165k)
Safety Services

Eliminate 15 FTEs in police (one vacant) in addition to five vacancies mid-year 2010 (-$1.6 million)
Reduce police vehicles (-$270k)
Reduce 20 FTEs (one vacant) in fire (-$2 million)
City Clerk

Eliminate publishing costs (-$24k)
Eliminate overtime by closing service window on Fridays during elections (-$17k)
District Court

Hourly staff work week reduced to 37.5 hours per week
Salaries for magistrate, court administrator, deputy administrator and probation supervisor reduced by 3 percent, financial manager to $55k
Eliminate three FTEs (two vacant), including one after move-in to new building
Other Funds
Outside of the general fund, Fraser has outlined the following actions that could further change the way the city provides services:
Issue a request for proposals for private sector management of Huron Hills Golf Course
Evaluate if Huron Hills Golf Course can be self-sustaining with privatized management
Parks millage resolution — eliminate the provision for automatic 3 percent increases for Natural Area Preservation
Repurpose an FTE in parks to coordinate citizen volunteers to help keep parks clean
Reopen discussions with Ann Arbor Public Schools and Washtenaw County Parks and Recreation about opportunities for collaboration/consolidation
Optimize parks capital improvements using a guideline to focus on improvements that reduce operating costs
Reorganize planning and development, but continue to explore outsourcing inspections, plan review and planning
Change leaf pick-up service to eliminate on-street pick-up
Analyze and recommend whether solid waste collection can be franchised and privatized
Outsource compost operations
Talk with council about revenue options for future years
Tonight's meeting will be taped for later replay on Channel 16. Visit the city's website at www.a2gov.org/ourtown for replay details or visit www.a2gov.org/ctn for online video on demand replay options.
Ryan J. Stanton covers government for AnnArbor.com. Reach him at ryanstanton@annarbor.com or 734-623-2529.