Posted on
Tue, May 3, 2011 : 5:58 a.m.
Ann Arbor officials thinking over cuts to human services funding after hearing testimony from service providers
By Ryan J. Stanton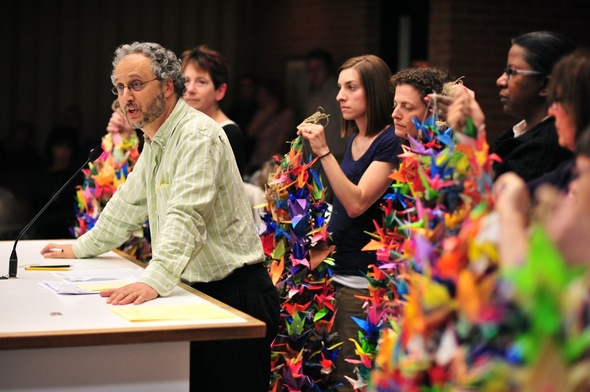 Ryan J. Stanton | AnnArbor.com
Representatives of Ann Arbor area nonprofit agencies came out in large numbers Monday night to lobby in support of maintaining city funding for human services programs.
The Ann Arbor City Council was expected to vote to allocate $1.16 million from the city's general fund to several community nonprofit agencies, which would have been about a $116,000 decrease from last year's levels. But after several members of the public spoke during a hearing on the city budget, council members held off on making a decision.
Council Member Sabra Briere, D-1st Ward, said she wanted to give the council time to reconsider the cuts to human services and explore alternative options before the council votes to adopt its 2011-12 budget on May 16. Council members agreed that's a good plan.
Michael Appel, associate director of nonprofit Avalon Housing, appeared before council members with several supporters holding 4,738 origami cranes. He explained the colorful cranes represented the number of men, women and children who faced homelessness last year and turned to agencies in Washtenaw County for help.
"More broadly in the human services community, we are worried that with the worsening economy and the worsening chances of the people we try to help that next year we might have to come with more cranes," Appel said, "which of course is the wrong direction."
Avalon Housing received $140,974 last year, an amount that's expected to remain the same under the recommended allocation plan. But many others face cuts.
Click here to download the recommended funding plan, including a complete breakdown of current funding and proposed funding for 2011-12 for various agencies.
For the first time this year, the city's human services money will be channeled through a new coordinated funding process approved last fall by the City Council, Ann Arbor Area Community Foundation, United Way, Washtenaw County Board of Commissioners and Washtenaw Urban County Executive Committee. The city, county, United Way and Urban County released a joint request for proposals to eligible agencies for human services funding.
A coordinated funding review committee reviewed all eligible applications and recommended fiscal year 2011-12 allocations of $1.16 million from the city's general fund, $1.68 million from the United Way, $1 million from the county's general fund and $363,154 in Community Development Block Grants channeled through the Urban County.
The various entities retain the authority to approve their own allocations, but have committed to approving allocations in partnership with each other.
Some of the agencies that face losing money include the Salvation Army of Washtenaw County, Ypsilanti Meals on Wheels, SOS Community Services, Big Brothers Big Sisters of Washtenaw County, Women's Center of Southeastern Michigan, Boys & Girls Clubs of Southeastern Michigan and Ann Arbor Center for Independent Living.
"We're very proud that Ann Arbor has through the years maintained human services funding out of general funds at a time when I know few communities do," Appel told council members Monday night. "It's one of the things that makes us all proud to be in Ann Arbor, and I hope you'll find a way to continue that and find a way to minimize the impact of the budget challenges on those who can least afford to have services cut."
Ellen Schulmeister, executive director of the Shelter Association of Washtenaw County, was another of the many who addressed the council Monday night. The Shelter Association, which operates the Delonis Center homeless shelter in Ann Arbor, would continue to receive most of its funding under the recommended plan, including $243,149 from the city.
"Thank you so much for always supporting human services in our community, for being leaders in that, and not being afraid to do it," she told council members. "And for the investment you've made, you have — whether you realize it or not — been paid back hugely for all of that."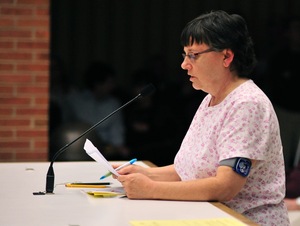 Ryan J. Stanton | AnnArbor.com
Schulmeister told the story of a Washtenaw County resident named Charlie who came to the Delonis Center last year after struggling with homelessness and unemployment. She said his troubles could be traced to his chronic and debilitating migraine headaches.
"In 1998, he received some relief from his headaches after brain surgery," Schulmeister said. "He reeducated himself for a new career, but after a few years, the headaches began again and continued to occur in greater frequency, duration and severity."
In 2006, Charlie lost his job in his new career and became homeless for the first time, Schulmeister said. He then stayed with friends and tried to work a couple of different jobs, but his migraines were just too much for him to handle, she said.
Without health insurance and unable to pay for visits to a doctor, Schulmeister said Charlie was falling through the cracks in the system and did not know where to go for help. Eventually, in 2010, with no income and no place to stay, he turned to the Delonis Center.
"He entered our residential program, was assisted by a case manager who helped him identify his barriers and helped him design a plan," Schulmeister said. "His first step was addressing his medical needs and getting help with managing his migraine headaches."
Charlie was connected with the shelter's medical case manager who helped him enroll in the Washtenaw Health Plan and helped him find a primary care physician, Schulmeister said. His physician prescribed medications, which started to decrease his symptoms, and his case manager initiated an expedited Social Security disability insurance application process designed specially for people who are experiencing homelessness.
With compelling medical records of his disabling headaches, Schulmeister said, Charlie's application was approved early in 2011. And his monthly income from Social Security was enough to take the step of finding stable housing.
The Shelter Association housing coordinator assisted Charlie with finding an apartment, where he moved on Feb. 1, Schulmeister said.
"Because of the generosity of the Kiwanis Club, Charlie was able to furnish his apartment," she said. "Charlie is living independently for the first time in over five years. His medication are making his migraines tolerable."
Under the recommended allocation plan, the city's 2011-12 human services funding would go to the following agencies and programs: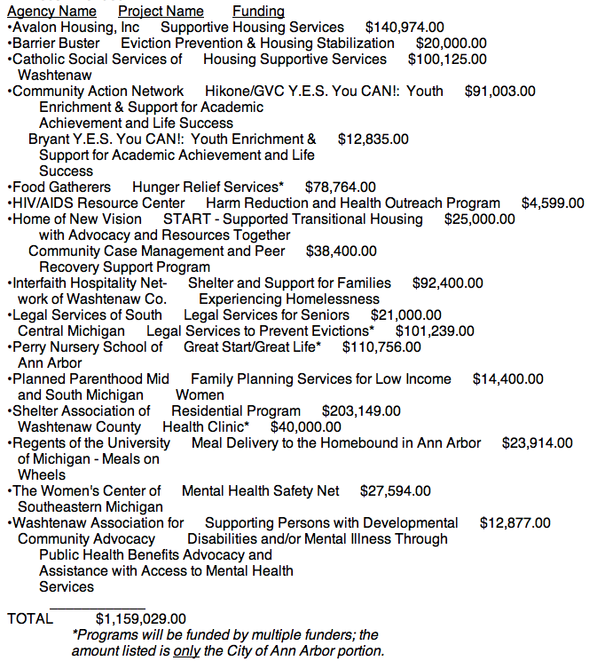 Ryan J. Stanton covers government and politics for AnnArbor.com. Reach him at ryanstanton@annarbor.com or 734-623-2529. You also can follow him on Twitter or subscribe to AnnArbor.com's e-mail newsletters.