Posted on
Wed, Oct 10, 2012 : 5:58 a.m.
Ann Arbor parent group launches online petition: 'Stop over-testing our children'
By Danielle Arndt
Editor's note: This story has been edited to clarify the nature of communication between Ann Arbor Open parents and principal Kit Flynn.
A group of Ann Arbor Public Schools parents has a message for district officials.
And it hopes soon that message will be 500 voices strong.
The group — called STOP, which stands for "Stop over-Testing Our Pupils" — launched a Facebook page and petition this week after more than a year of discussion with like-minded parents, with principals and district administrators and before the Board of Education.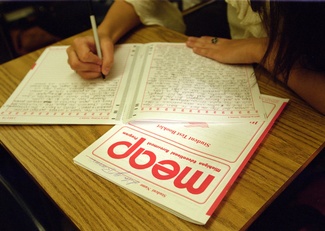 File photo
The parents decided to take their grassroots campaign to the next level with the start of this petition.
"The stress this (over-testing) causes my daughter is ridiculous," wrote Marsha Benz, signer No. 47 of the petition. "Please keep it to one or fewer standardized tests per school year and please don't start so young."
The timing of the launch coincides with MEAP week at AAPS and districts throughout Washtenaw County.
Students in grades 3-9 take the state-required Michigan Educational Assessment Program exam throughout the course of three days, Tuesday-Thursday or Oct. 15-17.
As of 7 p.m. Tuesday, less than 24 hours after the petition opened, 89 signatures had been collected. STOP's goal is 500.
The purpose of the petition is to show and express to administrators the level of concern that exists regarding testing within the Ann Arbor Public Schools community, said Ruth Kraut, a parent at Ann Arbor Open and a local education blogger.
The petition asks AAPS to reduce the number of tests and assessments mandated in its classrooms to only those required by law, leaving further testing decisions beyond the minimum up to individual buildings and principals, and returning more autonomy and trust to teachers to conduct their own multi-faceted assessments of Ann Arbor's students.
Kraut said clearly the petition is too late to impact this fall's round of testing.
"As I see it, this is a long-term campaign," she said. "And it's not targeted at MEAP because that's state mandated."
She said the group just hopes to catch the attention of the board and the administration this fall, as well as other parents and teachers opposed to so much testing.
Kraut has heard from a variety of parents who have spoken to their principals about what they see as over-testing and especially about their opposition to the Northwest Evaluation Association's (NWEA) Measures of Academic Progress (MAP) exam.
Pamela Davis-Kean, another supporter and member of STOP, said it seems like there are a lot of negative sentiments out there, but parents have had no luck getting the administration to take their complaints seriously or in procuring a reasonable way for their children to opt out of the assessment.
In January, Davis-Kean began pulling her son, now an eighth grader at Ann Arbor Open, out of school during the NWEA testing period in protest.
She signs him out in the front office and returns him to school after the test has been administered.
"All we're really asking for is the ability to, as a parent, say we don't want our kids taking this test," Davis-Kean said.
She added she knows of a handful of fellow AAO parents who also have taken this approach.
There were enough parents that Principal Kit Flynn sent correspondence this fall to a few families that previously wrote to the district expressing their desire to exempt their children from the test, Davis-Kean said.
According to parents, Flynn told them school officials would not require parents protesting the assessment to pull their children out of class for a second time during the NWEA make-up test date, nor would staff be allowed to pressure those students into taking the make-up test if parents state in writing they do not want their kids to participate.
"It still requires parents to go in there and physically sign (their students) out during the initial test time. … It's not like we can say we want our children to be able to read a book somewhere else in the building instead," Davis-Kean said.
Ann Arbor spokeswoman
Liz Margolis
said the district does not have any procedures in place for allowing students to opt out or be exempt from taking any assessments.
Requests and letters from families are handled on a case-by-case basis, she said. As of Tuesday afternoon, Margolis was not aware of nor could she comment on the circumstances at AAO under which parents were being permitted to remove their children from class during the NWEA testing time.
Margolis said the district has no intention of changing the NWEA exam. She said the feedback the administration has received from parents and staff has been positive. All parties like seeing the immediate results the MAP assessment provides and the over-testing outcry primarily has been from select parents in the AAO community, she said.
But Davis-Kean said there is a reason AAO is heading up the effort. Parents enroll their children at Ann Arbor Open to get away from standardized curriculums, she said.
"So to add more standardized testing here goes against all of the tenets and reasons why parents would want their children to attend the school in the first place," Davis-Kean said.
She added prior to the NWEA, Ann Arbor Open students participated in "focus studies," where children spent two hours per day engaged in and learning about a topic that interested them.
"It was part of what made Ann Arbor Open unique," Davis-Kean said. "It had to be dropped because of the testing and because of how much time teachers spend preparing for all of the tests in the fall. They don't have time for it."
Danielle Arndt covers K-12 education for AnnArbor.com. Follow her on Twitter @DanielleArndt or email her at daniellearndt@annarbor.com.