Posted on
Wed, Sep 19, 2012 : 5:58 a.m.
Test time: Student-growth evaluations, data to take center stage in Ann Arbor schools
By Danielle Arndt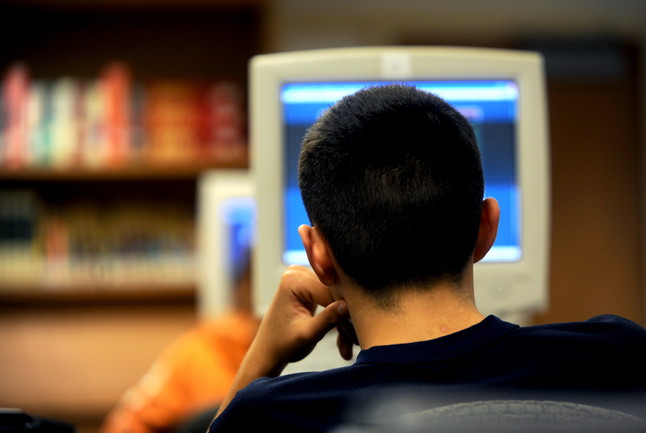 MLive.com file photo
It's testing season at
Ann Arbor Public Schools
.
Armed with one year under their belts, teachers are preparing to launch the district's second year of a student-growth test through the Northwest Evaluation Association (NWEA).
AAPS approved spending $92,700 to purchase and implement the computer-adaptive Measures of Academic Progress (MAP) test prior to the 2011-12 academic year.
The purpose of the test, which adjusts on a question-by-question basis to each child's understanding of the material, is to evaluate students' progress, strengths and weaknesses throughout the school year. It also likely will be tied to teachers' evaluations down the road, as district and union leaders continue to hash out details of a new evaluation process.
Kindergarteners off the hook
The NWEA testing period for fall kicked off Tuesday and runs through Oct. 5.
Students in grades first through fifth at all of Ann Arbor's 21 elementary schools will take the test, as well as sixth- through eighth-graders at Scarlett Middle School and Ann Arbor Open. This is the same group of students who took the test last year.
Deputy Superintendent for Instruction Alesia Flye said the district plans to implement the test at its four remaining middle schools in the future; however, a timeline for expansion has not been set.
"With it only being the second year, we wanted to keep the same framework until we get even stronger at using this tool," Flye said. "And we are getting requests from more of our schools (to be included in these assessments)."
New this year, kindergarteners will not be required to take the fall exam. They will be tested in January and May, during the second and third rounds of the assessment.
"That decision was made based on feedback we received from our building principals and from parents," Flye said. "We wanted to give our kinders more time to get settled into the school year and not have to worry about preparing for an online assessment. We respect the fact that these young students certainly have more transitional things that need to occur in just getting them acclimated to a learning environment."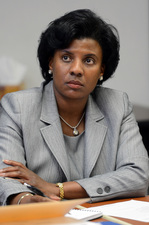 The NWEA MAP assessment measures student growth three times annually. Progress reports are sent home to families in October and June.
In an email to parents alerting them of their child's upcoming testing period, Flye said each student will spend a total of about two hours on the NWEA test this fall.
Since the computerized test is designed to ask questions at each child's individual skill level, Flye said each student has the "same opportunity to succeed and maintain a positive attitude toward assessing."
Parents grow weary
Because Ann Arbor teachers have had a year to work with the test, adapt to the new technology and engage in more professional development on how to use the data, Laura Carino, a first-grade teacher at Dicken Elementary and coordinator of the test for the school, said staff members are primed to have a very successful and beneficial testing season.
"The data is so plentiful … it's really a teacher's dream to have that kind of access to data," Carino said.
But while it may be a teacher's dream, it's more of a nightmare for some parents who have grown weary of all the testing at Ann Arbor schools.
Julie Roth, the mother of a fifth-grader at Ann Arbor Open, ran down her child's testing schedule for this fall:
Sept. 28 — NWEA reading
Oct. 1 — NWEA math
Oct. 9 & 10 — Michigan Education Assessment Program (MEAP) reading
Oct. 16 — MEAP math
Oct. 17 — MEAP science
On top of that, on Friday, Roth's daughter finished the Scholastic Reading Inventory (SRI) assessment, which, according to the program's website, provides "immediate, actionable data on students' reading levels and growth over time." The website also says it helps educators "differentiate instruction, make meaningful interventions, forecast growth toward grade-level state tests and demonstrate accountability."
Roth added also on her daughter's schedule for fall is FASTT Math, another test that boasts differentiated instruction. According to the district's website, it helps students develop automaticity with basic math facts in customized, 10-minute daily sessions.
To Roth, it seems all of these tests evaluate the same skill sets and provide teachers the same data to individualize children's learning. So Roth's question is: Why so many?
"There is not even any time left to teach (kids) anything between all of these tests, and the overlap — there is so much overlap," she said.
Roth said at her child's parent-teacher conferences last year, her daughter's teacher was able to point to where the NWEA test accurately reflected her daughter's abilities and where it didn't.
"(The teacher) didn't seem to need the test. To me, it just seems as if we have gotten to a place in education where we don't trust teachers. I get upset with the idea that we are letting a computerized test inform instruction and curriculum, rather than a real live human being," Roth said.
"Children's instruction is becoming so cookie-cutter and so content based. … (Testing) forces very dry, very fact-based, linear teaching methods. It gives teachers no latitude to explore something in depth or to follow students' interests in the classroom. … We should be engaging kids' curiosity and research skills, not letting a series of tests drive the curriculum."
More testing changes to come
Roth said she understands when the NWEA assessment was added, it hopefully was going to help the district find one test to serve all of its needs. AAPS Board of Education members have expressed a hope that the district will be able to use the NWEA assessment in lieu of whatever computer-adaptive test the state comes up with in a couple years.
In 2014, the state of Michigan is expected to move away from the Michigan Educational Assessment Program exam to an unknown computerized test that also adjusts as students answer the questions. Like the NWEA assessment, the MEAP replacement also will be aligned with the Common Core standards, officials in Lansing have said.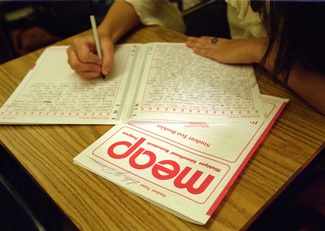 File photo
Roth said she does not understand why the Ann Arbor schools felt it necessary to get ahead of the state. And if the state does not allow local districts to select their own testing methods, which she is doubtful it would, then her children are still spending too much time being tested and will have to learn to take yet another exam, she said.
"We are creating good test takers … but if the world needs engineers, lawyers, innovators, entrepreneurs … we need inquisitive kids and we need risk takers," Roth said. "In order to do that, kids have to feel safe being wrong and safe taking risks. … Our kids are being taught to play by the rules, to get the right answers and to get a good score. … It's the anti-goal of creating successful, high-achieving young adults."
Amy Pufahl, secretary of the Pittsfield Elementary School Parent-Teacher Organization, agrees that students are being tested too much. However, she is a fan of the NWEA assessment.
She found it helpful last year to see how her three children where improving throughout the school year, Pufahl said.
"Having the test cater to the student taking it is more helpful than when the questions are the same. … It's more informative about where students' strengths are and (what areas) they are making gains in than just seeing whether an answer is right or wrong," Pufahl said. "As a parent, I liked the reports with my children's percentile ranges."
A learning curve & data banking
Carino said the NWEA test hopefully does confirm what teachers already know, but the data allows teachers to really break down and organize instruction better, based on an endless selection of categories and outcomes assessed.
She said it differs from the MEAP and other standardized tests in that, not only is the data immediate, but teachers can manipulate the data to compare, highlight or hone in on whatever component they would like. For instance, the MEAP gives one score for math, but the NWEA test permits teachers to analyze how students did on priming, addition, subtraction and other specific areas.
And soon, the district will have a multi-year bank of data for each child in the school system, which teachers will be able to refer to, Carino said. Teachers will have a better understanding of the children in their classes before even meeting them on the first day of school.
Carino admitted the amount of data and the possibilities for using it may seem overwhelming to teachers at first, but as with most things there is a learning curve. She said once teachers adapt and learn to be specific and deliberate about sifting through the data and can know in advance the purpose of their search and how they intend to use the findings, it will be a much more effective assessment process.
Flye said district administrators realize that testing can cause some stress and concerns for families, especially considering the NWEA test is still so new and everyone is still becoming more familiar with the process.
"We certainly understand the anxiety that families and students experience. … In trying to alleviate that anxiety, teachers are really just focusing on the instructional content all school year long," rather than just an intense build-up to the test, Flye said.
Kindergarteners and first-graders do take up to two practice tests prior to completing an NWEA assessment. The purpose is to allow these young students time to practice clicking on the mouse and to acclimate them with the computer-based test, so come test day, they are comfortable with how the program works, Carino said.
She tells her first-grade parents the best thing they can do to help their children's anxiety is to make sure they have a good night's rest the night before and eat a healthy, hearty breakfast that morning.
"I explain to my kids it's like their growth chart at home that shows how much taller they've gotten. This test shows how much smarter they've gotten," Carino said. "We want them to take the test seriously. … I tell them it's not a race, that I'm going to be proud of them regardless of how they do. … This is just an opportunity for them to show me how smart they are."
Danielle Arndt covers K-12 education for AnnArbor.com. Follow her on Twitter @DanielleArndt or email her at daniellearndt@annarbor.com.