Posted on
Tue, Mar 20, 2012 : 2:53 p.m.
Ann Arbor pediatrician Howard Weinblatt must move as part of peeping sentence
By Kyle Feldscher
This story has been updated.
An Ann Arbor mother spoke in court Tuesday, admonishing her daughter's long-time doctor and neighbor Howard Weinblatt, who was being sentenced for peeping on the 12-year-old girl.
"More than 30 years ago, you took an oath that said, 'Do no harm,'" she said. "Sadly, you have broken that oath and you have broken my daughter."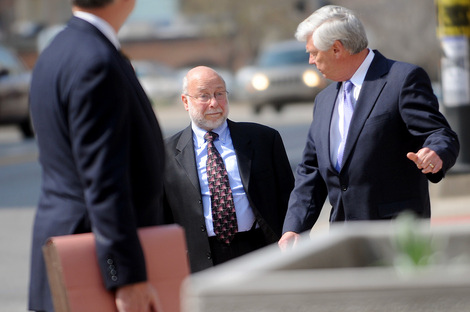 Melanie Maxwell | AnnArbor.com
Weinblatt was accused of watching out of his second-floor bathroom window as the 12-year-old girl changed clothes in her bedroom, according to police.
He pleaded no contest to one count of surveilling an unclothed person in January, facing a maximum of two years in prison for the felony.
On Tuesday, Washtenaw County Trial Court Judge Donald Shelton decided to sentence Weinblatt to five years of probation, which included a condition that he must move from his home, situated just 11 feet from the victim's family's home in Burns Park.
AnnArbor.com is not naming the mother and father of the victim, both of whom spoke in court Tuesday. Doing so would identify the girl, who is a minor and a victim of a sex crime.
Shelton ruled Weinblatt had 30 days to move from his home, must register as a sex offender, must complete sex offender treatment and must pay a $2,000 fine, in addition to other court costs. He has lived in the home since his Nov. 22 arrest and both the girl's mother and father told Shelton that seeing Weinblatt come and go has tortured the family.
The girl's parents both told Weinblatt they held him responsible for ruining a relationship that stretched well beyond the 13 years they were neighbors. The girl's father told Weinblatt that the girl viewed him as a third grandfather.
He said the decision to take their complaint to the Ann Arbor police was one of the hardest decisions of their lives and he couldn't believe his eyes when his wife showed him a video of Weinblatt where he appeared to be masturbating while peeping.
"How could you do this to us, your friends?" he said.
The girl also gave a statement to Shelton, but did so in the judge's chambers and no one aside from the girl, Shelton, the case's lawyers, the girl's parents and Weinblatt was allowed to hear it.
The magnitude of the hearing clearly weighed on Weinblatt. During the minutes waiting for Shelton to enter the courtroom, Weinblatt alternately held his head in his hands, wiped his eyes and hung his head.
He struggled to get any words out for a few seconds when offered a chance to speak to Shelton before the ruling was delivered. Eventually, he offered his apologies to a family he'd known for three generations.
"I have the deepest remorse regarding all the pain and suffering this has caused," he said.
For many years, Weinblatt was a well-respected member of the Ann Arbor community, serving on numerous boards and donating to many causes, according to his lawyer Thomas Cranmer.
Cranmer called Tuesday a tragic and sad day for Weinblatt, a man who had lost his job, his standing in the community, his place on many of the boards he served on and is likely to lose his medical license. No matter what sentence Shelton handed down, Weinblatt had already lost much since being charged, he said.
"The implications of this situation are well beyond what the court can or will impose," Cranmer said.
However, Shelton said Weinblatt should have considered all of those consequences before acting.
"You did that to yourself," he said.
Neither Weinblatt nor the girl's family offered any comments after the hearing was over — the girl and her family walked past a group of assembled media and Weinblatt was taken out of the courtroom through a back door.
The girl's mother and father spoke extensively regarding the relationship their daughter had with Weinblatt before the alleged peeping occurred.
The girl's mother took care of Weinblatt's wife after she broke her arm, going so far as to help the woman wash her hair in the kitchen sink. The girl's father said Weinblatt had told him on Father's Day that he was one of the best fathers he had ever known.
The relationship was far more than simply doctor-patient, far more than neighborly, the girl's mother said. The betrayal had now shaken each member of the family to their core, she said.
"Your behavior sickens me, as it would any decent person," she said.
Note: The name of Thomas Cranmer has been corrected.
Kyle Feldscher covers cops and courts for AnnArbor.com. He can be reached at kylefeldscher@annarbor.com or you can follow him on Twitter.