with poll:

Ann Arbor Pioneer-Huron football brawl: Should suspended coaches be permitted at practice?

Posted on Fri, Oct 19, 2012 : 5:59 a.m.
The suspensions following the on-field brawl started by coaches at Ann Arbor Huron and Pioneer high schools Friday have sparked discussion about the district's existing discipline policies.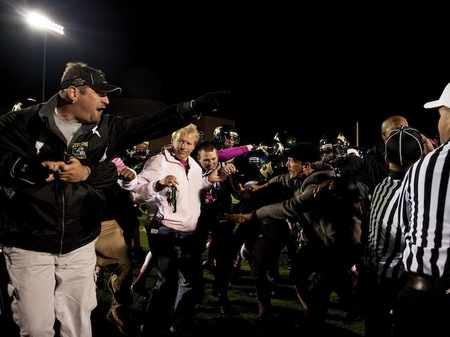 Daniel Brenner | AnnArbor.com
Ann Arbor Public Schools
officials
suspended
Huron and Pioneer head coaches
Cory Gildersleeve
and
Paul Test
, respectively, for one game — on top of the MHSAA's suspension of one game. However, neither suspension applies to practices, which has disgruntled some parents.
District spokeswoman Liz Margolis said a few parents have stated concerns about the coaches conducting practices like normal.
"(Suspended coaches) are allowed to be at the practices right now," she said. "The district does not have a policy that restricts them from being at the practices. … Some board members casually have said, 'We would like to look at this.'"
Margolis said she relayed the message to Superintendent Patricia Green. Margolis said she did not know if any plans were made to place the topic on an upcoming meeting agenda.
In the case of handling suspensions following Friday night's altercation, Margolis said the district went by the MHSAA's policy, in which suspensions only pertain to games. Margolis said the coaches will not be permitted inside the venues of their respective contests on Friday.
School board Vice President Christine Stead said she does expect the board to address the brawl at its next meeting on Oct. 24 in some form. Whether a more in-depth discussion would take place at a Committee of the Whole meeting about discipline policies and practices or not, she said she could not speculate.
Stead did say she had some questions that she would be asking about how AAPS coaches' contracts, in general, spell out consequences and expectations.
AAPS contracts with Professional Contract Management Inc. (PCMI) for coaching positions. This is the same company the district recently discussed using for noon-hour supervisors. However, a contract privatizing lunch employees eventually was voted down, 4-3, by the Board of Education.
Margolis said PCMI hires all non-AAPS-staff-member coaches, which means those coaches not already employed by the school district. She said, for example, Gildersleeve also is a teacher at AAPS, so he is a district employee. However, the Pioneer assistant coach who was relieved of his coaching duties was not a teacher in the district, so the district called up PCMI after Friday's fight and informed PCMI that individual was no longer needed in that position and PCMI informed the individual, Margolis said.
The unnamed assistant coach from Pioneer was fired for instigating the fight. According to numerous accounts, he shoved Gildersleeve.
Margolis said the district's contract with PCMI is drafted in a manner that indicates PCMI employees working in AAPS are required to adhere to the district's rules and expectations.
"Basically it's at our discretion (to discontinue a coach's responsibilities). It's like an at-will employee," Margolis said.
School board President Deb Mexicotte seconded Stead's expectation that the brawl will be a topic of conversation at Wednesday's board meeting.
"Because this was such a serious matter, this gives us the opportunity to look at the policies and procedures we have in place to make sure they are align with what we believe should happen in the future," she said. "And if any suggestions need to be made, to do it now as the incident is fresh in our minds."
Items typically are not placed on the board's agenda until there has been at least some discussion around the board table about them, Mexicotte said.
An undisclosed number of students also were suspended from Friday's football game. It is the practice of AAPS not to release the names or disciplinary actions of students due to the Federal Family Educational Rights and Privacy Act, as well as protections found in the district's Rights and Responsibilities Handbook, district officials said.
The handbook says fighting carries a consequence of up to a 10-day suspension from school and physical assault can result in a student being expelled. Margolis said the handbook also allows for discretion in disciplinary decisions and district administrators chose to follow the MHSAA's lead and suspend students for one game.