Posted on
Fri, Oct 12, 2012 : 10:53 p.m.
One victim sent to hospital, no arrests made after on-field brawl at Huron, Pioneer football game
By Matt Durr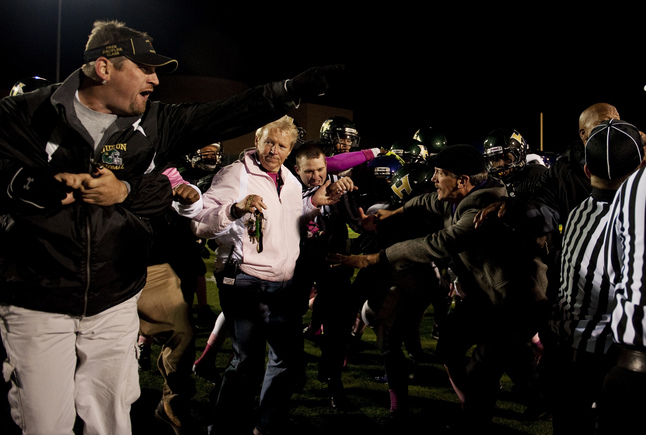 Daniel Brenner I AnnArbor.com
Related stories:
Players and coaches from the Huron and Pioneer high school football teams were involved in a massive fight Friday night that resulted in one person going to the hospital.
According to Ann Arbor Police Lt. Renee Bush, no arrests were made following the brawl, but detectives will be investigating the incident.
"What we're doing right now is we're going to actively investigate and look at the various footage and photos like that to see what started this," said Bush, who was on the field following the brawl. "There was one victim that has gone to the hospital for stitches and we're going to go and follow up on that right now."
The brawl started as the two teams' head coaches met at midfield after the game. During the final minute of play, Huron head coach Cory Gildersleeve could be seen screaming at Pioneer head coach Paul Test from on the field and was asked to step back behind the sideline by officials. Gildersleeve was apparently upset that Pioneer, though well ahead in the contest, continued to run offensive plays, including long passes into the end zone, instead of simply taking a knee to run out the clock. The game had several unsportsmanlike penalties in the final minutes.
When the two coaches came together at midfield the two exchanged words and Test was pushed. A Pioneer assistant coach saw the exchange, struck Gildersleeve and a fight broke out.
Once the fight started, players from both sides began throwing punches and tackling one another. At one point, a crutch could be seen being swung from inside the crowd. Gildersleeve confirmed that a Huron player was struck in the face by a crutch and sent to the hospital for stitches.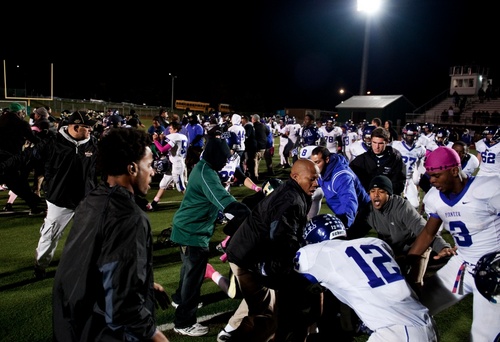 Daniel Brenner | AnnArbor.com
Coaches from both sides and officials tried to separate the teams, but were overwhelmed by the numerous fights taking place.
"I walked up to coach Gildersleeve and said 'I'm sorry we threw that long pass at the end, I didn't call it,'" Test said of the initial confrontation. "He said 'you're in charge what do you mean? You got to control that.' I said 'I apologize,' I called the victory formation at the end there,' and he was pushing me.
"And one of my younger coaches saw that as being disrespectful to me and jumped in and that's when all hell broke loose."
Gildersleeve said he never pushed Test.
"We shook hands and I said, 'Paul what are you doing?' and he said 'I'm really sorry about that, I didn't know that they were calling those plays,'" Gildersleeve said. "And I said 'Paul, you're the head football coach, you don't have control over plays that you think you're calling at the end of the game like that? You take a knee.'"
"He did apologize and I said 'that's fine Paul,'" Gildersleeve said. According to Gildersleeve as that conversation was still going on he was struck by the Pioneer assistant.
As the Pioneer team broke from their post-game huddle, some players taunted and laughed at the Huron huddle, prompting some parents to yell back at the Pioneer players. A Huron parent was told to leave the field by police.
Once the situation was under control, Test and Gildersleeve again met and heated words were exchanged for a second time.
Gildersleeve repeated to Test that Pioneer should have run the clock out at the end of the game. Test again apologized and the two eventually shook hands.
Huron athletic director Dottie Davis declined to comment. Pioneer athletic director Eve Claar could not be reached for comment.
- Pete Cunningham contributed to this report.
Matt Durr covers sports for AnnArbor.com.