Posted on
Fri, May 18, 2012 : 9:25 a.m.
Ann Arbor police continue to investigate Thursday's accidental shooting
By Kyle Feldscher
One person has been interviewed as the investigation into the shooting that sent one man to the hospital Thursday continues, Ann Arbor police said Friday.
Ann Arbor police Detective Lt. Robert Pfannes said the shooting is still believed to be accidental, but police are interviewing as many people as they can who were near the 700 block of North Maple Road Thursday. Emergency crews responded at 12:30 p.m. to that part of the North Maple Estates after being notified that a young man had been shot.
"We're still leaning in that direction," Pfannes said, when asked if the incident was an accident, "but we need to talk to everybody involved."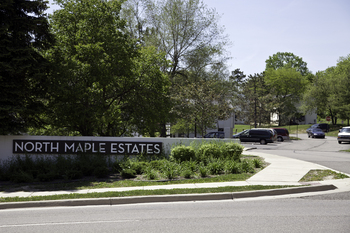 Steve Pepple | AnnArbor.com
The exact circumstances that led to the man being injured were still not known as of Friday morning. The identity of the injured man and an update on his condition was not immediately available. Huron Valley Ambulance spokeswoman Joyce Williams said Thursday he had been taken to the University of Michigan hospital in critical condition immediately after being wounded.
North Maple Estates is a public housing complex meant for families, according to information from the Ann Arbor Housing Commission.
Two Ann Arbor police officers were treated for minor injuries and released from the hospital Thursday evening after being involved in a traffic accident on Ellsworth Road near State Street while responding to the shooting.
The officers were headed to the North Maple Estates and going west on Ellsworth Road with the car's lights and sirens on. Other vehicles in the westbound lane had slowed and pulled off the road, but a 29-year-old Ohio woman made a left turn into Zippy Auto Wash as the police cruiser attempted to go around the stopped cars.
The cruiser collided with the front left end of the woman's car, according to witnesses.
Police said it's standard procedure for all available officers to be sent to emergency calls, such as shootings, regardless of where they are in the city.
Kyle Feldscher covers cops and courts for AnnArbor.com. He can be reached at kylefeldscher@annarbor.com or you can follow him on Twitter.