Posted on
Tue, May 1, 2012 : 9:47 a.m.
Search continues for former U-M student Brice Moss
By Kyle Feldscher
Ann Arbor police continue to search for missing former University of Michigan student Brice Moss but said there's very little new information to report on his whereabouts.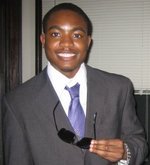 Courtesy of Facebook
He was last seen at 2:40 a.m. Saturday by one of his roommates and was reported missing by his mother after not showing up for the U-M graduation ceremony, police said.
Ann Arbor police Lt. Renee Bush said Tuesday police are actively investigating the case and looking into all potential leads.
"We're hopeful that someone will have contact with him or he will contact his family," she said.
While Moss's mother expected him to graduate Saturday, university officials said Tuesday he hasn't been a student at U-M for quite some time.
U-M spokesman Rick Fitzgerald said Tuesday Moss was a student at the university from the summer of 2008 until April 2011, but has not been enrolled for more than a year.
"We don't know much else about his situation, but we can confirm from records that was the time frame that he was a student," Fitzgerald said.
The investigation into Moss's disappearance is a police case and university officials are supporting the investigation, Fitzgerald said.
Moss's car was last seen at 12:30 a.m. Sunday on Ann Street near a friend's house, after he was reported missing, Bush said. He drives a tan 1999 Lincoln Town Car.
According to Bush, it's possible that Moss originally left Ann Arbor to visit friends at other schools. It's known that Moss had friends at Tulane University, Michigan State University, Central Michigan University and Eastern Michigan University, Bush said.
The investigation has been discussed on Facebook and Twitter, with friends and family hoping to get the word out regarding Moss's disappearance. A Facebook page titled "Help Find Our Friend Brice Moss" had more than 1,320 likes as of 9:20 a.m. Tuesday.
Bush encouraged the community to keep taking action on social media platforms and to keep their eyes and ears open in the coming days for any sign of Moss. She said these are the types of cases in which police need the most help from the community.
"The police department appreciates people keeping an eye out for his vehicle and for assisting and attempting to locate him," Bush said. "This is where our community can help us out."
Anyone with information on Moss's whereabouts or anyone who might have information pertinent to the case is encouraged to call the Ann Arbor Police Department anonymous tip line at 734-794-6939 or 911 if in the city of Ann Arbor.
Kyle Feldscher covers cops and courts for AnnArbor.com. He can be reached at kylefeldscher@annarbor.com or you can follow him on Twitter.