Posted on
Wed, Dec 22, 2010 : 6:21 p.m.
Ann Arbor rejects proposal for Huron Hills Golf Course, citing financial risks and threat to parkland
By Ryan J. Stanton
The city of Ann Arbor has decided not to proceed with a proposal to privatize management of the city-owned Huron Hills Golf Course.
Sumedh Bahl, the city's community services area administrator, sent a letter to Pittsfield Township-based Miles of Golf today, thanking the company for presenting its proposal for Huron Hills three weeks ago. But it's not going to work out, Bahl said.
"I appreciate the time and effort that you and your team invested in developing the proposal," Bahl wrote. "However, the selection committee has recommended to me, and I am in agreement with their recommendation, that the city not pursue your proposal as presented."
The Miles of Golf proposal had caused concerns among residents who feared the city could be jeopardizing valuable natural areas space while putting the city at financial risk. In his letter, Bahl cited similar concerns about the proposal, which called for building a new golf center and driving range and converting Huron Hills to a 9-hole course.
The new facility would have come with an estimated price tag of $3.25 million. Miles of Golf proposed putting up $250,000, while the city would have had to issue $3 million in bonds to cover the rest. Miles of Golf proposed paying the city back over 20 years.
Doug Davis, co-founder and vice president of Miles of Golf, told AnnArbor.com he met with Bahl today and discussed the city's stance. He said it's his understanding that Miles of Golf still has a chance to rework its proposal and resubmit it to the city.
"They want us to rework the proposal so they have a better understanding of it," he said. "They want us to put it in a different context. Basically they just need some of the wording to be clarified to understand what it is we're trying to do."
Davis said the substance of the proposal wouldn't change, but it would go into deeper detail on the financial projections. He said the city still has a choice of losing about $250,000 a year operating the golf course itself, or realizing a $6 million swing over 20 years.
"We're just trying to make something work for both parties," Davis said. "They've got to get out of the business. They've got enough on their plate other than running a golf course."
But Bahl said the Miles of Golf proposal is "dead." And the request for proposals process that Miles of Golf went through is now over, he said.
"What we said is that the proposal that was submitted, that's rejected. Now if they want to do something different, they can do that," he said. "That's where we left it."
Bahl said the city doesn't think the financial risk of the Miles of Golf proposal is balanced by the potential reward. Nor does the city see the use of city parkland for a business heavily focused on retail revenue as appropriate.
Bahl said if there's a different financial proposal, the city might take another look at what Miles of Golf has to offer.
But, he said, "The proposal they presented, the return is not there."
Considering the city is losing nearly $250,000 a year subsidizing Huron Hills, Miles of Golf estimated the city could save $5 million over 20 years, plus profit another $1 million under the proposed public-private partnership arrangement.
Bahl said in his letter that after further review, the city feels the risk of issuing $3 million in bonds is "not commensurate with potential financial benefits."
"Fixed costs for the city such as personnel and retiree health care are not factored in your projected savings, hence the actual savings, if any, would be very minimal," Bahl wrote.
Bahl also said the core focus of the Miles of Golf proposal appears to be retail, with the golf course playing a minor role — which doesn't meet the RFP guidelines.
He pointed out that part of the company's proposal shows total revenues growing from $4.2 million to $5.8 million from 2011 to 2020 — 75 percent of which is from retail sales, and only 7 percent to 10 percent of which is from golf course operations.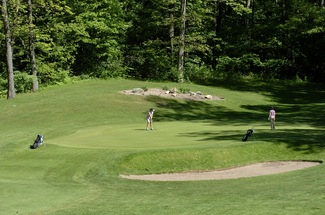 File photo
"Such a disparity between projected retail and golf revenues suggests that the focus of your proposal is expanding your retail at the city parkland rather than golf," Bahl said. "Such a use of the city parkland is unacceptable."
Bahl also called the company's revenue projections for the golf course "overly aggressive," noting the proposal states 10 percent of revenues in excess of $575,000 would be paid to the city. "However, your projected revenues do not reach the threshold of $575,000 ever. Hence, the city would never receive any revenues," he said.
Though the city has been losing money on both of its golf courses — Huron Hills and Leslie Park — the financial picture is improving.
Records obtained by AnnArbor.com this week show rounds of golf played at both courses have gone up in each of the last three years. Rounds played at Huron Hills went from 13,913 to 21,216 from 2007 to 2010, while rounds at Leslie went from 21,857 to 31,042 during that time.
Revenue continues to go up year after year as well. Revenue at Huron has gone from $242,677 in fiscal year 2006-07 to an estimated $353,215 for 2010-11. Revenue at Leslie has gone from $615,448 to an estimated $865,000 during that time.
Colin Smith, the city's parks and recreation services manager, said rounds of golf and revenue have increased since the City Council directed staff three seasons ago to implement improvements recommended by a golf consultant, city staff, the Golf Advisory Task Force and the city's Park Advisory Commission.
The National Golf Foundation collects data for courses across the country. It shows a decrease of roughly 3 percent each of the last four seasons for golf courses in the state of Michigan, while Ann Arbor has seen an increase, Smith pointed out.
Now halfway through the 2010-11 fiscal year, the projected total loss for the city's golf fund is $420,191, Smith said this week. That's about $70,764 less than the $490,955 originally projected in a six-year forecast provided at the time of the improvements in 2008.
"The amount of subsidy that we had planned in the budget for golf is not going to be required to the same extent we had planned, simply because of the good performance of the courses," City Administrator Roger Fraser told AnnArbor.com this week. "Clearly the revenues are up higher than what we had forecasted, so we're delighted with that."
But the city still will be considering its options.
"Golf operations still cost the city several hundred thousand dollars a year, and so hard choices remain," said Council Member Christopher Taylor, D-3rd Ward and ex-officio PAC member.
Ryan J. Stanton covers government and politics for AnnArbor.com. Reach him at ryanstanton@annarbor.com or 734-623-2529.