Posted on
Fri, Dec 3, 2010 : 2:10 p.m.
Huron Hills golf proposal asks city of Ann Arbor to float $3 million in bonds for building
By Ryan J. Stanton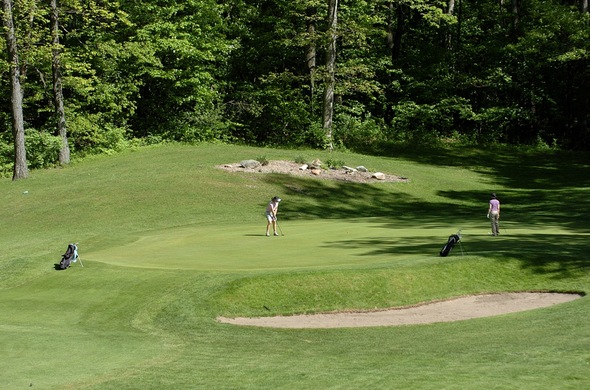 File photo
A for-profit company hoping to take over the city-owned Huron Hills Golf Course made its sales pitch to Ann Arbor officials today, asking the city to help finance construction of an 11,000-square-foot golf center and driving range on the property.
Financial details of the proposal were made known for the first time during a public interview inside city hall with representatives of Pittsfield Township-based Miles of Golf.
Miles of Golf is proposing to operate Huron Hills as an 18-hole golf course for the next few years, investing about $40,000 into improvements during that time.
Within three to five years, the company would move forward with building a new golf center and driving range, which would require converting Huron Hills to a 9-hole course.
The new facility would come with an estimated price tag of $3.25 million. Miles of Golf President Chris Mile said his company would be willing to put up $250,000 upfront, while the city would be responsible for issuing $3 million in bonds to cover the rest.
Mile told city officials his company would make all of the bond payments over 20 years, making the city whole and leaving it with ownership of the building.
Considering the city is losing nearly $250,000 a year subsidizing Huron Hills, Miles of Golf estimates the city could save $5 million over 20 years, plus profit another $1 million under the proposed public-private partnership arrangement.
Miles of Golf's proposal predicts it could turn a profit by making Huron Hills — described as an underutilized course — into a "successful, innovative, and spectacular golf facility."
The proposal drew several questions today from the city's selection committee for Huron Hills, including City Council Member Stephen Rapundalo, D-2nd Ward.
"Clearly the notion of the city taking that kind of risk for a presumed longer-term benefit is just that — it's a big risk," Rapundalo said. "It's a complex set of circumstances they've put forward, and I think you're going to find both staff and the selection committee are going to be honing in very carefully on that. Quite frankly, I have some grave concerns."
The city's exploration into alternative options for Huron Hills has been ongoing for several years as it continues to lose money each year on the golf course's operations.
The city issued a request for proposals in September, hoping to attract a private company that could offer a new cost-saving approach, but would also preserve the land as a golf asset. Miles of Golf was one of two responders — the second is a group of preservation-minded residents who call themselves the Ann Arbor Golf Association.
Ann Arbor Golf's proposal — which called for operating the 18-hole course through a nonprofit foundation — was tossed out by the city's selection committee. The committee decided the group didn't meet qualifications and lacked financial references.
Paul Bancel, president of Ann Arbor Golf and a former member of the city's Golf Advisory Task Force, said he's disappointed but not surprised his group's proposal wasn't selected.
"The RFP was pretty specifically written for a bigger or different idea than ours. It was written for more of a commercial operation," he said. "Ours was obviously not a commercial proposal, but our proposal was one that would preserve the whole park space there. We put the proposal together with the idea of maintaining the land as it is now and hopefully running a golf course."
The selection committee, which interviewed Miles of Golf today, includes Colin Smith, the city's parks and recreation manager; Julie Grand, chairwoman of the Park Advisory Commission; Doug Kelly, the city's director of golf; Mike Reid, a former City Council member; Ed Walsh, a member of the city's Golf Advisory Task Force; Sumedh Bahl, the city's community services area administrator; and Rapundalo.
The Miles of Golf proposal has caused concerns among residents who fear the city could be jeopardizing valuable natural areas space while putting the city at risk financially. Ann Arbor resident Ann Schriber fears Miles of Golf could build a "huge complex" on city parkland.
"Wouldn't such commercialization dismantle the park? I know it is a three-phase process, but once it is signed, sealed and delivered, the park is essentially a goner as their proposal was not to just manage the golf course," she wrote in a recent letter to Mayor John Hieftje.
Susan Morrison, a lawyer representing a group called the Ann Arbor Parks Preservation Association, also sent a letter to Hieftje and City Council members recently. She asked that the Miles of Golf proposal be denied because it's "legally and financially risky for the city."
Morrison argued a retail golf store on public parkland does not comply with the city's zoning ordinance. She also thinks it violates an Oct. 22, 2007, City Council resolution that states all city golf courses "shall remain in the parks system as open space for the purpose of other possible public recreational uses, should the golf operations cease for any reason."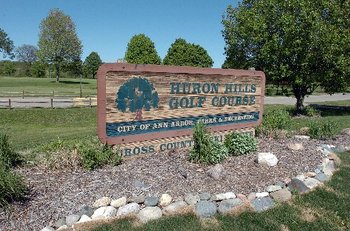 File photo
The city attorney's office is reviewing those claims.
Miles of Golf's plan is to move its present business at Carpenter and Packard roads to the front seven holes of Huron Hills, where it would establish a retail shop, teaching academy and practice facility, including driving range. The 11 holes on the south side of the property would continue to operate as a 9-hole course with possibly two practice holes.
Company officials say Miles of Golf has operated successfully in the Ann Arbor area for 15 years and has grown nearly threefold.
The city's RFP issued in September stated all proposals for Huron Hills must demonstrate a commitment to growing the game of golf, conduciveness to entry-level golfers, and accessibility and affordability, especially for children and seniors. The RFP allows for physical improvements to the property, but the city would retain ownership of all buildings and property.
The golf course sits on 116 acres of land, and is bisected by Huron Parkway. The original course was designed in 1922 by Thomas Bendelow, a renowned golf architect who also designed the Medinah course in Chicago, which has hosted numerous PGA and USGA events.
The city origins of the golf course are traced to September 1949, when the University of Michigan gave the deed to the lower 9 holes and $10,000 to the city in exchange for Felch Park. In November 1951, the city purchased an additional 57.5 acres for the back nine.
Mile acknowledged today that Huron Hills is "one of the prettiest parks in Ann Arbor." But as it stands now, he said, "It's sort of dead. It has a dead feeling to it." He said Miles of Golf's proposal is intended to inject Huron Hills with "some life and vitality."
Miles of Golf appears to have a strong existing customer base, which it could bring to Huron Hills. The company's practice facility is used by many high school golf teams in the county, as well as the U-M and Eastern Michigan University men's and women's teams.
Miles of Golf currently offers golf instruction, practice and equipment at its location at 3113 Carpenter Road. But it doesn't offer customers a place to play.
Doug Davis, co-founder and vice president of Miles of Golf, said he knows some residents who live near Huron Hills are concerned about the possibility of unsightly perimeter fences and lights traditionally associated with driving ranges. But he said none of that is being proposed.
"There's just some things being said that aren't true," he said, mentioning rumors of turning Huron Hills into a "strip mall."
"People are choosing to create buzzwords I think to get other people's attention," he said, adding the long-term plan is to remove two buildings and replace them with a single one-story building that will be "much more appealing" visually.
City Administrator Roger Fraser said the city's only interest in seeking proposals for Huron Hills is to come up with a plan that allows the city to preserve the land as a golf facility, while also recognizing the city has budget challenges it must address.
"We would like to not be subsidizing Huron Hills," he said. "Our ambition at the moment is to stop the drain and do it in a way that preserves the asset."
The city-owned Leslie Park Golf Course also is losing money, Fraser said, but it's doing a better job of covering its costs than Huron Hills.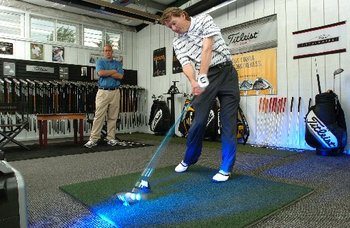 File photo
Fraser acknowledged the city has had private discussions with people interested in buying the riverfront at Huron Hills and developing it, but that's never gone anywhere. He downplayed concerns raised by residents who fear they'll lose natural areas space.
"We have a group of people who I will describe as alarmists who are willing to suggest that whatever we're doing is not going to be honestly stated, and it doesn't seem to matter what we tell them," Fraser said. "There's no validity to it, and it's the same group of people."
Fraser said even if the city moves forward on a public-private partnership for Huron Hills, "95 percent of what you see there today will remain."
Hieftje said he expects a recommendation on Huron Hills to go before PAC in January, and then come before the City Council possibly in February. He said Huron Hills has been a problematic issue for the city since he joined the City Council in 1999.
"We haven't been able to accomplish that much of a reduction in the city's costs at Huron Hills, so we came to the RFP process," he said. He stressed he's "not at all inclined to put money into it, as far as funding a bond proposal or anything like that."
Hieftje echoed Fraser's thoughts, saying he's received several letters and phone calls from residents raising concerns that are "not connected to reality."
"Miles of Golf is not proposing to do a lot of the things that people are saying they would do," he said. "This is a city park, and it needs to be open to our residents to use year-round. For me, the hiking, the sledding, and the cross-country skiing and the stuff that happens in the wintertime is just as important, and also the beautiful land that that represents. I wouldn't want to do anything to take away from that vista. It's something we all enjoy, whether we're golfers or not."
Hieftje said there are other options for Huron Hills beyond the Miles of Golf proposal, but the city must remember at every stage that it's a park.
"The look and feel of Huron Hills — it's a park," he said. "And I wouldn't want to do something where, if it didn't work out as golf, it would be difficult to go back. Because one of the options here I think is if it's found that golf can't work out there, we could make it into a natural area park and have minimal responsibilities as far as maintenance."
Mile acknowledged it's going to be risky for Miles of Golf to take on operation of the golf course. There's also the risk that current projections related to the construction project might not hold up over the next three years, meaning it could take more than $3 million in bonds.
"Life has uncertainties, and this is one of them," Mile said, later adding: "You're absolutely right. If interest rates go crazy, there's going to be a problem."
Mile said his company would be willing to consider taking the current golf course staff under the umbrella of Miles of Golf. But Rapundalo said he doesn't see that happening, and the scenario isn't factored into the financial figures provided by Miles of Golf.
"They mentioned that staff could be absorbed on their payroll rates, not ours. I can't imagine our staff would go along with that," he said. "Which then means the city hangs onto those costs per labor contracts, including health benefits and pension."
Ryan J. Stanton covers government and politics for AnnArbor.com. Reach him at ryanstanton@annarbor.com or 734-623-2529.