Posted on
Mon, Jul 2, 2012 : 5:58 a.m.
Ann Arbor replaces three bus routes for high schoolers with AATA service for fall
By Danielle Arndt
Ann Arbor Public Schools is partnering with the Ann Arbor Transportation Authority to eliminate three high school bus runs for the upcoming school year and replace them with public transit routes.
One run from each of the comprehensive high schools, Huron, Pioneer and Skyline, will be cut. The drivers and buses on those routes will remain employed and will still operate their elementary runs, said district spokeswoman Liz Margolis.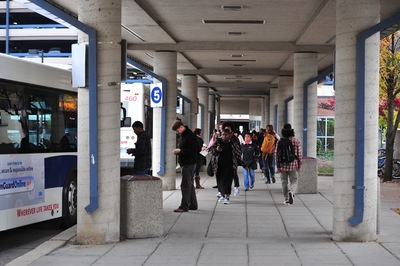 Ryan J. Stanton | AnnArbor.com
The average cost of a bus run for the
Ann Arbor Public Schools
is about $15,000 per year, so eliminating the three high school runs could save AAPS up to $45,000 annually. The district currently contracts with the
Washtenaw Intermediate School District
for transportation.
There will be some cost to the district. Students that will be served by the AATA routes will receive a bus pass paid for by AAPS. The passes will be valid on TheRide's regular direct route service, Monday through Friday, during the academic year.
The fare AAPS will pay for these three runs will be discounted, 50 cents per ride compared to the regular 75 cents per ride for students on AATA buses. However, a transfer will count as two rides because the students would be required to swipe the AAPS-sanctioned passes twice.
Ann Arbor Superintendent Patricia Green said in a statement that the partnership will allow the district to redirect thousands of dollars per year back into the classrooms.
"And not only will we save costs, but it also brings more options for high school students with at least two morning trips available to school and multiple afternoon trips that these students can access for their rides home," Green said.
Increasing transportation efficiencies and reducing transportation costs have been hot topics among Ann Arbor school board members this past school year as they weighed cuts to balance the budget. The board urged the school administration to reach out to AATA as the organization is expanding to see how the district may be able to benefit from the additional services as well.
At a school board meeting in May, when talks about the three possible AATA bus routes for high schoolers surfaced, Trustee Simone Lightfoot expressed disappointment that transferring the three runs was the best the district and the transit authority could do.
Mary Stasiak, spokeswoman for AATA, said Tuesday it is important for the board to note that AATA is "a good option, but it is only one of the options for solving this problem of transportation for the public schools."
The public transit system has provided some seventh-hour busing to the high schools for many years, so it is not unusual for students to use TheRide to get to or from school, Stasiak added.
Right now, picking up the three runs is all AATA can do that is within reason, she said.
"If we have to make major alterations to routes, we have to survey our riders, notify our riders… this was something that we could easily make just a few adjustments for. It didn't take a lot of reworking."
TheRide chief executive officer Michael Ford said the AAPS partnership is "one more example of TheRide's commitment to providing relevant and efficient services in Ann Arbor and continuing to be responsive to the needs of our entire community."
AATA also intends to have a voice in a new administrative working group on transportation that the district is forming to discuss, analyze and come up with a plan for the future of transportation and Ann Arbor schools.
The three affected bus runs are:
At Huron, route 84, which served students in the Earhart Road, Glazier Way, and Green Road area.
At Pioneer, route 88, which served students in the Oak Valley Drive, Waters Road area.
At Skyline, route 48, which operated on Miller Road between First and Maple.
Download a service FAQ sheet from AAPS to learn more about the routes that will be replaced..
Staff reporter Danielle Arndt covers K-12 education for AnnArbor.com. Follow her on Twitter @DanielleArndt or email her at daniellearndt@annarbor.com.