Posted on
Wed, May 16, 2012 : 5:59 a.m.
Transportation debate: $300,000 to $3.5M — how deep will the cuts go in Ann Arbor schools?
By Danielle Arndt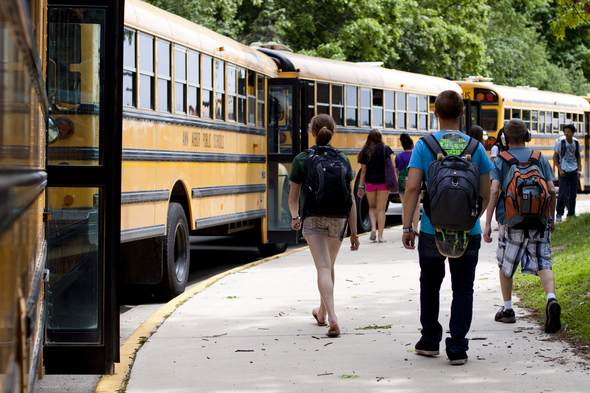 AnnArbor.com I Jeffrey Smith
Ann Arbor
administrators have proposed
a number of deep cuts
to transportation for the 2012-13 school year. But at least one school board trustee is not pleased by the lack of details coming from officials in the busing conversation.
"Transportation is huge. It's just huge," said Board of Education member Simone Lightfoot. "I feel like we are not giving it the attention it requires and the time it requires.
"Whether we keep it, change it, modify it (from Ann Arbor's current agreement with the Washtenaw Intermediate School District), it all has to be done before September. When do we hear how planning and conversations have been evolving? When do we get updated?" she said during last week's board meeting.
Lightfoot said educating children should be the district's No. 1 concern, but if children can't get to school, teachers can't educate them.
Ann Arbor Public Schools is facing a $17.8 million shortfall for 2012-13 and of the $7.3 million to nearly $13.5 million in cuts being considered, cuts to busing could equate to anywhere from $331,028 to $3.5 million.
The board will meet Wednesday night to hear more details on proposed budget cuts.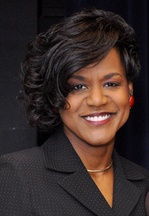 The $3.5 million savings would happen if the district chooses to eliminate busing entirely.
Lightfoot has openly criticized officials with both AAPS and the WISD for the lack of hard data there appears to be on the district's current busing arrangement.
Since winter, the board has asked for a cost analysis and a report on various items related to how the current transportation system has been functioning, such as the timeliness of arrival and departure times, how full the buses are and call data to show the number of complaints coming in.
The WISD gave a transportation presentation in April showing the results of a busing survey that was open to Ypsilanti, Willow Run and Ann Arbor parents and riders. These three districts are part of a consolidated busing system through the ISD.
The results of the online survey can be viewed here.
Overall, Board of Education members were "underwhelmed" with the presentation and the survey results.
AAPS anticipated it would save $1 million to $1.5 million annually by joining the transportation consortium. However, the actual cost savings for 2011-12 was closer to $500,000.
According to a budget presentation at Monday's community forum, busing cost about $5.6 million or 3.02 percent of the district's $185.8 million in operating expenses for 2011-12. This figure does not include the cost of about 2,600 field trips the WISD reported it provided transportation to for AAPS.
District spokeswoman Liz Margolis said funding for field trips is provided at the building level. Each school is given a percentage of discretionary fund dollars to decide how to spend. Classes and parent-teacher organizations also raise money for field trips, she said.
Thomas Moore, transportation director for the WISD, said his department runs a total of 107 routes per day for Ann Arbor. Eighty-two are general education routes, while 25 are special needs.
The district also has 45 mid-day shuttle runs, not including 25 kindergarten runs, Moore said. The kindergarten runs are being eliminated for the fall, with the district's switch to all-day kindergarten. The other mid-day runs are among the proposed cuts for the board to decide on soon.
Moore said the typical cost for operating a single bus on an average route, including driver wages, is $282 per day. Multiplied by 180 school days, each route is estimated to cost around $50,760.
AAPS has 131 buses, which includes 24 spares, and 120 drivers, Moore said. There are also about 32 bus monitors for Ann Arbor.
In January, the AAPS Board of Education charged administrators with reaching out to the Ann Arbor Transportation Authority to discuss possible partnership opportunities as well as:
Speaking with the WISD to negotiate a better deal for the services it provides
Breaking ties with the WISD for busing and putting out a request for proposals to privatize transportation
Breaking ties with the WISD for busing and returning to operating its own busing system again, with cuts to routes and public sector employees
Eliminating busing entirely or eliminating busing to the district's high schools
Lightfoot said she had expected some type of report on transportation prior to passing the budget, revealing some alternatives and, in particular, what type of collaboration might exist with the AATA.
Superintendent Patricia Green said the administration has been in ongoing conversations with the AATA about busing passes and three routes that the district may be able to benefit from. But Green said AATA has not been able to give the district any definitive answers yet.
Lightfoot called Green's update "unacceptable."
Board President Deb Mexicotte said in a phone interview late last month, she does not anticipate any changes in the district's transportation provider for fall.
The board will hash out more details of the proposed budget cuts at a Committee of the Whole meeting at 5:30 p.m. tonight at the Balas Administration Building.
The proposed transportation cuts could include:
Combine bus runs for Bryant and Pattengill elementary schools for a budget reduction of $16,560
Eliminate the 4 p.m. middle school bus runs for students attending after-school programs ($84,284)
Eliminate the midday shuttles from the comprehensive high schools to Community High School ($230,184)
Eliminate transportation to and from the district's "choice" schools, Ann Arbor Open, Skyline High School, Roberto Clemente and Community ($266,400)
Get rid of high school busing entirely ($545,000)
Get rid of busing to all schools, with the only exception being for special needs students ($3.5 million)
Download the district's complete 2012-13 budget presentation here.
Staff reporter Danielle Arndt covers K-12 education for AnnArbor.com. Follow her on Twitter @DanielleArndt or email her at daniellearndt@annarbor.com.