Posted on
Sat, Oct 29, 2011 : 5:56 a.m.
Banners flying over Michigan Stadium part of campaign to raise awareness of neighborhood pesticides
By Juliana Keeping
Football fans who look in the sky Saturday before the Wolverine's showdown with Purdue may catch a glimpse of a banner that's a little different from the birthday wishes and car dealership ads typically flown over the home game crowd.
Melanie Maxwell | AnnArbor.com
Scio Township resident
Linda Weiss
, 72, has commissioned an airplane banner to get across the message: Kids deserve fresh air, too.
Weiss paid $400 for the plane-towed ad to kick off a campaign she hopes to raise awareness about pesticides commonly applied in neighborhoods. She says the pesticides contain toxins that can hurt people, and she specifically wants to raise awareness to protect children.
"It's a no brainer," she said.
Chemical sensitivity remains medically controversial, with organizations like the American Medical Association not recognizing it as a medical disorder.
However, Weiss said a number of studies have linked an increase in childhood cancers like leukemia to pesticides, she said.
According to the Centers for Disease Control and Prevention, pesticides can increase crop production, preserve produce, control exotic species and mitigate insect infestations.
About 1.1 billion pounds of pesticide are used annually in the US, including insecticides, rodenticides, sanitizer, fungicides and herbicides.
Weiss says she wants pesticides used on lawns and trees around homes banned and has started to petition on Change.org and a website to drum up support for the cause, in addition to the advertising fly-over at Michigan Stadium before and after the noon game Saturday in Ann Arbor.
She said she doesn't understand why people buy organic food, but turn a blind eye to the pesticide use around them in neighborhoods.
Pesticide use has been an issue for Weiss since the 1980s, when she became ill after exposure to the sprays while living in Milford, she said. A doctor diagnosed her with multiple chemical sensitivity, which is also called environmental illness. She said her sensitivity causes symptoms like dizziness and heart palpitations when she's exposed to common substances like perfume or car exhaust.
Weiss said her experience fueled a homegrown campaign that eventually resulted in the creation of a pesticide notification registry in Michigan.
Administered by the Michigan Department of Agriculture and Rural Development, the registry requires applicants to provide a physician's certification and distance requirements for notification of pesticide use. Once individuals are on the list, licensed pesticide firms have to provide notice of chemical applications in their area.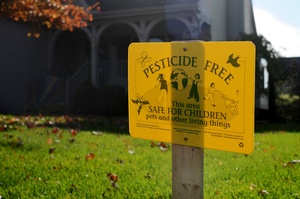 Melanie Maxwell IAnnArbor.com
Returning to the Ann Arbor area this summer after living in Florida for several years, she re-registered with the MDA for the notifications. Weiss said more than 500 pesticide applications have been sprayed in her neighborhood over several months.
"I'm protected," Weiss said. "I know when I can go out and when I can't."
Weiss said she keeps a map of her neighborhood where the pesticides have been applied. She said she would prefer the law allowed anyone, not just people diagnosed with chemical sensitivity, to get on the state registry.
Weiss said the Saturday sign will say "Heart your kids, sign to ban toxic lawn spray" and direct those interested to a new website Air4kids2.com. The campaign also has a Twitter page.