Posted on
Tue, Oct 25, 2011 : 1:43 p.m.
Michigan coach Brady Hoke discusses second-half collapses, off weeks and more during teleconference
By Kyle Meinke
How can the Michigan football team avoid another second-half letdown?
Coach Brady Hoke affirmed on Tuesday what center David Molk and defensive tackle Ryan Van Bergen said Monday: It starts with senior leadership.
From what Hoke has seen, he likes his chances.
"I wasn't here, so I have no clue what the mind-set was and all those things," he said during his weekly teleconference with reporters. "It would surprise me if this group didn't come out and play better football than we have the first seven games of the year because of how they've gone to work.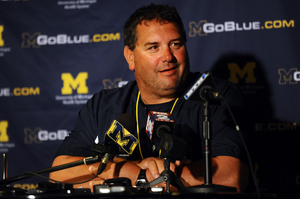 Melanie Maxwell | AnnArbor.com
"The media makes more out of (the collapses), probably, than anybody else. The schedule improves as you go through, and the quality of opponent always improves."
No. 17 Michigan (6-1, 2-1 Big Ten) started the season with six consecutive wins, but lost its last game 28-14 to rival Michigan State, then had an off week to ponder what went wrong.
"For us, you get a bad taste in your mouth coming off a big rivalry loss, and you want to get that cleared away," Hoke said. "We just have to get back to playing our style of football."
The Wolverines will return to action Saturday against surging Purdue (4-3, 2-1). Kickoff is set for noon on ESPN2.
Hoke is 4-3 in his career when playing a regular-season game with 10 or more days of rest. He said the key to coming out strong after being idle is strong leadership.
He thinks he has it.
"I think our guys and our seniors have done a nice job," Hoke said. "I think we've had good tempo in practice and good physicalness in what we try to get done."
He also added: "You're always beat up. This is football. So, we got some good rest there, I think we got some good evaluation of where we're at as a program, things we need to get better at, and we figured out there's a whole lot of things we need to get a ton better at."
When asked for the area that most concerns him, Hoke offered what has become his stock answer: The line.
"Technique, the fundamentals, the leverage you want to play with," he said. "Then, I think on defense, our linebackers and how they show up and get to the football and react to what they see."
Michigan allowed seven sacks against Michigan State, and the Wolverines' defense yielded 213 rushing yards.
Other topics from Hoke's teleconference:
A look at Purdue

Hoke credited Purdue as being "a very good team," a characterization that seems more plausible after the Boilermakers upset No. 23 Illinois last week.
He seemed particularly impressed by two players, starting with quarterback Caleb TerBush.
"Terbush has done a a tremendous job managing the offense," Hoke said. "He's accurate with the football, he can run with the football, he can get out of trouble."
Hoke also mentioned cornerback Ricardo Allen as a force for Purdue, and someone that might present a difficult matchup for the Wolverines' passing game.
Allen returned an interception for a touchdown last year against Michigan.
"He's a guy that's got a bunch of quickness to him," Hoke said. "If you're scouting, he's loose in the hips and a guy who is doing a lot of different things."
Hoke also said he's familiar with several Purdue players because he recruited them while he was at Ball State. He declined to name anyone in particular.
He said he frequently went up against the Boilermakers on the recruiting trail, despite being at the small Mid-American Conference school in nearby Muncie, Ind.
"You always try," Hoke said. "You gotta try. That's part of competition. I mean, that's life. And so, it didn't matter who was recruiting anybody, we were going to put our best foot forward."

In-game adjustments
Michigan allowed 21 second-half points to Michigan State, equaling its total from the previous six games. Still, it remains one of the country's best second-half teams.
Why?
Hoke credited offensive coordinator Al Borges and defensive coordinator Greg Mattison.
"They do a very good job of teaching, and teaching at halftime," Hoke said. "Sometimes, there's more adjustments to make, sometimes it's just an attitude adjustment. ... The players also get credit for making those adjustments."
Kyle Meinke covers Michigan football for AnnArbor.com. He can be reached at 734-623-2588, by email at kylemeinke@annarbor.com and followed on Twitter @kmeinke.