Posted on
Fri, May 11, 2012 : 5:59 a.m.
Ann Arbor residents urge city officials to address flooding problems on city's west side
By Ryan J. Stanton
David Foster estimates about 40,000 gallons of stormwater flooded the basement of his family's home on Ann Arbor's west side the night of March 15.
"The window burst and surrounding water literally just poured in," he said. "The volume of the water that entered was massive, reaching literally 7 feet tall in certain areas."
Fortunately, Foster said, he and his family weren't home at the time. Had they been, he said, they would have been in the basement taking cover due to a tornado warning.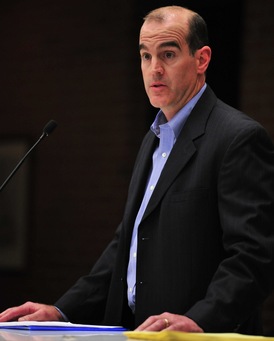 Ryan J. Stanton | AnnArbor.com
"I can't imagine being in the basement with my wife and children, taking cover, with water of that volume, magnitude and force bursting in and potentially coming right at us," he said. "We were also fortunate that the water did not reach a few inches up higher on the side of the house, otherwise it would have come in right through our bedroom and caused more damage."
Foster said the flooding, which occurred the same night a tornado ripped through nearby Dexter, caused severe damage, and now he's asking the city of Ann Arbor to look into the root cause of the problem.
He believes it's not a matter of "if" but "when" another similar storm will occur, and he says the city should be responsible for providing effective stormwater management.
"My request to the City Council is to acknowledge there's a very real problem that exists," Foster said, addressing the mayor and council earlier this week.
"My family has experienced it and so have my neighbors," he said. "So please study and examine the stormwater drain system and take action to ensure future circumstances like this won't occur."
Council Member Marcia Higgins, D-4th Ward, said she appreciated Foster and his wife, Katie, for coming to council with their concerns.
She introduced them to Craig Hupy, the city's interim public services administrator, before the the meeting. Hupy plans to work with the homeowners on the issue.
The Fosters, who have three children, are the second family from the 4th Ward to appear before the City Council in the last month complaining about flooding issues.
Ellen and Lowell Fisher, who live in Ann Arbor's Churchill Downs neighborhood near Scio Church Road and Interstate-94, shared a similar story last month.
Higgins said she can relate to the plight of some homeowners in her ward. She said her home's basement flooded in a storm in 1998, and that prompted her to run for council.
"We didn't have anywhere near the type of responsive staff that we do now, and I think staff are much more attuned to what's really happening out there," she said.
"And council members have done a good job when we see this happening and getting staff out there, getting cleanup out there," she added. "And what the city can pay for, we do."
The Fosters live on Mershon Drive near Delaware Drive in the general vicinity of what's commonly known as the Lansdowne neighborhood.
A neighbor a few houses down captured some of the experience from the March 15 storm on video, showing a 64-gallon city trash bin flowing down a water-filled street. Foster said his family's home is visible in the far right corner at the end of the video.
On the night of the storm, Foster said heavy rains filled the streets to a level that rendered them impassable by vehicles and the water buildup created a river effect in many areas of the neighborhood, while ponds formed in a number of yards.
"Storm drains were completely overwhelmed as water tried to navigate the landscape to find a home," he said. "On my property specifically, a river effect around the west side of the house successfully created a home. Unfortunately that home was in my basement."
Foster said water flowed up against his house and over the 6-inch wood blocks around his basement egress window — an egress that was required by the city, he pointed out.
He said the damage caused to his property was significant as the basement needed to be gutted and most of the family's personal belongings down there had to be thrown away.
Hupy declined to comment on what the city is doing to address the flooding problems. He said he wasn't aware of the specific circumstances surrounding Foster's property.
Higgins said she would love to see Ann Arbor's flooding problems go away. Unfortunately, she said, whenever there are egress windows involved, that seems to be a major issue.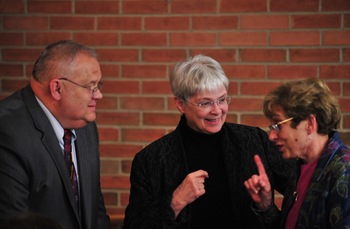 Ryan J. Stanton | AnnArbor.com
"We had a very similar incident about a year ago further down on Delaware," she said. "So it's the area that we're looking at and Craig is actively involved, and the city has made a good response with the neighbors. It's not something we've taken lightly."
Higgins said she believes it still make sense to require basement egress windows, even in areas that are prone to flooding.
"Egress windows are for people's safety if they're living in their basement, and that usually means that there's a bedroom down there," she said.
Higgins said she gives Hupy and his staff credit for their work so far, but the city doesn't have an answer yet. Higgins said the staff is still trying to analyze the situation.
"We've had some issues and we're trying to work through them," she said. "Right now we really don't know what's causing it. It's not necessarily the footing drain because it's not coming up through the sewers.
"The night of the big storm, my street flooded," she added. "We had six houses that were in exactly the same position that we're talking about on Churchill and Delaware."
City officials called the March 15 storm a significant event. Data from the city's rain gauges show rain was falling at a rate of 2.4 inches per hour.
"How do you plan for something quite as unexpected as what we got that night?" Higgins said. "That storm just sat over our neighborhood for an hour and a half and rained and rained."
Ryan J. Stanton covers government and politics for AnnArbor.com. Reach him at ryanstanton@annarbor.com or 734-623-2529. You also can follow him on Twitter or subscribe to AnnArbor.com's email newsletters.