Posted on
Mon, Jun 10, 2013 : 5:59 a.m.
Ann Arbor Restaurant Week underway
By Erica Hobbs
The 2013 June Ann Arbor Restaurant Week is off to a good start, restaurateurs and patrons say.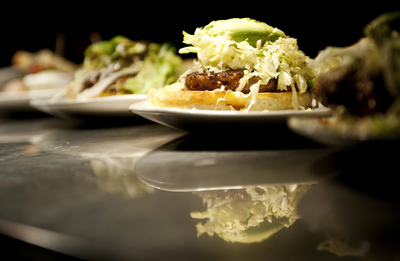 Daniel Brenner | AnnArbor.com
Amid mild temperatures, patrons on Sunday enjoyed a relaxing opening to the twice-a-year treat where local restaurants offer discounted, fixed-price meals.
"It started at noon today and people kind of just started flooding in the second it started," said Café Felix Manager Lindsey Fortino. "It's been great so far."
Fortino said Café Felix, a staple on the Ann Arbor Restaurant Week scene, has recently joined with other restaurants to offer two for one lunch specials for $15.
"It really gives people an opportunity to come in and try foods that they might not normally get the chance to have during lunch," she said.
Some of Ann Arbor's newer restaurants, however, are hoping restaurant week will help put them on the map.
"We're still new, we haven't been here a whole year, so [we want ]to get people to come and try us out," said John Sleamon, general manager of Lena, which opened at the corner of Main and Liberty streets last summer.
Sarah St. John, who works for Frita Batidos, said this was the second time Frita's had participated in Restaurant Week since opening in December of 2010.
She said the week has started off strong.
"Probably the first 10 customers we had today came in specifically for restaurant week, which is really exciting that it's on their radar," she said.
Frita Batidos is owned by Eve Aronoff, owner of the former eve the restaurant, which closed in January 2011. St. John said Frita's offered a dual menu with specials from both Frita's and eve last time, but said this time they are focusing exclusively on food from Frita's menu.
Many people walking around downtown weren't aware that Restaurant Week had started but said they were planning on visiting some of the participating restaurants later in the week.
Ann Arbor resident Adam Perry said he has participated in Restaurant Week for the past few years and said he likes to try places he's never been before.
"Usually my friends and I try and hit more expensive restaurants that we might not actually go to for dinner and pay full price," he said. "It's a nice way to sort of sample on a budget a little bit."
Salt Lake City resident Jenna Clark, who used to attend school in Ann Arbor, said she likes to take advantage of Ann Arbor Restaurant Week when she's in town, especially the Italian restaurants like Gratzi and Palio.
"Typically it ends up being by chance that I'm here during restaurant week, because I haven't lived in Ann Arbor since I graduated three years ago," she said. "It just really ends up being a special treat the time that we're here and I usually get to go to one place and enjoy the special pricing."
Ann Arbor couple Tony and Sarah Drew said they have participated in Ann Arbor Restaurant Week nearly every year since they moved to Ann Arbor seven years ago.
They said they usually hit up old favorites, including Conor O'Neills, Grizzly Peak Brewing Company and Arbor Brewing Company.
"It's absolutely wonderful and it really draws a lot of people in," said Sarah Drew. "It's a great, great week of fun, and it's a great reason to try everything around."
Restaurant Week runs through Friday night.
Erica Hobbs is a freelance reporter.