Posted on
Thu, Apr 29, 2010 : 6:07 a.m.
Ann Arbor school board agrees to contract with custodial workers that avoids privatization
By David Jesse
The Ann Arbor school district won't privatize its custodial and maintenance operations after current employees agreed to take wage cuts in exchange for keeping their jobs.
Under the terms of the agreement, passed by the Ann Arbor school board Wednesday night, workers will take an 8 percent pay cut for the next school year, lose vacation days and see changes in their health benefits.
The union has also passed the tentative agreement, district officials said.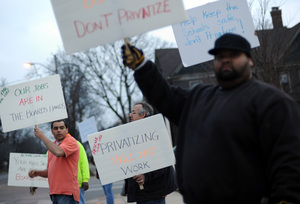 Melanie Maxwell | For AnnArbor.com
The district took bids from multiple companies for custodial and maintenance services to replace the district employees. But administrators said all along they would work with the current employees' union to match savings promised by the private companies.
The district will save about $1,800,000 under the terms of the agreement, said Dave Comsa, the district's assistant superintendent for human resources and legal services.
The agreement calls for 8 percent wage cuts for most of the employees next school year. The district's top-paid custodial workers would also lose an additional 46 cents per hour in wages.
The two-year agreement calls for a wage and benefit re-opener and formula based on "if the non-designated fund balance as determined by the district's independent auditors is completed and reported to the board to reflect an increase in excess of 20 percent of the budget and if the official fall 2011-12 student count as verified by the (Washtenaw Intermediate School District) audit reflects an increase in the student count from the official student count from the 2010-11 school year (by) 100 students, the parties will sit down to negotiate a salary increase."
The agreement also calls for cuts in vacation time. Those employees who currently get four or five weeks vacation would now get three weeks of vacation. Those who get two or three weeks of vacation would now to get two weeks of vacation.
In addition, each employee would pay $1,000 a year for the basic insurance plan offered by the district, plus any additional cost if an employee wants a higher level of coverage. Employees currently pay up to $600 for their coverage, district administrators said.
Board members said they were pleased with the agreement and the ability to keep the employees.
"When this community comes together and does a win-win, I'm proud of us," said board Trustee Irene Patalan.
David Jesse covers K-12 education for AnnArbor.com. He can be reached at davidjesse@annarbor.com or at 734-623-2534.