Posted on
Thu, Oct 4, 2012 : 7:30 a.m.
Ann Arbor school board homes in on 2-year timeline for next countywide millage
By Danielle Arndt
The Ann Arbor Board of Education brainstormed and got the ball rolling on a variety of "next steps" for bringing in more operational dollars to the district Wednesday night.
Among the most significant steps was setting a two-year timeline for leading a drive to pass a countywide tax to fund education, similar to the 1.5 mill levy proposal that failed in 2009 by large margins in all areas except Ann Arbor.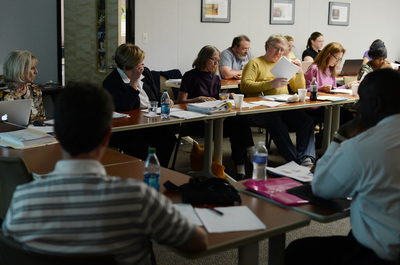 Melanie Maxwell | AnnArbor.com
The board's work prior to that two-year mark will need to include researching the financial, economic development and housing market benefits that each district in the county could see as the result of better schools and passing the millage, said Vice President Christine Stead.
"My sense is that it will take a substantial amount of work to build this sort of a case and to create a compelling story… I anticipate we would have some well-funded opposition and with anything short of that level of work, I don't think we'd be successful," Stead said.
Meeting at Scarlett Middle School Wednesday night, school board trustees took on the task of paring down the topic of finances into meaningful and manageable pieces that the board can accomplish throughout the next school year — and in some cases, two.
At their annual board retreat in August, trustees established finances as one of two board goals it would tackle for 2012-13. The other goal was trust and relationship building among the board itself.
President Deb Mexicotte said finances have been a priority of the board's for a long time, despite this being its first organized attempt to "do more."
As the budget constraints became greater and the cuts tougher in the past few years, board members collectively decided that somewhere along the way the district crossed a threshold, causing the board to believe it no longer has adequate resources to accomplish the mission and vision of the Ann Arbor Public Schools, Mexicotte said. This ties in directly with the district's Strategic Plan, in which the district states its intent to ensure adequate resources to accomplish its mission.
Trustee Irene Patalan said she believes the threshold for most of the board — and also for the community — was high class sizes. Others quickly agreed.
"While we've been out talking with people … not only do (people) feel a heightened responsibility to reach out to legislators, to reach out to their neighbors, to become more active in their advocacy role for what they think their schools need, but they've also indicated to us that they don't think our efforts to-date have been enough," Mexicotte said.
"And I haven't taken that as criticism, I've taken that as our joint understanding that the way we have traditionally worked on these things isn't sufficient, and what we want to do is take it to the next level. Because until we get some countywide buy-in on some of these things, until we get the legislative interest in some of these things, until we understand exactly what it is we need (to achieve our mission), then we are not going to be able to make progress."
The board identified several areas of interest, with tangible action items, that would be uniquely good for its members to carry out, in an effort to bring extra operational money into the district down the road. The first was to develop documents making the case for another countywide educational millage.
In addition, the board identified three areas of legislative policy and advocacy work it would like to take on. The tasks were:
Drafting an amendment to Proposal A, which reformed property taxes and the way schools were funded. The board would like to see an amendment that would restore local levying power to the individual districts.
Putting together a campaign for Ann Arbor's sinking fund millage that currently expires in 2014.
Developing allies and support for persuading the Michigan Legislature to repeal a law that says districts cannot charge students to ride a bus.
Trustee Andy Thomas brought up the last item. He said making students and families pay for transportation to and from school would be a "common sense solution" to the increasing costs of providing busing to students. He said this seems like an issue a number of school districts across the state would rally behind.
Trustee Glenn Nelson addressed the sinking fund, which was last renewed by voters in the Ann Arbor Public Schools in 2008. Ann Arbor's sinking fund levies 1 mill and allows the district to spend taxpayers' money as it is collected, unlike a bond millage, which involves the district borrowing the full amount of the bond upfront from a third-party lender.
Per state law, sinking fund dollars can be used for the purchase of real estate, construction projects or building repairs. Sinking fund money cannot be used for operational, transportation or technology costs. However, in addition to building the case for the district's next sinking fund renewal, Nelson would like the school board to work in tandem with other districts to lobby the state to expand what sinking fund dollars may be used for, such as for transportation or technology costs.
School board members said they also want to look at the district's real estate holdings and how the district can increase and maintain enrollment.
The board requested from administration a list of all the real estate holdings in AAPS' name, their values and a relative description of the properties, such as whether they are simply land or have facilities on them or have any easements or zoning restrictions and can't be developed.
Superintendent Patricia Green said the administration has a thorough enrollment and facilities report scheduled for the board in December. She said she would expand the report to include the information the board asked for on the real estate holdings that are currently not in use by the district.
To increase and maintain enrollment, school board members identified a few things:
Directing administration to consider developing entrance and exit surveys of incoming and outgoing families to track families' reasons for leaving/moving to the district.
Providing more customer service training and professional development for building-level staff.
Researching the marketing habits of private and charter schools in the area to match their reach and advertising strategies in order to be more competitive around enrollment time.
Communication will be an important action step in following through on these various components of the board's finances goal, Mexicotte said.
"Each one of the goal steps we put in place (Wednesday) evening has measurable outcomes that you can say, 'Yes. Check. Done with that one and now what's the next part,'" she said.
Mexicotte's primary role will be delivering progress reports on the board's finances goal to the public and the administration at each regular meeting.
"Someone on the board has to own this work because this is the board's goal. And whoever that is for each thing brought forward tonight is going to need to make sure that the group or administration doesn't ignore it for five months," Mexicotte said.
To show the community board members are serious about taking their work pertaining to finances to the next level, the board will consider passing a statement of support at its next regular meeting on Oct. 10.
Danielle Arndt covers K-12 education for AnnArbor.com. Follow her on Twitter @DanielleArndt or email her at daniellearndt@annarbor.com.