Posted on
Wed, Apr 18, 2012 : 5:59 a.m.
Ann Arbor school board agenda: $16M budget shortfall, balanced calendar
By Danielle Arndt
Ann Arbor school board members are preparing for a hearty discussion on the budget and balanced calendar proposal at their meeting Wednesday night.
Superintendent Patricia Green and her cabinet will outline their plan for how the district can eliminate its $16 million budget deficit for the 2012-13 academic year.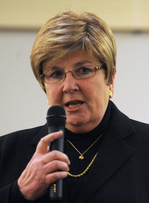 This will be Green's first budget with
Ann Arbor Public Schools
since joining the district in July. Cabinet members
Alesia Flye
, deputy superintendent of instruction, and
Dawn Linden
, assistant superintendent of elementary education, also are new to Ann Arbor since the previous budget cycle.
AAPS faced a similar deficit of $16 million in 2011-12. Last year, the school board eliminated 62 teaching positions, cut transportation routes, enacted a 1.5-mile walk zone and used $810,000 from its reserve in order to balance the budget.
Eliminating high school busing and sharing principals among elementary schools also were proposals on the table at one point.
Vice President Christine Stead said she anticipates transportation and staff reductions will be major talking points again this year.
"When 85 percent of our budget is staff, there is, unfortunately, no way around it," she said.
The board already has brainstormed some possible cuts and changes to transportation for fall.
Members have discussed their dissatisfaction with the current bus service provided by the Washtenaw Intermediate School District. In January, the board suggested the following options:
Partner with the Ann Arbor Transportation Authority
Break ties with the WISD and request proposals to privatize transportation within the district
Break ties with the WISD and return to operating its own transportation system again, with cuts to routes and public sector employees
Eliminate busing entirely or eliminate busing to the district's high schools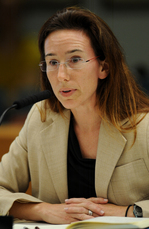 Stead is hopeful the administration has prepared a transportation cost analysis for the board to consider, she said.
"I think it'll be a good discussion in the sense that the board will have a thorough debate," she said. "The revenue enhancement side of things is coming together nicely. I think we're looking at about $6 million. … It'll be a good meeting."
Stead added she is anxious to talk with her fellow board members about what they see as funding priorities and how they will rank various proposals on the table.
Board President Deb Mexicotte is looking forward to hearing Green's suggestion on the balanced calendar that was proposed for the Mitchell-Scarlett Teaching and Learning Collaborative with the University of Michigan. She said Green was not in Ann Arbor when the concept was first brought forward. The concept since has been toyed with at a district-wide level, so Green will be analyzing it through "fresh eyes."
"The board wanted to understand how (the extended school year) would improve student achievement and how it would improve our relationship as a district with the university. So I'm eager for that discussion," Mexicotte said.
In January, Mexicotte said board members needed to "free their minds" and "be bold" in thinking about the budget this year, explaining that as a group, they traditionally have taken things off the table because they were deemed unheard of, complex or extreme.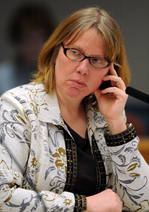 Mexicotte even tossed around the 'R' word: redistricting.
"Am I expecting to see a redistricting presentation tomorrow? No, I am not expecting to hear that," she said. "If I did hear it, I know the board would look very seriously at it."
Stead seconded Mexicotte's thoughts and added: redistricting typically is a "very emotional thing to do to a community." However, she would be interested in knowing the transportation cost savings it potentially could provide, she said, so the board could determine if it was worth having mentioned.
Mexicotte said the administration takes ideas the board suggests very seriously and because the board said "everything" must be on the table, the administration is going to take a look at everything.
"It just might be on the table in a year or three years or five years," she said.
Also in January, Green said she would be recommending the district use a significant portion of its nearly $19.7 million fund equity to balance the budget for 2012-13. Stead said how much Green proposes will be a talking point Wednesday.
Mexicotte said as she considers the cuts the district will need to make, she will be cognizant of their impact on students.
"The biggest thing for me will be to not put the breaks on the longstanding issues with the achievement gap," she said. "We have challenges we have to face but we have to know that the students are worth it."
The Board of Education will convene a special regular meeting at 5:30 p.m. at Clague Middle School. Following a policy discussion and two action items, the board will close its regular meeting and enter in to a Committee of the Whole meeting for a less formal discussion on the budget and balanced calendar.
Generally, no action is taken during Committee of the Whole meetings, but they are open to the public. Download a copy of Wednesday's agenda here.
Staff reporter Danielle Arndt covers K-12 education for AnnArbor.com. Follow her on Twitter @DanielleArndt or email her at daniellearndt@annarbor.com.