Posted on
Tue, Oct 9, 2012 : 2:16 p.m.
Ann Arbor school board to vote Wednesday on privatizing lunch supervisors
By Danielle Arndt
The Ann Arbor Public Schools Board of Education will decide Wednesday where paychecks for 250 to 300 noon-hour supervisors will come from.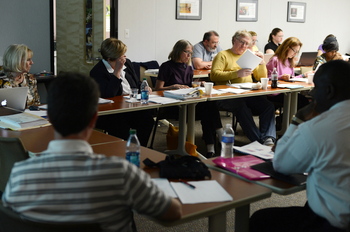 AnnArbor.com file photo
The school board is expected to vote on a
three-year contract
to privatize Ann Arbor's lunchtime employees, an act that would save the district $55,000 by eliminating the district's requirement to pay in to state pensions for these employees. The first reading of the proposed contract was Sept. 19.
The vote will not alter workers' wages or responsibilities, just the name of the organization issuing the check.
Professional Contract Management Inc. (PCMI) was the only company that responded to the district's request for proposals. The district also uses PCMI for its athletic coaches.
If the contract is approved, PCMI would charge AAPS an administrative fee equivalent to 25.83 percent of gross wages for employees.
District officials said the cost of providing employee management services has grown significantly over the years. This 25.83-percent bid is about 7 percent higher than bids the district received in previous years for similar services.
The higher administrative cost would reduce the overall savings to the district from a projected $75,000 to $55,000.
Privatizing workers will take away their state pension option. However, district officials said noon-hour supervisors do not work enough hours during the year to be eligible for the pension, even though AAPS is legally required to contribute to the Michigan Public School Employees Retirement System on their behalf.
In order to access their state pensions, public school employees must work a minimum of 1,000 hours per year with at least 10 years of service. AAPS noon-hour supervisors typically work a maximum of about 360 hours per year, approximately two hours per school day.
President Deb Mexicotte expressed a concern about the cost of contracting with PCMI for services at the school board's Sept. 19 meeting.
"What is it that keeps us ... from contracting separately with each of the noon(-hour) supervisors?" Mexicotte said. "That 25-percent administrative cost is huge. … I have trouble wrapping my mind around how we can't do better than this, since almost nothing's changing."
The board will conduct a second reading and discussion of the proposed contract Wednesday night and entertain a motion to approve it.
View the complete Ann Arbor school board meeting agenda here.
Previous coverage:
Danielle Arndt covers K-12 education for AnnArbor.com. Follow her on Twitter @DanielleArndt or email her at daniellearndt@annarbor.com.