Ann Arbor lunchtime supervisors told to report for first day of school as outsourcing still planned
Posted on Tue, Sep 4, 2012 : 5:58 a.m.
About 400 lunchtime employees at Ann Arbor Public Schools were told to report for work as usual today for the first day of school, despite the district looking to outsource their positions.
The AAPS Board of Education voted to privatize the district's noon-hour supervisors and coordinators in June when it passed its $188.5 million budget for the 2012-13 academic year.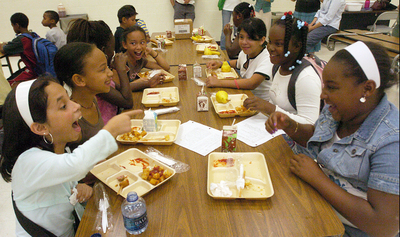 File photo | The Ann Arbor News
Outsourcing the positions was supposed to be completed prior to school starting.
District spokeswoman Liz Margolis said correspondence was sent to all noon-hour employees about two weeks ago, instructing them to come to work as they normally would on the first day of school. She said nothing will immediately change for the workers.
School officials went out for bid late last month, seeking a management company that can offer experienced personnel to provide noon-hour supervision for the district's elementary and middle schools. According to the Request for Proposals, the district is looking to sign a three-year contract with the management company to begin Sept. 17.
District administrators are scheduled to present the bids to the Board of Education on Wednesday, with the contract appearing as an action item on the board's agenda for its Sept. 12 meeting, according to the RFP.
Margolis said if the board approves a bid, a transition plan addressing what could happen to the current lunchtime employees would be developed at that time.
District leaders estimated privatizing the noon-hour workers would save Ann Arbor $75,000. That savings would be generated from AAPS not having to pay in to the state's retirement system for each of these workers, Margolis said. She added these workers won't ever see their state pensions anyway, considering an employee must have worked for a district full-time for 10 years in order to access his or her retirement through the Michigan Public School Employees Retirement System.
Ann Arbor's approximately 400 noon-hour supervisors work anywhere from one to two hours per day, and many work only a few days per week, Margolis said.
"It's a very part-time job. It caters most to our stay-at-home parent community and to our district retirees. It's a very attractive job to retirees."
The position is very transient. Most noon-hour supervisors don't stay with the district for more than a few years, and AAPS is in a constant state of replacing these workers.
"Although, there is one woman at Bryant (Elementary School) who has been doing it since my kids started kindergarten 18 years ago," Margolis said.
These workers are not in a collective bargaining unit and make between $8.60 and $11.67 per hour as a supervisor and between $8.86 and $14.16 per hour as a coordinator.
The RFP states that bidders must offer current qualified AAPS staff employment on a "right of first refusal" basis. Background check issues or physical and drug and alcohol testing results would be the two criteria for disqualifying an existing AAPS worker from future employment, the RFP says.
Margolis said because the district is not privatizing its lunchtime employees at the beginning of the school year, the savings to AAPS for the 2012-13 academic year could be less than $75,000.
The building principals determine how many noon-hour supervisors are needed at each school. New this coming year, principals will have more control over their budgets for these employees. The line items in the district's departmental budget within the general fund will be moved to each building's separate budget, making it the responsibility of the principal to monitor and manage how the building is spending money, in particular, on substitute teachers and lunchtime staff.
The principals decide how many noon-hour supervisors to employ based on student enrollment numbers and the climate and culture of the school, Margolis said.
According to the job description for noon-hour supervisors, their primary role is overseeing the children to insure they eat and enjoy recess time in a positive and safe environment.
Their essential duties and responsibilities are listed as:
Supervise students at playtime and lunchtime and maintain a harmonious atmosphere by encouraging the peaceful resolution of conflicts.
Organize group games and activities.
Assume responsibility for the play equipment.
Direct movement of groups to and from the playground, lunchroom and classrooms in a safe and organized manner.
Assist students in lunchroom cleanup.