Posted on
Wed, Mar 2, 2011 : 5:55 a.m.
Ann Arbor Public Schools enters agreement with Advantage Sports for use of Huron, Pioneer, Skyline logos
By Kyle Feldscher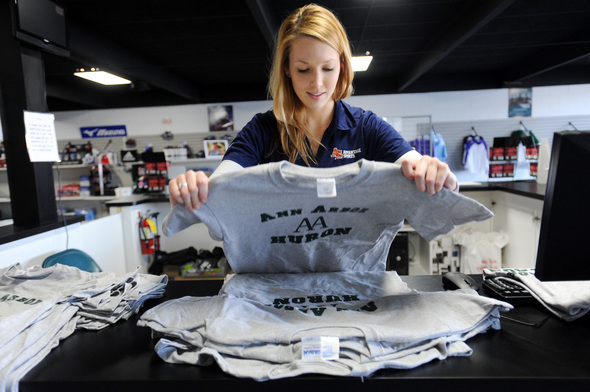 Melanie Maxwell | AnnArbor.com
Ann Arbor Public Schools officials announced an agreement with Advantage Sports, a local sporting goods and apparel business, for licensing and use of high school logos and graphics.
The two-year agreement will give the district 10 percent of the proceeds from any item with the Skyline, Huron or Pioneer High Schools logos sold in the store. District spokesperson Liz Margolis said she has been discussing a licensing agreement with district officials and various businesses for years.
"We know we're losing revenue when I see larger retailers that are selling logoed items from the high schools that we are not getting any royalty on," Margolis said.
Advantage Sports, located at 2019 W. Stadium Blvd. in the former Big George's Appliance site, will have a varsity shop area for high school spirit wear. Items will include T-shirts, golf-style shirts, sweatshirts and hats.
Margolis said she didn't have an estimate on how much money the agreement will make for the district. She said the district's portion of the money from the sales would be divided among the three high schools and the district, but exact percentages have not been determined.
The agreement runs through Feb. 11, 2013. Margolis said the district is going through the process of trademarking each school logo.
Scott Schmunk, co-owner of Advantage Sports and a Huron High School alumnus, said he and his brother Jaime had been talking to the schools' athletic directors about what they look for in a sporting goods store and how they could be involved in the community.
"It's great. It puts us where we want to be with the schools and be a part of the community," he said. "We want people to shop at our store for stuff you can't get at other places. There's no place like this in Ann Arbor. The fact that portions of it go back to the schools is of great benefit to them as well."
Schmunk said his store would still have to bid against other sports apparel providers to make school sports uniforms.
Margolis said she was not aware of any other school districts that had a similar licensing agreement. She said district officials looked at the licensing agreements universities have with apparel companies, albeit on a much smaller scale.
"I know that when I go into different communities, I see high school sports items being sold like ours were, but I don't know how many have an agreement like this," she said.
Kyle Feldscher covers K-12 education for AnnArbor.com. He can be reached at kylefeldscher@annarbor.com.