Posted on
Mon, Apr 9, 2012 : 4:55 p.m.
Ann Arbor schools, WISD seeking feedback on transportation
By Danielle Arndt
Parents of children eligible to ride the bus to attend Ann Arbor Public Schools are invited to participate in a survey critiquing the district's transportation system.
Community members have until Friday to complete the survey (which can be found here). Paper copies were made available at each school's main office Monday.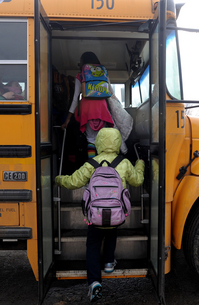 The feedback will be used to help the
Washtenaw Intermediate School District
provide improved busing for AAPS students, as well as other students in its transportation consortium.
AAPS entered into a consolidated busing system through the WISD with Ypsilanti and Willow Run at the beginning of the 2010-11 academic year. AAPS also implemented a number of route changes, a 1.5-mile walk zone and went to common stops for high-schoolers just last year to further slash costs.
Willow Run and Ypsilanti parents are encouraged to take the WISD's survey as well.
In total, AAPS anticipated it would save $1 million to $1.5 million annually by contracting with the WISD for transportation. However, at a recent Board of Education meeting, Deputy Superintendent of Operations Robert Allen said the actual cost savings for 2011-12 has been closer to $500,000.
Overall, the savings incurred and the customer service Ann Arbor has received from the WISD has disappointed the district's Board of Education.
The WISD was supposed to present an update to the board following the first year of the consolidated system, but that report has yet to happen, board members said. The district would need to renew its contract with the WISD in May if it wants to continue using the WISD's service.
A date has been set for the WISD's presentation. It will take place at the board's regular meeting on April 25. The meeting starts at 7 p.m. at the downtown branch of the Ann Arbor District Library.
Ann Arbor administrators have been pursuing other possibilities for busing, Allen said.
Willow Run and Ypsilanti announced in January they would solicit proposals to combine their transportation departments and privatize busing. Ann Arbor contemplated joining their request for proposals but after Ypsilanti and Willow Run disclosed a plan to consolidate school districts, Ann Arbor decided to consider its own request.
Board Trustee Simone Lightfoot would like the district to consider partnering with the Ann Arbor Transportation Authority for busing.
Staff reporter Danielle Arndt covers K-12 education for AnnArbor.com. Follow her on Twitter @DanielleArndt or email her at daniellearndt@annarbor.com.