Posted on
Thu, Oct 4, 2012 : 5:57 a.m.
Ann Arbor considers tunnel under railroad tracks behind Depot Street to access MichCon site
By Ryan J. Stanton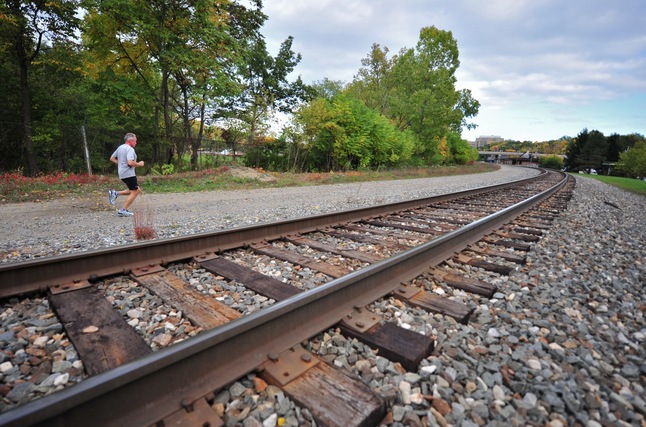 Ryan J. Stanton | AnnArbor.com
As a
major cleanup of the old MichCon site
continues along the Huron River, Ann Arbor officials remain hopeful there will be a riverfront park and new development there someday.
But how exactly will pedestrians and bicyclists access it?
One way that's being discussed involves driving a pedestrian tunnel underneath the railroad tracks that act as a barrier between Depot Street and the Huron River. That could serve a dual purpose, creating a new path for people, as well as a path for stormwater to flow down to the river.
"It's not going to be something that happens immediately. Permissions from the railroad, even if we approve something, will still take time to negotiate," said City Council Member Sabra Briere, D-1st Ward, who is excited about the long-term prospects.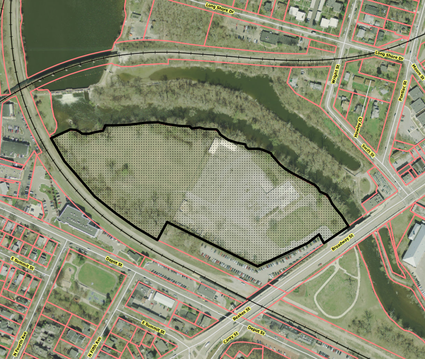 Courtesy of city of Ann Arbor
"But it's theoretically possible that we could drive a tunnel underneath the railroad tracks that would allow for pedestrian and bike access," she said. "If we can do that, then we can also allow it periodically to flood. It won't seriously impede transportation — people won't walk through water — but it will allow both the transit of water and the transit of people.
"And while it's not going to be a great place to hang out," Briere added, "it will be a great place to go safely underneath the railroad tracks, and that's what I'm really excited about."
The Ann Arbor City Council voted 9-0 Monday night to approve a $50,000 contract with engineering firm Orchard, Hiltz & McCliment Inc. to undertake what's being called the Allen Creek Railroad Berm Opening Feasibility Study. Funds are coming from the city's stormwater capital budget.
Council Members Tony Derezinski and Marcia Higgins were absent.
The study is being conducted in conjunction with the city's North Main-Huron River Corridor Vision Task Force, which is examining ways to improve the North Main corridor and open up access to the city's recreational amenities along the Huron River near Argo Dam and Argo Cascades.
Part of the task force's mandate is to determine the best possible route from the south to the north side of the railroad tracks, connecting with the Border-to-Border Trail.
"There's lots of discussion about how to do this safely," Briere said, noting both tunnels and bridges have been discussed.
"If we can drive a tunnel, it's a lot less expensive than a pedestrian bridge," she said. "However we choose, we have this enormous task of figuring out how to get safely from the south side of the tracks to the north side of the tracks."
OHM will analyze the feasibility of a shared-use, non-motorized path through the railroad berm from the Main Street/Depot Street area to the Huron River/MichCon site area. Where exactly that passage might go and whether it's actually feasible is yet to be determined.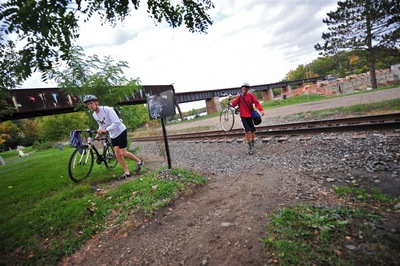 Ryan J. Stanton | AnnArbor.com
"Ideally you link that MichCon site by public path to Argo and Bandemer," Briere said. "That's the goal that many of us have, but we don't own the MichCon site, and I don't want people to think this is next summer's work because it's not.
"It takes potentially years of negotiation and it still has to be budgeted."
Jerry Hancock, the city's stormwater and floodplain programs coordinator, gave an overview of the upcoming study in a memo to council members.
He noted that in March 2007 the city adopted a flood mitigation plan that specifies 56 mitigation objectives or recommendations, including a study of the Allen Creek railroad berm.
That includes examining ways to remove the railroad berm located between Depot Street and the Huron River, as well as other portions of the railroad berm in the Allen Creek corridor, to allow floodwater to travel to the river without a major barrier impeding the flow, acting like a dam.
The mitigation plan also recommended examining the costs of creating a "terraced rail system." The full plan can be viewed online at www.a2gov.org/floodplains.
The Allen Creek runs through Ann Arbor's west side but hasn't been seen above ground in decades — it's now a system of pipes that run roughly parallel to the Ann Arbor Railroad tracks, starting at Pioneer High and spilling into the Huron River just below Argo Dam.
"The railroad berm near the outlet of Allen Creek is oriented perpendicular to the overland flow of the creek and causes the floodplain depth to be as deep as 10 feet," Hancock said. "In addition, the area upstream of the berm experiences flood depths typically in the three- to five-foot range."
Hancock said there are "numerous structures within the influence of the railroad berm" located near the mouth of Allen Creek. If the berm could be opened up enough to restore the floodplain to its more typical depth, he said, some structures might not be in the resulting smaller floodplain.
Structures that would remain in the floodplain would experience reduced flood depth and a reduced flood risk, Hancock added.
OHM has been selected to complete both a study and design recommendations for opening the railroad berm near the mouth of Allen Creek. Hancock said the recommendations will address the feasibility, costs and potential reduced flood risk benefits of such a project.
Ryan J. Stanton covers government and politics for AnnArbor.com. Reach him at ryanstanton@annarbor.com or 734-623-2529. You also can follow him on Twitter or subscribe to AnnArbor.com's email newsletters.