Posted on
Tue, Jul 17, 2012 : 5:58 a.m.
Ann Arbor spending $50K on site work for greenway park and arts center at 415 W. Washington
By Ryan J. Stanton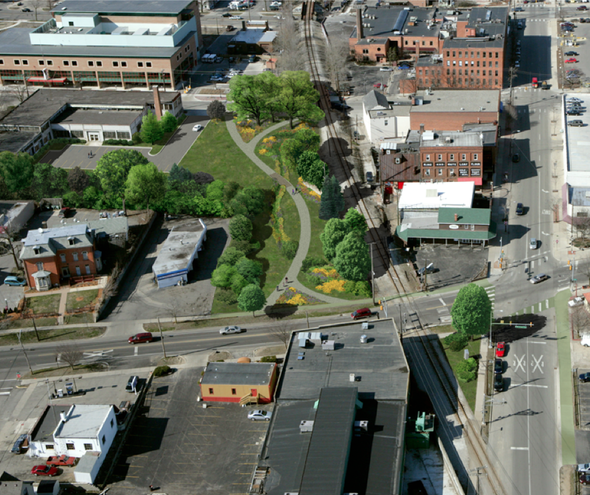 Ann Arbor
officials are moving forward with planning efforts for a greenway park and community arts center at
415 W. Washington.
The Ann Arbor City Council voted 10-0 Monday night with Christopher Taylor absent to spend $50,000 on preliminary site work to evaluate the property's condition and realistic reuse potential. That includes an environmental assessment and historic structure report.
The resolution was sponsored by Mayor John Hieftje and Council Members Margie Teall, D-4th Ward; Mike Anglin, D-5th Ward; and Carsten Hohnke, D-5th Ward.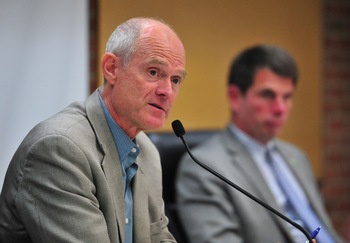 Ryan J. Stanton | AnnArbor.com
"This can only increase the likelihood that something exciting happens on that site for the benefit of the public," Hohnke said.
The blighted property on the west edge of downtown, across from the YMCA, is one of a few city-owned sites city officials have talked for years about transforming into parks.
The two-story building there — now more than 80 years old — has been vacant for several years, and it remains in a state of disrepair.
"If we're going to continue with the vision to make that into a greenway park and a community arts center, we need to get some work done so that we can assess where we are," Hieftje said.
"As we're doing with the 721 N. Main property, we want to go for a Natural Resources Trust Fund grant in the next funding cycle, and we would need to have this work completed."
Hieftje said he has renewed confidence in the vision for a greenway and community arts center at 415 W. Washington. He's even more hopeful about a greenway park happening at 721 N. Main and thinks it'll "score very high" for state grants next year.
But even if the vision for 415 W. Washington doesn't work out, Hieftje said, the work being done would be required to demolish the building anyway, so it's not a waste of $50,000.
"If we were going to do anything else to that building, including tearing it down, we would need this information," Hieftje said.
The $50,000 is being transferred from the general fund's cash reserves.
The 415 W. Washington property is considered historic, which means the city would have to go to the city's Historic District Commission for permission to tear down the building if it ever got to that point. Hieftje and others on council want to see it reused as an arts center, though.
Teall said she's been pushing that concept for a decade.
"It's even a possible FestiFools studio site, which would be just fantastic," she said. "So this is a first step and it will tell us whether the building is usable or not. I hope we get the answer to that. I hope it's affirmative and that we can move ahead."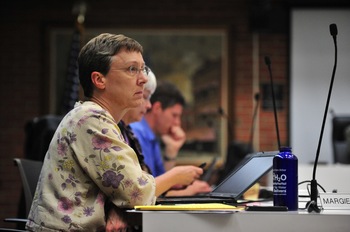 Ryan J. Stanton | AnnArbor.com
Hieftje said there's no rush, but he guesses the site work will be complete within six months. The city has until April to submit a detailed grant proposal to the state.
"It's a city property I want to do something with as quickly as possible," Hieftje said. "It's just sitting there, it's kind of an eyesore and I'd love to be able to move forward."
Ann Arbor officials said previously they were zeroing in on 721 N. Main as the first place the city might transform a blighted city-owned property into a greenway anchor park.
To kick efforts into high gear, the City Council voted 10-0 with Teall absent on May 7 to establish a new North Main-Huron River Corridor Vision Task Force.
The task force is expected to make a recommendation to the City Council for the best use of 721 N. Main as part of a proposed greenway by Dec. 31.
Hieftje said Monday night it's important for the 721 N. Main and 415 W. Washington efforts to be connected.
"There's a lot to be said for coupling these efforts," he said.
"One of the reasons that we're able to move forward with a Natural Resources Trust Fund grant for the 721 N. Main property is that much of this environmental work has been done there," he added. "In order to get the Natural Resources Trust Fund grant, you need to have what's called a clearance from your site, and we can get that much more easily on North Main. It's going to need this kind of thing done at this site in order to be able to move forward."
Hohnke said he's hopeful the work being done at 415 W. Washington will be worthwhile and will help the city preserve its options for the site.
"Absent really understanding the potential for reuse there, we'll start moving toward unfortunately having to demolish it," he said. "If it doesn't get used, if it doesn't get maintained, it won't be able to stand forever, so this is an important investment in looking at the options."
Ryan J. Stanton covers government and politics for AnnArbor.com. Reach him at ryanstanton@annarbor.com or 734-623-2529. You also can follow him on Twitter or subscribe to AnnArbor.com's email newsletters.