Posted on
Thu, Jan 7, 2010 : 7:44 p.m.
Ann Arbor superintendent outlines draft plan that cuts 34 teachers, institutes pay-to-play sports
By David Jesse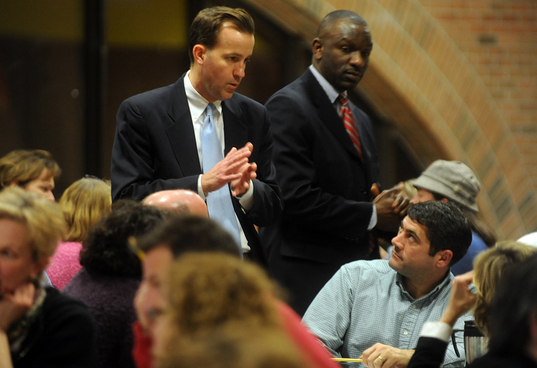 Melanie Maxwell | AnnArbor.com
Among the proposals on the table to save money in the Ann Arbor school district: Eliminating 34 teaching positions, opening 150 schools of choice seats, a pay-to-play fee for high school and middle school sports, the elimination of weekend transportation for events in Washtenaw County and the consolidation of some sports.
Ann Arbor school Superintendent Todd Roberts outlined those proposals tonight in a draft of possible options for the 2010-11 school year.
The plan would also eliminate the shuttle buses from Pioneer and Huron to Community High School, expand walk zones for students to get to the high schools, have middle school and high school students ride the same buses and/or privatize services.
The draft plan also calls for the possible privatization of custodial and maintenance services.
The district is facing a budget shortfall of nearly $20 million in this school year and next.
The proposals introduced tonight combine for a total reduction of $16.2 million.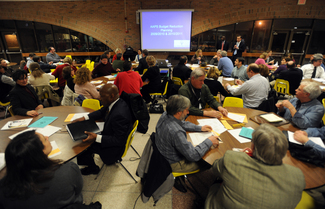 Melanie Maxwell | AnnArbor.com
Roberts made the announcement at the first of four planned community meetings on the budget. A crowd of more than 100 that includes school board members, district administrators, teachers and community members are in attendance.
"These are some of the preliminary options," Roberts said. "We are hoping to get your feedback on these and other suggestions you might have. This will be refined on the feedback we receive and what we believe is in the best interests of the students in our district."
The cuts being proposed by Roberts are:
Reduce the textbook budget by $200,000.
Reduce summer school costs by $100,000
Reduce substitute teacher costs by $200,000.
Restructure the elementary specials (such as art and music) for a savings of 8 full-time equivalent teaching positions and $640,000.
Restructure the district's English as a Second Language program, including eliminating four

FTE

teaching positions for a savings of $320,000.
Redesign the district's alternative programs for a savings of $400,000.
Restructure the middle school planning center program for a reduction of five teaching positions and a savings of $360,000.
Offer more classes online, with the reduction of five teaching positions and a savings of $400,000.
Work on K-12 staffing efficiency for a reduction of 12 teaching positions and savings of $960,000.
Reduce overtime costs by $700,000.
Eliminate high school noon hour supervisors for a savings of $50,000.
Reduce transportation costs districtwide by $1.5 million.
Reduce custodial and maintenance costs by $2.5 million.
Have energy savings of $400,000
Reduce athletic costs by $500,000.
Limit district-funded conference attendance for a savings of $150,000.
Reduce discretionary budgets by $900,000.
Get benefit and salary savings of $5 million.
Reduce central administration staffing by five positions and two high school class principals for a savings of $600,000.
Reduce clerical staffing by eight positions for a savings of $320,000.
Roberts also outlined two possible ways to boost revenue, including opening 150 schools of choice seats - 10 for sixth-graders at each middle school and 50 at the elementary level in kindergarten and first grade.
That could bring in $1,050,000 in additional revenue. Fifty seats would also be opened at the district's alternative high schools - Clemente and Stone.
Roberts also targeted increasing the district's options magnet program by 20 students who don't currently attend the district.
More coverage: • Ann Arbor budget plans contain potentially controversial moves • Ann Arbor student-athletes may pay to play to cover budget shortfall • Background on the district's budget.
David Jesse covers K-12 education for AnnArbor.com. He can be reached at davidjesse@annarbor.com or at 723-623-2534.