Posted on
Mon, Apr 2, 2012 : 10:53 a.m.
Ann Arbor teen who fell 6 stories from MSU dorm window released from hospital
By Paula Gardner
Alexandra Pew is no longer hospitalized in Lansing, one week after the Ann Arbor teen was critically injured in a fall from a 6th-floor window of a Michigan State University dormitory, MLive.com is reporting.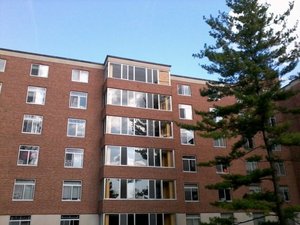 Courtesy photo
Pew's condition was upgraded to stable late last week.
An 18-year-old senior at Greenhills School in Ann Arbor, Pew fell from the 6th floor window at Case Hall in the early morning hours of March 25 while she and friends were playing catch.
According to MLlive.com's update today, "MSU police Sgt. Florene McGlothian-Taylor said Pew was playing a game of catch with several residents in the sixth-floor lounge when she fell backward, breaking through the window and falling to the ground."