Posted on
Sat, Mar 20, 2010 : 5:47 a.m.
Ann Arbor-to-Detroit rail line delayed due to funding shortage
By Tom Perkins
The scheduled date to start daily service of a commuter rail line between Ann Arbor and Detroit has been indefinitely delayed due to a shortage of funding.
Carmine Palombo, director of transportation programs for the Southeastern Michigan Council of Governments, said the Ann Arbor to Detroit rail will run only for special events beginning in October. No new target date has been set as the agency searches for more money.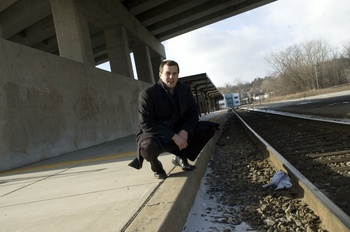 Tom Perkins | For AnnArbor.com
But Palombo said the process toward the original goal is still in motion.
"We're still trying to develop this project, and we're still working toward four trains a day," he said. "We just weren't as successful as we would have liked to be getting the money, so we came to the conclusion we weren't going offer four round-trips."
The rail was originally scheduled to run between the two cities four times daily as a demonstration project to secure federal funds for service expansion, should ridership numbers prove strong enough.
Palombo previously told AnnArbor.com funding had been obtained from a "patchwork" of sources. He said the nature of seeking money for this type of project precluded the agency from putting in a solid funding plan.
He estimated the project would cost $60 million to $80 million in capital costs and another $10 million annually in operational costs.
Palombo said SEMCOG is simply running out of time to offer the full service it had originally planned with its current funds.
"It's not a lack of commitment to the project," he said. "It's not that it has stopped, it's a matter of timing."
Washtenaw County Commissioner Jeff Irwin, who has long been involved on the stakeholders' committee for the project, previously voiced concerns over the lack of plans for obtaining funds. He expressed deep disappointment Friday in SEMCOG's leadership.
"I think a lot of people were optimistic," he said. "SEMCOG put their reputation on the line, we've been behind eight ball for decades on public transportation, and we needed to make this demonstration work to show the feds we're worth investing in. Their inability to make it happen is a huge failure for the region.
"With SEMCOG's failure to come through, we will not have a chance to show people that it works."
Irwin said he believes the venture is positioned for success in the region because of the two major population centers and the existing rail infrastructure between the cities.
The commuter rail line would use existing tracks owned by freight train companies. SEMCOG is still in negotiations to secure an agreement on sharing the rails.

"The freight companies are still working with us as partners on the project," Palombo said.
Palombo added SEMCOG is still purchasing locomotives, refurbishing train cars and working on local stops.
The train is first scheduled to depart from the current Amtrak station in Ann Arbor. But the city and University of Michigan are planning an intermodal transportation station in front of the U-M Hospital, and with the project's success, that would be the trains' starting point on the line.
The Friends of the Freighthouse in Ypsilanti recently received a $500,000 grant from the Michigan Department of Transportation to refurbish the freighthouse that will serve as the train's stop. It is also receiving money for a platform from SEMCOG.
Palombo said he did not yet know which events the rail will run for between Ann Arbor and Detroit.
Tom Perkins is a freelance writer for AnnArbor.com. Reach the news desk at news@annarbor.com or 734-623-2530.