Posted on
Tue, Aug 20, 2013 : 11:30 a.m.
Ann Arbor to pay $7K to settle lawsuit from Planned Parenthood protester
By Ryan J. Stanton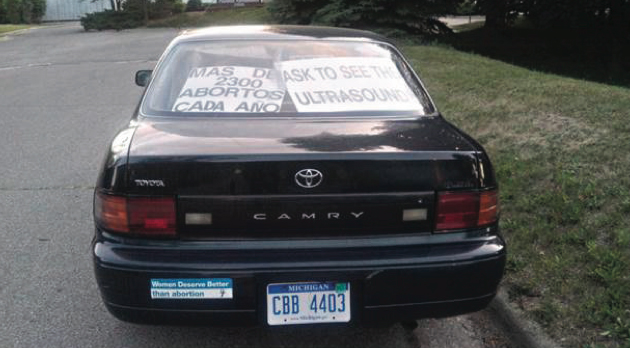 Courtesy of the American Freedom Law Center
The city of
Ann Arbor
has agreed to pay $7,000 to settle a
lawsuit brought by a Planned Parenthood protester
who claimed his free speech rights were violated.
The City Council went into closed session with a city attorney Monday night and emerged from behind closed doors to vote 8-0 in favor of a resolution ending the case.
The American Freedom Law Center filed the federal civil rights lawsuit against the city and Police Chief John Seto in April for alleged violations of Paul Dobrowolski's First Amendment rights.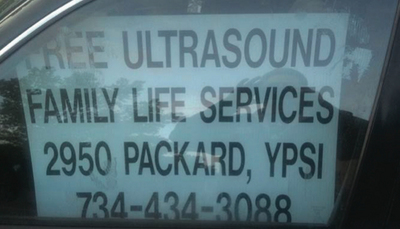 Courtesy of the American Freedom Law Center
Dobrowolski, a pro-life advocate from Saline, displayed anti-abortion signs in his vehicle parked on a public street outside Planned Parenthood in Ann Arbor for more than a year.
The city ticketed Dobrowolski on May 29 and June 4 last year for displaying the signs, and on two occasions he paid $25 fines to the city.
Language on Dobrowolski's signs included "Ask to see the Ultrasound," "Abortion Hurts Women" and "Free Ultrasound, Family Life Services, 2950 Packard, YPSI, 734-434-3088."
Ann Arbor's city code states that a person is not allowed to park a vehicle on a city roadway for the principal purpose of displaying advertising.
Specifically, Dobrowolski's "Free Ultrasound" sign was considered to be advertising by the Ann Arbor Police Department and that was the reason he was ticketed.
The lawsuit, which challenged the city code, claimed Dobrowolski's signs are all political speech and protected by the First Amendment.
Mayor John Hieftje said city officials have conceded the city code is "a little bit outdated." He said there have been court rulings in other places that showed city officials the type of speech Dobrowolski was engaged in probably is protected and the city wasn't going to win in court.
Hieftje said it's his understanding Dobrowolski has engaged in similar activity in another city, and Ann Arbor officials "didn't want to make it a lucrative career for his attorney to go around suing cities."
"It's something that's going to cost us $7,000," he said. "It's over with."
As part of his protest outside Planned Parenthood in Ann Arbor, Dobrowolski also has distributed pro-life literature and held signs.
He was notified on May 22, 25 and 31 last year he had 48 hours to move his vehicle or it would be considered abandoned and impounded under the city's abandoned vehicle ordinance.
A spokeswoman for Planned Parenthood told AnnArbor.com its health centers regularly have protesters and the organization doesn't try to interfere with anyone's right to free speech.
Hieftje said the complaints to the city about Dobrowolski's signs didn't come from Planned Parenthood, but rather nearby neighbors and business people.
Council Members Stephen Kunselman and Christopher Taylor, both 3rd Ward Democrats, were absent Monday night. Marcia Higgins, D-4th Ward, was present for most of the meeting but left before the council voted on settling the lawsuit.
Ryan J. Stanton covers government and politics for AnnArbor.com. Reach him at ryanstanton@annarbor.com or 734-623-2529. You also can follow him on Twitter or subscribe to AnnArbor.com's email newsletters.