Posted on
Mon, Jan 31, 2011 : 6 a.m.
AATA master transit proposals range in cost from $120 million to $566 million, estimates say
By Tom Perkins
The three master transit plan scenarios proposed by the Ann Arbor Transportation Authority would range in cost from $120 million to $566 million, according to estimates released late last week.
On Wednesday, the AATA unveiled the three options, which seek to enhance the AATA system over the next 30 years and significantly improve countywide access.
The scenarios include a more basic option focusing on improving existing infrastructure. The second scenario would provide service to the county's smaller population centers. The third option includes all the improvements in the first two, but also seeks to help steer "smart growth" and create dense development around major transportation lines.
AATA officials say their financial breakdowns are preliminary. They plan to further analyze costs and funding sources throughout the year.
The cost of each option including capital and operating expenses is:
$121 million for the "lifeline plus" scenario.
$129 million for the "accessible county" scenario.
$566 million for the "smart growth" scenario.
While the plans' operating costs range from $73 million to $101 million, the net operating costs vary only slightly. The most basic option's estimated net operating cost is $48 million, while the "smart growth" plan is expected to cost $52 million annually.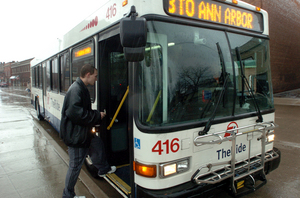 AnnArbor.com file
Residents are invited to meet with AATA officials at a series of public forums in the next few weeks. AATA is currently funded by a 2-mill tax paid by Ann Arbor property owners.
Michael Benham, special assistant for strategic planning at the AATA, said officials aren't pushing for any particular plan.
"These were created to offer different philosophical choices to public transit and give the community something to react to," he said.
The most basic plan would require approximately $48 million in capital costs throughout the 30-year plan.
Roughly $28 million of those expenses is associated with providing more frequent routes and creating transit stations. Another $15 million is earmarked for cycling-related improvements, such as bike lanes, bike paths or bike lockers. An additional $600,000 is slated for an airport shuttle service and $5 million for transit hubs.
The middle "accessible county" option would require an estimated $51 million in capital expenses. Its cost breakdown is similar to that of the basic plan, but includes another $3 million for expenses associated with providing express routes to smaller population centers countywide. This plan's operating costs are estimated at $78 million, which is $5 million more than the basic plan, but it's expected to generate more revenue because fares on the express buses would be higher.
The "smart growth" option is estimated to require $465 million in capital costs over 30 years, but AATA officials say that estimate represents the high end. Approximately $282 million of that figure would come from high-capacity transit, and the proposed airport shuttle and commuter rail account for an additional $131.79 million.
Because rail service would be shared between counties, some of those costs would be absorbed by Wayne County, in the example of the Ann Arbor to Detroit commuter rail project, or Livingston County in the case of the WALLY rail project.
Roughly $30.55 million is earmarked for providing more routes, $5 million for transit hubs and $15 million for cycling costs.
The "smart growth" scenario's operating costs are estimated at $101 million annually. All three scenarios also have an additional $27 million in base operating expenses, which is what the AATA pays today.
Benham said the AATA is also considering private funding, and cited the M-1 train along Woodward Avenue or Chicago's Millennium Park as examples of large public projects that have received private interest.
"There's a trend with major, major capital projects to get some private participation," he said. "Those are the kind of things we're going to be exploring and really making the funding sources a lot more specific."
Officials offered a breakdown of expected funding sources for operational costs over the next 30 years based on their funding sources from 1994 to 2008. During that period, the AATA generated 14.4 percent of the funds needed to cover those expenses. On average, the federal government covered about 9.6 percent, state funds covered 38.9 percent and local tax dollars covered 38 percent.
An estimated 45 percent of each scenarios' capital funding would come from the federal government, 16 percent from local taxes, and 13 percent from the state level. The system would generate 26 percent of its needed funds.
AATA officials estimate that for every dollar spent, the three scenarios would generate $2.70 to $3.20 in return, and the "smart growth" scenario would create an estimated 1,800 jobs. Their figures were developed by examining benefits such as job creation, reduced emissions and reduced road congestion, then using formulas specific to each area to monetize the benefit.
Benham acknowledged that some people are opposed to investing such a significant amount of money in public transportation. But he pointed to other major investments with similar price tags, such as Ford Field in Detroit, or a $413 million Michigan Department of Transportation proposal to add one lane to a stretch of U.S. 23 between Interstate 96 and M-14.
He said he also hears from people who don't use public transportation and don't want to pay for it. He said even if residents don't ride the bus every day, they still receive benefits such as increased property value, less congestion on the road, outside investment in the community and more.
And, he added, "We're all only one sprained ankle away from needing a bus for a few weeks."
Tom Perkins is a freelance reporter for AnnArbor.com. Reach the news desk at news@annarbor.com or 734-623-2530.