Posted on
Tue, Nov 10, 2009 : 4:40 p.m.
Ann Arbor's dilemma: Spend money on public art or help the needy?
By Ryan J. Stanton
In these tough economic times, should Ann Arbor continue to spend hundreds of thousands of dollars on public art while some city residents are struggling to find food and shelter?
"I'm wrestling with it," said City Council Member Christopher Taylor, D-3rd Ward. "The juxtaposition of a proposed material spend on art in these difficult times raises questions in the community as to whether this is a proper allocation of our resources."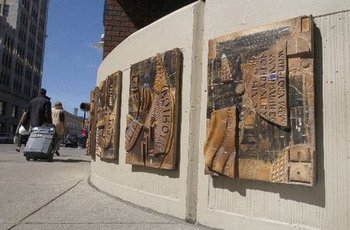 File photo
Taylor sought feedback on the city's dilemma in an e-mail sent out to his constituents Monday night.
"Should Ann Arbor spend money that it has been saving in its Public Art Fund on public art, or should it spend that money instead on human services?" he asked

Taylor said he's gotten close to 100 responses so far, and a majority of them are pro-art.
The City Council passed a public art ordinance in 2007 that ensures 1 percent of monies budgeted for city developments and some other infrastructure projects be set aside to fund public art projects. By the end of this fiscal year, the Art Fund will have accumulated about $1.5 million.
The Ann Arbor Public Art Commission has recommended the City Council allocate $850,000 of that money toward an integrated water-based art installation in the lobby and courtyard of the new police-courts building on Huron and Fifth Avenue. That proposal is scheduled to come before the City Council on Dec. 7.
Taylor said some people have suggested instead of spending the money on art, the City Council ought to amend the public art ordinance and spend the money this winter on human services such as food and shelter for the homeless.
"A supporter of this position might argue simply that in desperate times such as these, it is irresponsible to fund art when people are suffering," Taylor wrote in his e-mail. "If we amend the public art ordinance to reallocate the art monies to human services, we will be able to provide comfort and security to scores, if not hundreds, of persons during the dead of winter in bleak economic times."
Mayor John Hieftje said today he's aware the issue is being discussed, but said it's not yet clear whether the City Council would be able to raid the Art Fund even if it wanted to. Even if it could take action to end the public art program, he said, each dollar most likely would have to return from the fund it came from, and only a small portion comes from the city's general fund.
"Government money is in all these buckets, and some of the buckets are locked up," Hieftje said. "It's not cut and dried."
In the current fiscal year, Taylor said, Ann Arbor will spend $1.27 million general fund dollars on human services in the areas of housing stability, health and well-being, economic stability, and youth success. Ann Arbor's total general fund budget is about $85 million, which includes police, fire, parks and other funds.
Just last week, the City Council approved spending an additional $159,000 from the Ann Arbor Housing Trust Fund to expand warm-bed shelters at the Delonis Center and through the Interfaith Hospitality Network this winter. In addition, the county will spend another $850,000 this year on human services.

Totaled, Taylor said, the amount spent on human services by the city and county this year will be about $2.28 million.
Taylor said if the city decides to raid the Art Fund to spend more money on human services, opponents might ask, "Should we sell parkland to pay for another homeless shelter? Should we cut the hundreds of thousands of dollars a year we spend to mow park grass to feed the hungry? Should we eliminate leaf pickup in favor of foreclosure prevention?"
Ryan J. Stanton covers government for AnnArbor.com. Reach him at ryanstanton@annarbor.com or 734-623-2529.