Posted on
Thu, Jul 11, 2013 : 5:58 a.m.
Ann Arbor's heavy summer rains 'ideal' for big, biting gallinipper mosquito
By Amy Biolchini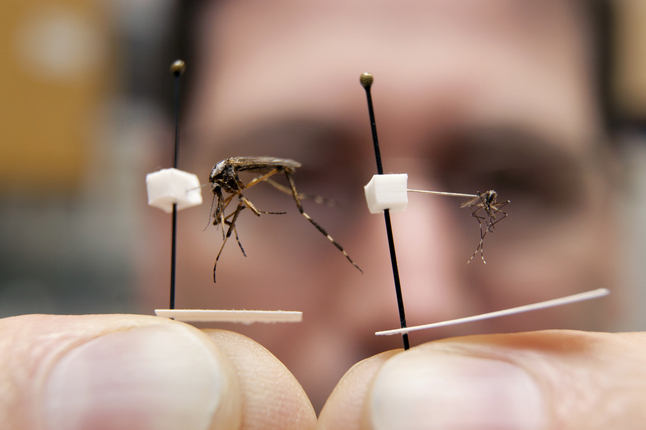 Marisol Amador | Courtesy of UF/IFAS
Heavy rainfall in
Ann Arbor
this summer has made for perfect conditions for floodwater mosquitoes -- including the noticeably bigger and debatably more painful
gallinipper
mosquito, experts say.
"This is an ideal year for the gallinipper," said Ned Walker, an professor in Michigan State University's Department of Entomology and Department of Microbiology and Molecular Genetics.
A species native to Michigan, the gallinipper is about as large as a crane fly and is typically a "big surprise" when they land on you, Walker said.
Gallinipper is the more colloquial name given to the Psorophora ciliata mosquito. This summer, Florida researchers have already warned conditions are ripe for a large crop of gallinipper mosquitoes in their state.
The mosquito last made a strong showing in the Ann Arbor area during the wetter summer of 2011.
"They're a floodwater mosquito, but their larvae are predators on other mosquito larvae," Walker said.
Floodwater mosquitoes, including the gallinipper, lay their eggs in dry areas of a flood plain.
The eggs hatch about seven to 10 days after a major rainfall event, and it takes about two weeks for people to notice an increase in the bloodthirsty population, Walker said. Their lifespan is about three weeks long.
There can be many generations of floodwater mosquitoes in a single summer, as the insects rely on periods of dry and wet weather between storms to be able to lay their eggs in wet meadows, low-lying areas, roadside ditches along highway corridors and along railroad beds.
After this April -- which resulted in nearly the wettest month reported for Michigan -- there was a large hatch of floodplain mosquitoes. Walker said the event was rare, as the last time floodplain mosquitoes hatched in those quantities was in 1994.
Floodplain mosquitoes are similar to the more common floodwater mosquitoes, but they lay their eggs at a higher part of the flood plain and some species have eggs that can last up to eight years.
Washtenaw County does not track its mosquito population, and there are few experts in the state that monitor the weather and population trends.
Bay County is one of the only counties in Michigan that closely tracks its mosquito population and employs abatement measures if needed.
Mary McCarry, biologist for Bay County Mosquito Control, said she has been seeing heavy populations of floodwater mosquitoes this summer.
"They emerge as adults from flooded areas -- from ditches, fields, woodlots," McCarry said. "They're the biggest pest in the state."
Last year, drought conditions meant the gallinipper and other more common floodwater mosquitoes had smaller populations, while the Culex mosquito -- the type known for carrying West Nile virus -- thrived.
Walker said the numerous rainstorms have meant the Culex populations will be lessened considerably this year.
"Our model predicts that hot, dry weather favors West Nile virus and cooler and weather does not," Walker said.
The Culex mosquito often lays its larvae in human-made areas -- including catch basins and abandoned swimming pools, as well as retention and detention ponds that collect water underneath large impermeable surfaces like parking lots.
Washtenaw County Public Health takes reports of dead birds in the summer months, as mosquitoes are the vector species that transmit West Nile virus from birds to humans. The health department also records the number of human cases.
To date this summer, there have been no reports of human cases of West Nile virus in the county.
To report a dead bird, call the county's West Nile virus hotline at (734) 544-6750 or use the state's website
Amy Biolchini covers Washtenaw County, health and environmental issues for AnnArbor.com. Reach her at (734) 623-2552, amybiolchini@annarbor.com or on Twitter.