Posted on
Thu, Aug 11, 2011 : 2:56 p.m.
Big and biting: Gallinipper mosquitoes are here
By Juliana Keeping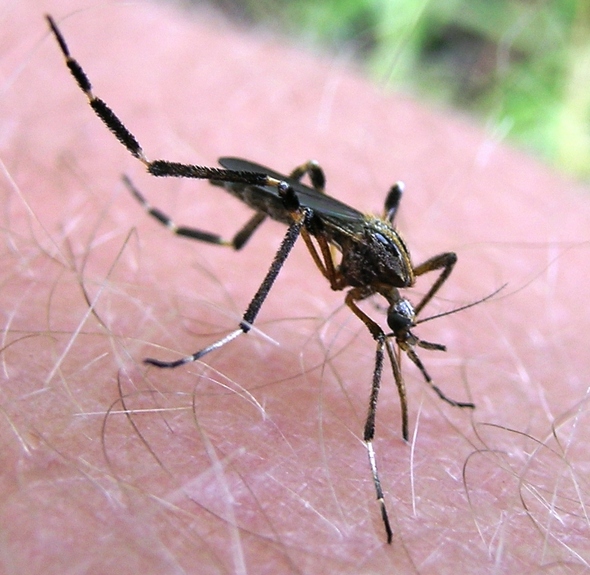 Photo courtesy of Flickr user smccann
The gallinipper has arrived - and it's here to bite.
Ann Arbor resident Ken Clark and his family noticed the strikingly large mosquitoes at their 10-acre plot of farmland in Chelsea on Sunday morning, Clark said.
No one in Clark's family thought the strange-looking creatures were actually mosquitoes.
Maybe, they pondered, these eerie giants buzzing around and perching on farm equipment were just gentle crane flies.
Then one of them bit.
"They're biting through cotton canvas shorts," Clark said. "We've never seen a mosquito go through something like that."
The bites are "like a stab," Clark said. "Not as bad as a yellow jacket but you know when one of 'ems got you. It's much worse than a regular mosquito bite."
The bite doesn't hurt afterward - it just itches, he said.
The term gallinipper describes a variety of big flying bugs, but in this case, it's the easier-to-say version of the mosquito called Psorophora ciliata, said Mike Kaufman, a Michigan State University entomologist.
The insect has a half-inch long body and even longer legs - hairy ones with white bands. Clark said the mosquito would easily cover a quarter. It's aggressive when pursuing its blood meal, and it loves to bite during the day, Kaufman said.
The gallinipper could be mistaken for the invasive and more exotic sounding Asian tiger mosquito, which has made its way to parts of Indiana and Illinois.
So far, Michigan entomologists haven't confirmed the presence of the Asian tiger mosquito, Kaufman said.
"It's not impossible for it to be here," he added. "There might be isolated populations. None of us have a specimen and no one's shown me one."
The gallinipper, on the other hand, is native to Michigan.
It doesn't make an appearance every year, Kaufman said. The recent cycle of heavy rains and dry spells rendered conditions ripe for a burst of the big biters.
The gallinipper's larvae feed on the larvae of its smaller mosquito cousins. If there are lots of smaller mosquitoes buzzing about, you might see the large versions flying around, too.
Clark said he's lived in Michigan all his life and never noticed gallinippers before. Large swaths of fields around his land in Chelsea have flooded more heavily and regularly than in the past in recent months, he said.
Gallinipper eggs can sit for years, waiting for the right conditions to hatch. Once they're out, adults live for two weeks to a month, Kaufman said.
Clark said he's seen the mosquitoes in Ann Arbor since first spotting them on Sunday.
A gallinipper even flew its way into the house after Clark's wife Jodi came in from taking out the compost.
Kaufman said gallinippers carry West Nile virus, though smaller mosquitoes are much more prone to pass it along to people and animals.
Last year there was one case of West Nile virus in Washtenaw County, and there have been no reported cases yet this year, Washtenaw County Public Health officials said earlier this week.
Once the virus is in the bloodstream, it can attack the central nervous system, weaken the immune system and muscles and - in under 1 percent of cases - lead to encephalitis or meningitis.
Juliana Keeping covers general assignment and health and the environment for AnnArbor.com. Reach her at julianakeeping@annarbor.com or 734-623-2528. Follow Juliana Keeping on Twitter