Posted on
Thu, Aug 23, 2012 : 5:59 a.m.
Ann Arbor's new Stadium bridges taking shape but won't be open in time for U-M football season
By Ryan J. Stanton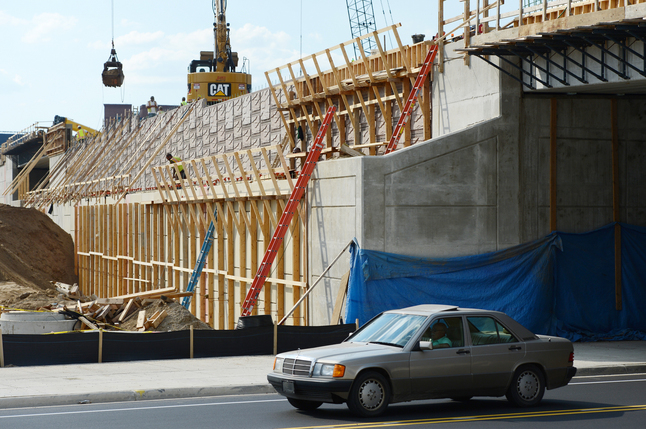 Melanie Maxwell | AnnArbor.com
Anyone who's driven down State Street in
Ann Arbor
lately might have already noticed the new
East Stadium Boulevard bridges
are taking shape — and before long they'll be open to traffic.
But it won't be before the University of Michigan's first home football game on Sept. 8. In fact, the bridges are guaranteed to be out for at least the first two-thirds of the season.
Michael Nearing, the city's senior project manager, said the tentative open date is still "on or before Nov. 14," which is what city officials have been saying all along.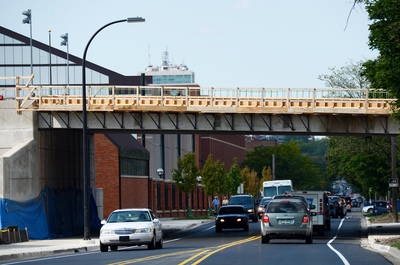 Melanie Maxwell | AnnArbor.com
"We're basically on schedule," Nearing said Wednesday afternoon. "We basically have all of the retaining walls built except one. We are planning on pouring the two bridge decks next week, weather permitting, and we have our paving completed on State Street.
"We're closely monitoring the progress of construction," he added. "And if we think we'll be open before Nov. 14, I'll be the first one to share that excellent news with the world."
U-M has six home football games this year: two in September, two in October and two in November. Nearing said the bridges definitely won't be open for the four games in September and October.
The last two home games fall on Nov. 10 and 17. Asked about the chances of the bridges being open by then, Nearing responded: "We'll see what happens with the November games."
"I've had conversations with folks at the university," Nearing said. "I'm sure portions of Stadium Boulevard will be paved. I don't know if it will be open to traffic. We're definitely close."
Nearing said two university parking lots near the bridges that were used for staging during the construction project have been repaved, striped and opened.
"So things are going pretty well," he said. "If the weather continues to be favorable, we fully expect to be open to traffic on Nov. 14."
Demolition work on the old Stadium bridges began shortly after U-M's final home game of the season last November, so this marks the first season that the bridges will be out. That presents a logistical challenge for thousands of fans coming into Ann Arbor to see the Wolverines play this year.
Ann Arbor police are planning to have a special traffic control program in place. The university also is getting the word out to football fans via www.mgoblue.com and other channels.
"We have always been working under the original estimated construction schedule that the bridge wasn't going to be available all season, so anything earlier is bound to be a plus," said Jim Kosteva, a spokesman for the university. "More importantly, we have attempted to, and will continue to, communicate extensively with our football patrons about the construction and associated road closure."
On the first page of this year's "stadium guide" that was sent to all season ticket holders, extensive information is provided about the construction and suggested alternatives, Kosteva said. The guide alerts fans to expect that Stadium Boulevard will be closed from South Industrial Highway to Kipke Drive.
The same information is posted here: http://www.mgoblue.com/genrel/082609aae.html.
U-M says its game day traffic analysis has indicated that Main Street, Ann Arbor-Saline Road and State Street are consistently the most congested thoroughfares. It has put together a color-coded map of parking zones and associated highway access points for fans to expedite their arrival and departure on game day.
The guide suggests these three alternative routes:
If coming to Ann Arbor from the north, try M-14 Exit 2 — Maple Road (green zone). Follow Maple Road south as it merges with Stadium Boulevard and leads to the stadium area.

If coming to Ann Arbor from the east or northeast, consider using US-23 Exit 41 — Plymouth Road (yellow zone). Take Plymouth Road west to Huron Parkway to Geddes (south of the river), then west to approach the stadium area. Or, to park in areas east of State Street or along South Industrial Highway, follow US-23 to Exit 37 — Washtenaw Avenue, and head west. Continue straight onto Stadium Boulevard at the split and head west toward the stadium area.

If coming to Ann Arbor from the west, use I-94 Exit 172 — Jackson Road (purple zone). Take Jackson Road to Stadium Boulevard, turn right (south) and continue toward the stadium area.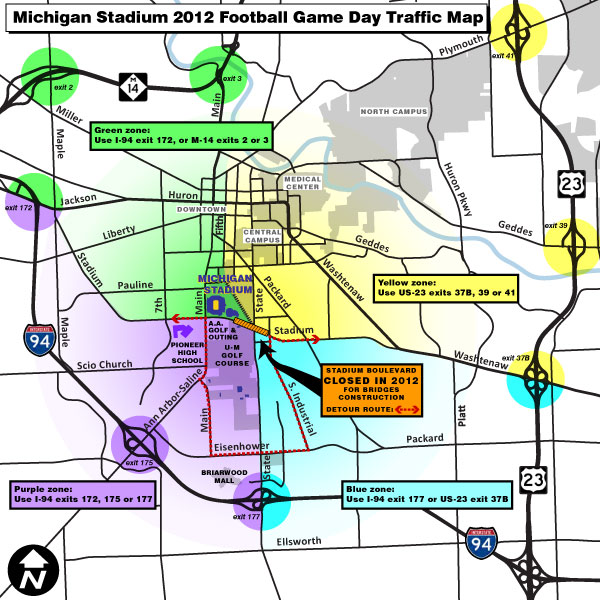 Courtesy of University of Michigan
Ryan J. Stanton covers government and politics for AnnArbor.com. Reach him at ryanstanton@annarbor.com or 734-623-2529. You also can follow him on Twitter or subscribe to AnnArbor.com's email newsletters.