Posted on
Sat, Apr 21, 2012 : 5:57 a.m.
Stadium bridges project in Ann Arbor ahead of schedule thanks to good weather
By Ryan J. Stanton
The reconstruction of the Stadium bridges in Ann Arbor is coming along smoothly thanks to good weather, project officials said this week.
Michael Nearing, the city's senior project manager, said crews are between three and four weeks ahead of schedule on various project tasks.
"The project is going pretty well," Nearing said. "The whole area appears quite different already. We have the Ann Arbor Railroad bridge completely removed now and they started excavating for the retaining walls, so there are very marked changes that have taken place."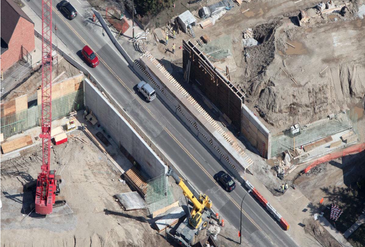 Courtesy of city of Ann Arbor
As of last week, both 83-year-old bridge spans over State Street and the adjacent railroad tracks have been completely removed, and new bridge abutments are starting to take shape.
Much of the western abutment of the span over State Street has been completed. On the eastern side of the street, the footing and some wall sections have been completed.
Nearing said new steel beams will be set over State Street during the first two days of May with intermittent closures of the street while beams are swung into place.
For the past several months, the target date for reopening East Stadium Boulevard and allowing traffic over the new bridge spans has been Nov. 14.
"At this point in time, I'm still projecting we'll be open to traffic on or before Nov. 14," Nearing said, hesitant to predict the project might be done early.
While the project is ahead of schedule now, Nearing said, keeping that up remains heavily dependent on the weather, and May and August tend to be rainy months.
Another major part of the project is expected to start April 30 and last through mid-July. That's when State Street will be reconstructed from north of Henry Street to north of Rose Avenue.
State Street will close to northbound traffic until July 11 to facilitate construction of sidewalks, storm sewers, fire hydrants and pavement in the vicinity of the bridge area.
Southbound traffic still can use State Street and pedestrians will use the sidewalk on the eastern side of the street. Northbound traffic will be detoured.
Crews already have done some utility relocation along State Street to pave the way for that part of the project to happen.
Project officials estimate 100,000 cubic yards of dirt are being hauled in and out of the Stadium bridges construction site for the project.
A number of retaining walls used to support Stadium Boulevard still need to be constructed. Crews have just started work on the railroad bridge, pouring one footing so far. At least three-quarters of that work remains to be done, according to project officials.
About three-quarters of the underground work is now finished. At the western end near Kipke Drive, a stormwater detention culvert has been built under Stadium Boulevard and new storm sewers and manholes are now connected into the project's drainage system.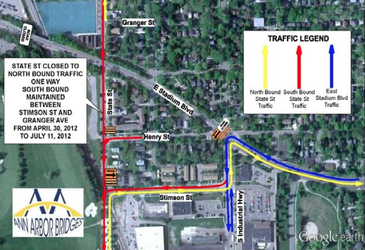 Courtesy of city of Ann Arbor
On the University of Michigan Golf Course, a new headwall and trash screen has replaced an obsolete one where Allen's Creek empties into the storm sewer. And underground, a storm sewer line has been installed.
A 30-inch water main also is being installed to replace part of an obsolete 20-inch water main line used to carry well water from the south to the treatment plant on the north side of town.
In the upcoming weeks, project officials say residents can expect to see the construction of more walls on the east abutment of the bridge over State Street, a detention culvert installed at the east end of the project on Stadium Boulevard, and storm sewer construction along Rose Avenue from White Street to East Park Place with some curb repairs in that area.
In late May or early June, crews plan to start construction of the retaining wall along the southern edge of the U-M field hockey site.
Separately from the Stadium bridges project, major repairs to East Stadium Boulevard are expected to start soon. The project includes replacement of the underground water mains between Packard Road and Brockman Boulevard, and subsequent resurfacing of East Stadium Boulevard from Packard Road to Washtenaw Avenue.
Ryan J. Stanton covers government and politics for AnnArbor.com. Reach him at ryanstanton@annarbor.com or 734-623-2529. You also can follow him on Twitter or subscribe to AnnArbor.com's email newsletters.