Posted on
Tue, Feb 14, 2012 : 12:58 p.m.
Ann Arbor's real-time online snowplow tracking tool is a hit
By Cindy Heflin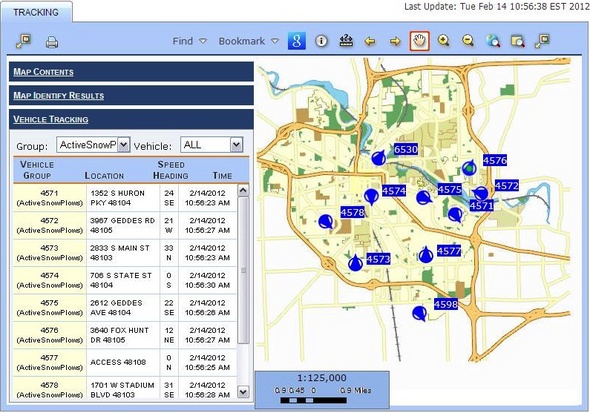 The
City of Ann Arbor
's new online
snowplow tracking
tool is working like a charm.
The system was so popular with the public when it was first turned on in December it crashed from overuse, said Kirk Pennington, field operations supervisor. At least 200 people were trying to watch the city's snowplows do their work in real time, he said.
The city has no way to monitor how many people are checking out the website, Pennington said, but has generally received positive feedback from residents.
"They like seeing where the plows are," he said. A smaller number of people have been unimpressed, he said. "Some people feel it's a complete waste of resources."
The Ann Arbor City Council authorized spending $88,000 to outfit up to 100 vehicles with the system. Though other cities use similar vehicle tracking systems, this is the first one hosted by the vender, Radio Satellite Integrators, to provide public access.
However city residents may feel about the system, city officials are very pleased, Pennington said.
In addition to real-time information about where each plow is on its route, the system also tracks how much salt each plow is using and where. That means the city can identify problem areas and take steps to address those. Perhaps snow tends to drift on a particular street, for example. The city might decide to plant bushes there to act as a windscreen.
The system is also helping the city keep track of potholes. A two-way messaging system allows driver to log the location of potholes so that they can be repaired in a timely manner. The system also keeps track of the number of times a pothole has had to be repaired, thus alerting the city to problem areas that may need resurfacing.
"We knew it would meet our needs," Pennington said. "What was completely unclear at that time was what the public's needs were and how to effectively communicate that to them. On the management end it's doing everything that we intended it to do and we're discovering new uses for it."
The city is still learning how to make use of the public interface, he said. At the moment, the real-time information can only be viewed in the Internet Explorer browser. An update to the system expected this year should make the information visible on Firefox and Google Chrome browsers, Pennington said.