Posted on
Thu, Nov 15, 2012 : 2:59 p.m.
Appeals court strikes down ban on affirmative action in university admissions
By Kellie Woodhouse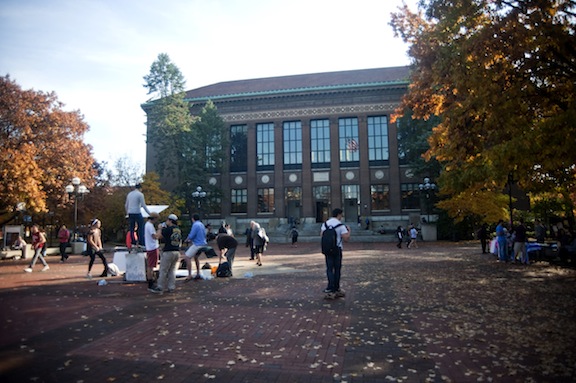 AnnArbor.com photo | Joseph Tobianski
This story will be updated.
The University of Michigan may be able to consider race in its admissions process again following an appeals court ruling Thursday.
The state's ban on affirmative action in college admissions was declared unconstitutional Thursday by a deeply divided federal appeals court, six years after state voters said race could not be an issue in choosing students.
In an 8-7 decision, the U.S. Circuit Court of Appeals in Cincinnati said the voter-approved 2006 amendment to the Michigan Constitution is illegal because it presents an extraordinary burden to opponents who would have to mount their own long, expensive campaign through the ballot box to protect affirmative action, the Associated Press reported.
In striking down the proposal, the court agreed with a July 2011 federal ruling that the proposal is illegal.
That burden "undermines the Equal Protection Clause's guarantee that all citizens ought to have equal access to the tools of political change," said Judge R. Guy Cole Jr., writing for the majority at the 6th U.S. Circuit Court of Appeals in Cincinnati.
It would be much fairer for supporters and opponents to debate affirmative action through the governing boards of each public university, the court said, instead of cementing a ban in the constitution — "the highest level."
The court did not comment on part of the amendment that deals with government hiring.
University of Michigan officials were sorting out what the 74-page ruling means Thursday afternoon. "There's a lot to contemplate here," said Cynthia Wilbanks, vice president of government affairs. "There's a lot of moving parts."
Wilbanks declined to comment further on the ruling's impact and said she was still reading it.
Spokesman Rick Fitzgerald also said the university had just received a copy of the opinion. "It is an extensive ruling, with what appear to be several individual opinions. It will take some time to fully review and consider its ramifications."
George Washington, attorney for the plaintiff, the Coalition to Defend Affirmative Action, Integration and Immigrant Rights and Fight For Equality By Any Means Necessary (BAMN), said he predicted a victory in the appeals case in June 2011 and was proven right on Thursday.
"This is a tremendous victory for black and Latino students, for the movement that fought for affirmative action, and really a tremendous victory for the entire country," Washington said.
Michigan Attorney General Bill Schuette, who appealed an earlier ruling dismissing the ban on affirmative action, known as the Michigan Civil Rights Initiative Thursday said he'll appeal to the U.S. Supreme Court.
"MCRI embodies the fundamental premise of what America is all about: equal opportunity under the law," Schuette said in a statement Thursday. "Entrance to our great universities must be based upon merit. We are prepared to take the fight for quality, fairness and the rule of law to the U.S. Supreme Court."
Washington said he's confident the Supreme Court would uphold the ruling if it takes up the case.
Mark Rosenbaum, an ACLU attorney and University of Michigan professor who argued the case, said the ruling reaffirms that the political process must be open to all, MLive reported.
"It restores the argument that race is not to be disadvantaged when universities seek to enroll a diverse student body. Somewhere Lincoln and Dr. King are smiling," he said in a statement.
According to the ACLU, the number of blacks enrolled as freshmen at U-M dropped nearly 15 percent from 2006 to 2010. Black enrollment at the law school fell 28 percent from 2006 to 2011.
U-M has long been a proponent of affirmative action policies. University President Mary Sue Coleman recently stated that she is a "huge believer in affirmative action" and called it a "complete falsehood that it's a depriving qualified people of an education."
U-M advocacy of affirmative action has been taken all the way to the U.S. Supreme Court, which in Grutter v. Bollinger found in 2003 that U-M could work toward achieving diversity in its admissions policy, but that the school's existing policy considered race too heavily.
The school reworked its formula but hit another roadblock in 2006, when voters approved Proposal 2, which fully banned any consideration of race in admissions by Michigan's 15 public universities. Jennifer Gratz, one of the plaintiffs in the pair of lawsuits the Supreme Court ruled on in 2003, teamed up with Ward Connerly, leader of the American Civil Rights Institute, to campaign for passage of Proposal 2.
A three-judge panel of the appeals court ruled in 2011 that the ban on affirmative action was unconstitutional.
Schuette then vowed to appeal the federal ruling dismissing Proposal 2. In September, after a motion from the state of Michigan, the court of appeals said it would reconsider the decision.
But the university isn't in the clear yet: Affirmative action policies are now the subject of another case in the High Court concerning the University of Texas' admissions policy, which considers an applicant's race. The Supreme Court heard oral arguments on that case earlier this fall and Coleman's staff filed a friend-of-the-court brief supporting affirmative action polices.
The U.S. Departments of Justice and Education issued a guidance in December 2011 in support of affirmative action policies, but it is unclear how a divided Supreme Court will rule.
In dissent Thursday, Judge Danny Boggs said the majority relied on an "extreme extension" of two Supreme Court cases to justify its decision, AP reported.
"We have the citizens of the entire state establishing a principle that would in general have seemed laudable," Boggs said.
Gratz posted on Facebook about her displeasure with the ruling: "Outrageous," she wrote. "I have never been one to back down from a fight for what I believe is right. The Michigan voters overwhelming approved the Michigan Civil Rights Initiative in 2006 and the courts, with all do [sic] respect, do not have the right to overturn the will of the people. I am committed to doing everything in my power to make sure that fairness and equality will be the rule of law in Michigan again."
Kellie Woodhouse covers higher education for AnnArbor.com. Reach her at kelliewoodhouse@annarbor.com or 734-623-4602 and follow her on twitter.
The Associated Press, AnnArbor.com reporter Kyle Feldscher and Mlive reporter David Eggert contributed to this report.