Is it responsible for health care workers to decline flu jabs?
Posted on Mon, Oct 3, 2011 : 5:58 a.m.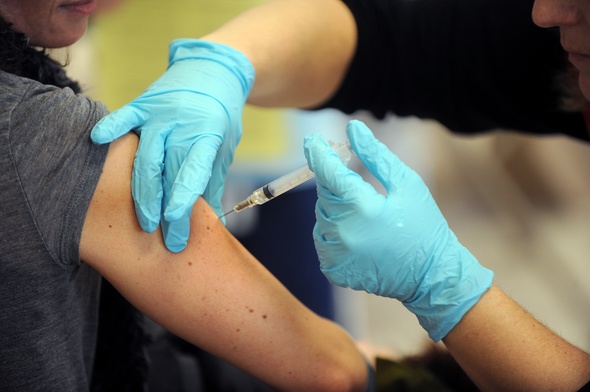 Lon Horwedel | AnnArbor.com
Are health care workers who decline to receive a flu vaccination irresponsible?
An article in Scientific American asked that question recently, noting that more than one-third of U.S. health care workers do not receive a flu vaccination, according to an August report by the Centers for Disease Control and Prevention.
Local health care workers who refuse both the flu and whooping cough jabs are putting their jobs at risk under policies that began in 2010. Health system officials from the University of Michigan and St. Joseph Mercy hospitals say the policies protect patients.
At St. Joseph Mercy hospitals, all employees will receive a mandatory flu and whooping cough jabs under a policy that went into effect in 2010.
The employees risk losing their job if they refuse to comply, although last flu season, about 50 people were allowed to opt out of the vaccinations for medical reasons, said Lauren Jones, spokesperson for St. Joseph Mercy Health System.
Jones said a handful of individuals lost their jobs for refusing to comply with the new policy but was not immediately able to provide a number.
Pertussis is a respiratory disease commonly called whooping cough.
Washtenaw County had the highest number of whooping cough cases of all 83 counties in Michigan in 2010. Of 1,564 cases reported to the Michigan Department of Community Health, 233 originated from Washtenaw County.
About 98 percent of 6,000 workers at the health system's Ann Arbor, Saline and Livingston locations complied with the new policy last year, Jones said.
At the University of Michigan Health System, employees who refuse a jab will again have to wear a mask during flu season under a policy that began in 2010.
Employees who don't receive a vaccination and then refuse to wear a mask can lose their jobs. A separate policy that began in 2010 also requires all UMHS employees to receive whooping cough vaccine.
Vaccinations are free to employees at both St. Joe's and U-M.
Are workers who fight or refuse these vaccines irresponsible? Why should, or shouldn't, health care workers get their yearly vaccines for flu or whooping cough? Take our poll and leave a comment below.