Posted on
Tue, Nov 9, 2010 : 6:40 a.m.
Argo Dam repairs have Ann Arbor council members questioning where funds should come from
By Ryan J. Stanton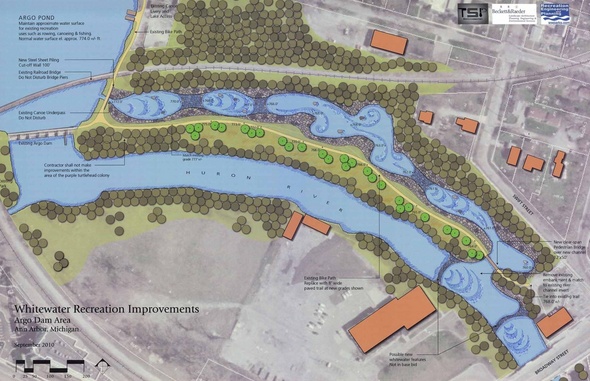 Ann Arbor City Council members have a week to ponder a $1.17 million proposal to reconstruct Argo Dam's headrace and earthen embankment.
Council members received a lengthy presentation from city staff and the contractor proposing to do the repairs at a work session Monday. It was the same presentation given last month at the Ann Arbor Park Advisory Commission meeting where PAC voted 7-1 in favor of the project.
Council members made no decisions, but the proposal is expected to come before them for formal consideration next Monday night.
It's apparent council members are planning to have a philosophical discussion on the appropriateness of taking $300,000 from the city's drinking water fund to cover a portion of the project costs. That has been a part of city staff's recommendation.
The city has been tapping the drinking water fund for years to help pay for the repair and maintenance of the Argo and Geddes dams, but some argue it's inappropriate — and possibly illegal — since the dams serve purely recreational purposes these days.
For more than a year, city officials have acknowledged a need to move funding for the dams to the parks budget, but that hasn't been done yet.
"We said sometime back we needed to take a look at that, and I guess this is going to be the time when we do that," Mayor John Hieftje said.
Hieftje noted the $300,000 from the drinking water fund already has been budgeted for repairs to Argo Dam. He said there's the option of using that money and then saying, "OK, no more use of the water fund for maintenance of the dams" — or simply not using it at all.
"So I think there's some variations in the decision that council could make and it depends on where they want to draw the line," he said.
Council Member Carsten Hohnke, D-5th Ward, asked Monday night if the $300,000 would have to come from the parks budget if the city chose not to tap the drinking water fund.
"If you wanted to bite off the whole proposal, we would figure out a way to get it done. And if you chose not to use the water money, we would figure out a way to get it done," said City Administrator Roger Fraser. "And the question is really a policy matter about whether or not you want to continue to use the water fund at this location, but I would hope that you would understand that, for the sake of $300,000 in the total scheme of things, you have an opportunity here to really change the nature of this amenity in a major way."
Gary Lacy, an engineer with Colorado-based Recreation Engineering and Planning, fielded several questions from council members Monday night.
The project his firm would take on not only addresses concerns about the safety of the dam's earthen embankment, which were raised by the state, but also adds whitewater amenities and removes a portage at the end of the headrace where people currently are forced to lift their canoes and kayaks out of the water to bypass Argo Dam.
Council Member Tony Derezinski, D-2nd Ward, asked whether there was a way to also improve and widen the entrance to the headrace that bypasses Argo Dam.
Lacy described the current entrance as "a cold, dark concrete tunnel," but said it would take another $150,000 or more to improve clearance and add an arched bridge there.
"We didn't include that at this time because it really wasn't necessary," he said. "I mean, the canoes are going through there now. Everything's working fine. It's a little ugly and it's a little cold, but it still works. So it wasn't a necessity, but it's certainly an option that's feasible."
Lacy reiterated a point he made at last month's PAC meeting — that many of the amenities and improvements being proposed still would be useful if Argo Dam were removed. That includes embankment improvements, trail connections, whitewater features and most of the headrace.
He said if the dam was removed, the only changes that would have to be made would be reconfiguring the upper portion of the headrace to accommodate the drop in water level.
"I see this as a giant water slide, which is a good thing," Council Member Sabra Briere, D-1st Ward, said at one point during the meeting to describe the proposed headrace redesign.
City officials said the improvements are estimated to increase canoe livery revenues by $25,000 to $30,000 per year, as well as decrease ongoing maintenance and monitoring costs.
The city's Argo Canoe Livery sees about 16,000 river trips each paddling season, resulting in about $210,000 in annual revenue. It is estimated that another 4,000 private canoeists also use the headrace each season.
According to city staff, the city has nearly $1.2 million in available funding to pay for the project. That includes tapping into $683,000 in parks funds that were once allocated to pay for the removal of ash trees due to emerald ash borer. In addition, $195,000 is available in a river parks capital project fund, and $300,000 remains unspent from money the city previously allocated from its water fund to repair the toe drains.
The project also calls for transforming a portion of the border-to-border trail that runs along the embankment from a narrow dirt path into an 8-foot-wide paved trail. City officials hope the county might be willing to chip in money for that part of the project.
Ryan J. Stanton covers government and politics for AnnArbor.com. Reach him at ryanstanton@annarbor.com or 734-623-2529.