Posted on
Wed, Oct 20, 2010 : 6:03 a.m.
Ann Arbor Park Advisory Commission recommends $1.17 million reconstruction of Argo Dam headrace
By Ryan J. Stanton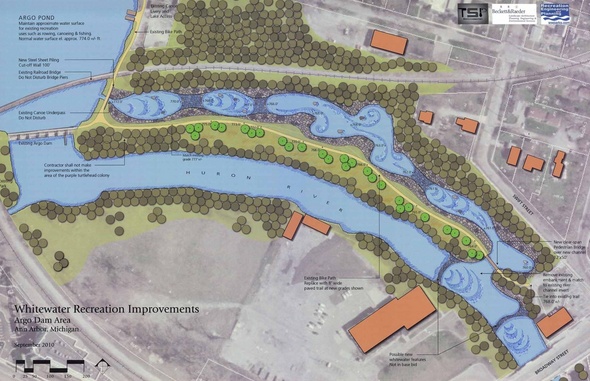 It took nearly three hours of discussion, but the Ann Arbor Park Advisory Commission decided on a new plan Tuesday night for Argo Dam — a $1.17 million project city officials say will boost recreational opportunities while addressing safety concerns.
By a 7-1 vote, PAC made a recommendation to the Ann Arbor City Council to proceed with reconstruction of the dam's headrace and earthen embankment. The project is expected to go before the City Council for approval on Dec. 6.
The only person to voice opposition was Tim Berla, who said he thinks the city has failed to appropriately look into the option of dam removal.
As part of a consent agreement with the Michigan Department of Natural Resources and Environment, the city is taking steps to address deficiencies in the dam's headrace embankment, specifically a series of toe drains the DNRE says are in need of repair.
Ryan J. Stanton | AnnArbor.com
The city recently received bids showing it could repair the toe drains for about $700,000. But city staff instead is recommending — and PAC approved — a more expensive option that includes reconstructing the headrace and removing a canoe portage.
The base cost of the project is $988,170, but PAC chose the option of adding an additional "whitewater" amenity near the end of the headrace, which was about $180,000. Sam Offen was the only commissioner to dispute the extra costs, saying he thought the money could be better spent at another city park that caters to a different set of people.
The city wants to rebuild the 1,500-foot headrace — a channel that allows paddlers to bypass Argo Dam — to allow novice paddlers direct access the Huron River without having to lift their canoes and kayaks out of the water at the current portage site.
"Canoes weigh 85 pounds, and this is a pretty cumbersome task," said Colin Smith, the city's parks manager, calling it "an immense improvement" to remove the portage.
Molly Wade, the city's water quality manager, said the improvements are estimated to increase canoe livery revenues by $25,000 to $30,000 per year, as well as decrease ongoing maintenance and monitoring costs.
The city's Argo Canoe Livery sees about 16,000 river trips each paddling season, resulting in about $210,000 in annual revenue from equipment rentals and sales. It is estimated that another 4,000 private canoeists also use the headrace each season.
Smith said the city has nearly $1.2 million in available funding to pay for the project. About three or four years ago, he said, the city allocated nearly $1.5 million in parks funds to pay for the removal of ash trees due to emerald ash borer. He said $683,000 of that went unspent and was returned to the parks capital fund in July.
In addition to tapping into that fund, Smith said $195,000 is available in a river parks capital project fund, and $300,000 remains unspent from money the city previously allocated from its water fund to repair the toe drains. Smith said there might be other opportunities for funding from Washtenaw County for $112,000 in trail improvements included in the project.
The project calls for transforming a portion of the border-to-border trail that runs along the embankment from a narrow dirt path into an 8-foot-wide paved trail.
Argo Dam originally was constructed in 1913 for Detroit Edison to generate hydroelectric power. The dam no longer is used for power generation, but is maintained by the city for recreation. The Ann Arbor VA hospital is exploring the option of using Argo and Geddes dams for hydropower, a move that could save the city money on maintenance.
City records show the city expects to spend nearly $1.5 million on additional maintenance and insurance costs for Argo Dam over the next two decades.
A report prepared for the city by Stantec Consulting Inc. in January 2009 showed it would cost about $1.3 million for complete dam removal. Those on the dam-out side of the argument over Argo, including the Huron River Watershed Council, say it's time to look at that option.
Ann Arbor attorney Scott Munzel, a Huron River Watershed Council board member, called on PAC to consider removing the dam once and for all.
"From where I sit as a city taxpayer, it appears to me that the city is conducting a policy of spending a significant amount of money with a very incomplete analysis," he said.
City officials said it's not a matter of dam-in versus dam-out at this point. They said the repairs being done to address deficiencies in the embankment are a direct response to orders from the state and don't put an end to discussions about the dam's long-term future.
Representatives of the project team gave a presentation to PAC, saying the amenities they propose adding — including the trail, bridges and headrace features — would remain even if the city eventually removed Argo Dam. The project team includes TSP Environmental, Beckett and Raeder, and Recreation Engineering and Planning.
Gary Lacy, an engineer with Colorado-based Recreation Engineering and Planning, said he hopes to get started on the project this winter while the ground is frozen — as opposed to muddy — and complete the work by early summer.
City Council Member Mike Anglin, an ex-officio member of PAC, praised the project during Tuesday's meeting, calling it "creative" and a good long-term investment in recreation.
City Council Member Christopher Taylor, an ex-officio member of PAC, said it's important to note the proposal is consistent with an eventual community decision to remove the dam.
"I was pleased to hear from TSP that the proposed improvements would still be highly useful even if the community decided to remove Argo Dam five, 10 or 20 years down the line," he said. "No matter what the community decides, the money spent on this project will not have been wasted."
Ryan J. Stanton covers government and politics for AnnArbor.com. Reach him at ryanstanton@annarbor.com or 734-623-2529.