Posted on
Tue, Jul 10, 2012 : 4:46 p.m.
Susan Martin controversy: Conversation about EMU's former Huron logo sparked 'a little miscommunication,' alumnus says
By Amy Biolchini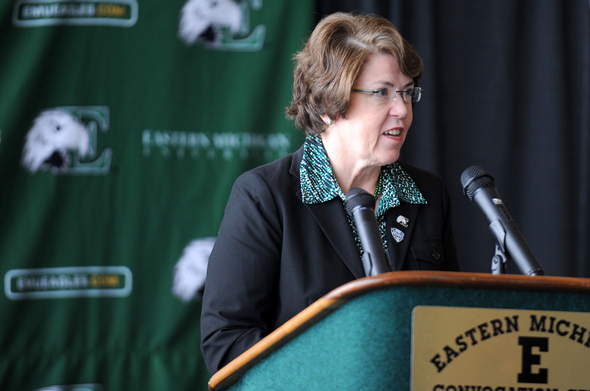 Angela J. Cesere | AnnArbor.com file photo
The argument between
Eastern Michigan University
President
Susan Martin
and an EMU alumnus that has
drawn fire from the Board of Regents
centered over the university's former
Huron mascot
.
At an annual event for Washington D.C.-area EMU alumni, Martin reportedly got into an argument involving alcohol - for which she was criticized in a May 17 letter sent to her from the Board of Regents.
In her written response to the Regents, Martin stated she had resolved the argument she had April 23 with Michael Ferens, a graduate of EMU and president of the Washington D.C. alumni chapter, via email.
Ferens told AnnArbor.com Tuesday the miscommunication stemmed from a "Huron issue."
"I mis-phrased a name in the conversation and that's all it really was," Ferens said.
"It wasn't loud, just targeted to me at the moment," he said.
"It wasn't a moment of public embarrassment for an official at her level."
From 1929 to 1991, EMU's mascot was the Hurons. The university began investigating whether its Huron Indian logo was appropriate after the Michigan Department of Civil Rights issued a report in October 1988.
The Board of Regents voted to replace the Huron name and logo with the Eagles in 1991. The move was highly controversial among students and alumni at the time.
The alumni event was a two-hour party with hors d'oeuvres and libations with about 30 people at a venue in Oxon Hill, Maryland.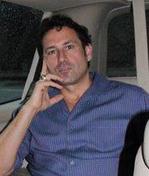 From Facebook
After the party was over, Ferens said he sat down with Martin, a board member from the D.C. alumni chapter and an EMU staffer.
"We sat down and had a glass of wine, but we didn't have 15 glasses of wine," Ferens said. "I did not witness any heavy drinking. I did not witness any spectacles."
Ferens called the argument "a little miscommunication," and confirmed that the issue had been resolved between Martin and himself.
"It was a moment of intensity in a conversation," Ferens said. "I cannot speculate on her drinking."
Though Ferens said he would not comment on the appropriateness of the Regents' response to the incident, he said he was "caught off-guard by this whole thing."
Ferens, a Flint native, graduated from EMU in 1986 with a bachelor's degree in international business communications.
He moved east three years later, and now resides in Washington, D.C.
"I'm one of those sticks in the mud out there," Ferens said of his love for the Huron mascot.
Ferens said he met Martin four years ago at an alumni event, and last year worked with Martin to raise money for EMU's marching band uniforms.
"We're fine and we've moved on," Ferens said Tuesday in an interview with AnnArbor.com. "We have a good relationship."
Amy Biolchini covers Washtenaw County, health and environmental issues for AnnArbor.com. Reach her at (734) 623-2552, amybiolchini@annarbor.com or on Twitter.