Posted on
Tue, Jul 10, 2012 : 1:46 p.m.
EMU president reprimanded by regents after alcohol-related squabble in Washington, D.C.
By Kellie Woodhouse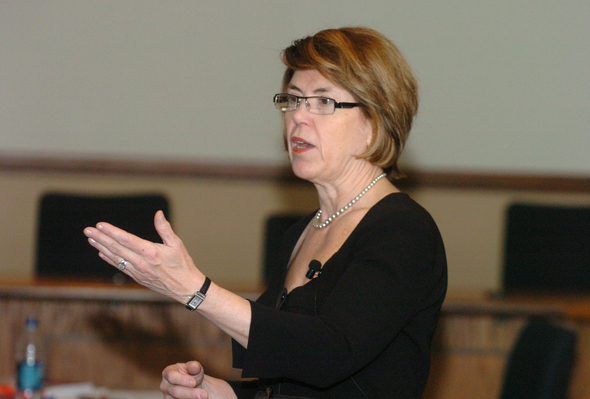 File photo
This story has been updated.
The Eastern Michigan University Board of Regents has formally reprimanded President Susan Martin for behavior at a recent event in Washington D.C. when she allegedly got into an argument with an alumnus after consuming alcohol.
In a May 17 letter, the board's executive committee threatened to fire Martin if she did not control her drinking.
"We have become aware of a recent incident in Washington, D.C. in which you conducted yourself in a way that was inappropriate for your position and reflected poorly on the university," a letter from the Board of Regents states. "The incident involved the consumption of alcohol."
The board went on to say it was worried about Martin's "misuse of alcohol" and "concerned about you as a person," and encouraged her to seek counseling. The board also said Martin's alcohol consumption may not only damage the reputation of the university, but lead to future liability issues.
Additionally, the letter mentioned "prior incidents discussed with you," but did not elaborate.
In an email to the campus community sent Tuesday, Martin apologized for the conduct.
"I had a disagreement with an alumni member following an alumni reception in Washington, D.C. about Eastern's past. I lost my temper and made inappropriate remarks for which I apologized," she wrote.
Michael Ferens, the alumnus Martin argued with, said the argument was about EMU's former mascot, the Huron Indians. He said Martin reacted to something he said about the former mascot. EMU changed its mascot from the Hurons to the Eagles in 1991. Martin called the argument a misunderstanding.
"It was over in a minute and we moved on quickly," she said.
In the email, Martin publicly disclosed a DWI she received in 2005, saying the board was fully aware of the incident.
In another communication, Martin said she leads a "very intense and highly visible life" and "could not perform these duties and handle the rigors of this position if I had a serious health issue of any type as suggested" by the board in its letter.
According to communications, while at an alumni event on April 23 Martin got into a heated argument with an alumnus about a "particularly sad time in Eastern's history." Martin admits losing her temper but says she and the alumnus reconciled over email the next day.
"I did consider my sharp and angry response to be 'unpresidential,' " Martin wrote.
Martin's email to students and the release of the board's letter comes after the Detroit Free Press requested Martin's personnel file through the Freedom of Information Act.