Posted on
Thu, Oct 28, 2010 : 7:49 p.m.
Washtenaw County prosecutor rejects request to charge assistant AG Andrew Shirvell with stalking
By David Jesse
Washtenaw County prosecutors denied a request for stalking charges against Andrew Shirvell, saying his speech and actions toward University of Michigan student body President Chris Armstrong were protected speech.
"The only fair review of Mr. Shirvell's statements is that they are offensive and mean-spirited," Konrad Siller, first assistant prosecuting attorney, wrote in a memo denying stalking charges on Tuesday. "However, Mr. Shirvell's statements criticizing Mr. Armstrong's presidency are not considered harassment under the stalking statute."
U-M Department of Public Safety spokeswoman Diane Brown confirmed charges were denied.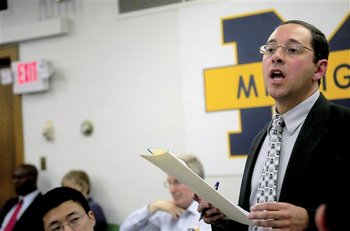 "We submit our investigations to the prosecutors for their review and leave it in their hands," she said.
Shirvell and Armstrong couldn't be reached for comment tonight.
U-M Det. Jason Forsberg submitted the report to prosecutors on Oct. 6. Campus police had been looking into Shirvell's behavior since late last school year, according to records contained in the official police report forwarded to the prosecutor's office.
Forsberg started looking into the matter on June 7, 2010, after campus Police Chief Kenneth Magee asked Forsberg to contact Armstrong about possible harassment by Shirvell.
"Laura, I can see your concerns and from the stalking standpoint, I would like to generate a report, as well, document this," Magee wrote to Dean of Students Laura Blake Jones on June 7 after Jones e-mailed to express her personal concern about the issue.
In his report, Forsberg said he received e-mails about Shirvell's behavior during the course of the investigation from Brown; Anika Awai-Williams, the program manger/advisor for the Michigan Student Assembly; Jones; Sam Goodin from the Dean of Students office; and Armstrong.
In those e-mails, Forsberg was told Shirvell picketed Armstrong during an April 30, 2010, Laramie Project event on campus, and Shirvell had been writing a blog attacking Armstrong. "Awai-Williams told me that Shirvell had been blogging about Armstrong and that the nature of the blogs were anti-gay and against Armstrong."
Armstrong is the first openly gay student body president at U-M. Shirvell, a U-M alumnus, is an assistant attorney general for the state of Michigan. Shirvell also helped run current Michigan Attorney General Mike Cox's campaign for that office.
Shirvell is currently on a voluntary leave from his job and faces a Nov. 5 hearing in front of the state's Civil Service Commission.
"We will monitor Armstrong's 2010-11 administration of the Michigan Student Assembly to ensure that he does not discriminate against pro-life, pro-family, Christian and minority student organizations at U of M," Shirvell wrote in a post explaining the purpose of his blog.
Forsberg interviewed Armstrong on June 8. According to the police report, "(Armstrong) has never told Andrew Shirvell that he does not want personal contact. He does not want me to talk to Shirvell to tell him he does not want to be contacted."
Forsberg also heard about Shirvell bothering Armstrong's friends outside an Ann Arbor bar.
"I explained to Armstrong and Awai-Williams that the circumstances described to me did not constitute stalking," Forsberg wrote in his report. "I told Armstrong to contact me or anyone at DPS if he had contact with Shirvell that he felt was inappropriate."
Forsberg's investigation of Shirvell also revealed Shirvell pleaded guilty to operating while impaired in May 2009 and was charged with assault and battery in 2001.
A U-M incident log of that Sept. 13, 2001, case shows someone called campus police to report "a subject spit on him as he was angry at him from (a) previous dispute."
Records from Ann Arbor's 15th District Court indicate Shirvell was charged with assault and battery and disorderly person (jostling) as a result of that incident. In May 2002, he pleaded no contest to the disorderly person charge and the assault charge was dropped, those records show. No other details were available.
Over the course of the summer, campus police continued to receive reports of Shirvell blogging about Armstrong and calling House Speaker Nancy Pelosi's office, where Armstrong was doing an internship.
On Sept. 8, Armstrong e-mailed Forsberg a series of photos of Shirvell at Armstrong's house late at night. Armstrong also said he would be coming to the Department of Public Safety to talk about getting a personal protection order against Shirvell. Court documents have shown that Shirvell showed up at 1:30 a.m. Sept. 4 at Armstrong's house and that on Sept. 6, Armstrong asked for a police escort from his house because Shirvell was outside at 11:27 a.m.
Armstrong filed for a PPO on Sept. 13 and asked a judge for it to be put in place immediately, which was denied. A hearing date was postponed once before Armstrong dropped his request on Monday just hours before the hearing, saying he'd had no contact with Shirvell since the request was filed.
On Sept. 14, U-M police served a trespass notice on Shirvell on the sidewalk in front of Armstrong's house. That trespass order bars Shirvell from being on U-M-owned property.
Shirvell will appeal that order in a hearing set for 1 p.m. Friday.
"If we get a fair appeal tomorrow, I think we'll get this thing set aside," said Philip Thomas, Shirvell's attorney.
Forsberg described serving the trespass order in his report.
"Ann Arbor Police were on scene taking a stalking harassment report from Armstrong for the activities taking place at Armstrong's residence," Forsberg wrote. "Shirvell was provided a written copy of trespass notice and advised that he could not be on U-M property. Shirvell asked if trespass included events that were open to the public on U-M property, and I explained it includes all U-M property.
"Shirvell stated he would abide by the law. I advised Shirvell that Chris Armstrong has filed a police report with U-M Police and that Armstrong feels harassed by Shirvell's behavior. I told Shirvell that Armstrong did not want to have any contact with him. Shirvell told me that he has been very careful and has 'not had any contact' with Armstrong and that he would not contact him."
The next report included in the file sent to the prosecutor's office was dated Oct. 6, noting that Forsberg was sending the whole file to the prosecutor for warrant review and possible charges.
Siller responded to that request on Tuesday.
"In short, Mr. Shirvell's statements, although at times childish and disingenuous are protected speech as he has a right to criticize the qualifications, campaign promises or public views of the student body president," Siller wrote. "For these reasons I cannot authorize a stalking charge against Mr. Shirvell."
AnnArbor.com reporter Juliana Keeping contributed to this story. David Jesse covers higher education for AnnArbor.com. He can be reached at davidjesse@annarbor.com or at 734-623-2534.