Posted on
Tue, Nov 16, 2010 : 1:52 p.m.
Art installation in front of Ann Arbor police-courts building to move forward with council approval
By Ryan J. Stanton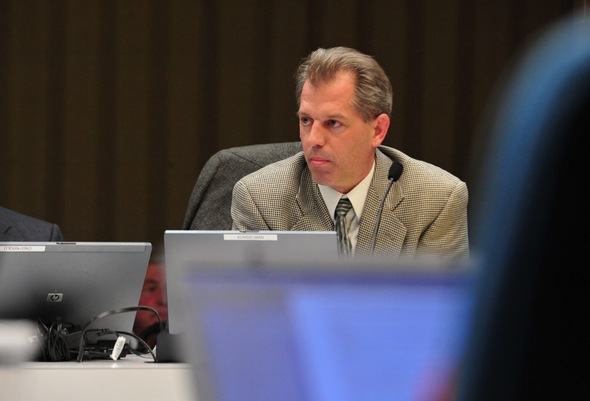 Ryan J. Stanton | AnnArbor.com
Two of the final pieces of the new Ann Arbor police-courts building were approved by the Ann Arbor City Council Monday night: interior furniture and exterior artwork.
The council agreed in an 8-3 vote to spend $553,320 from the city's public art fund under a contract with Quinn Evans Architects to complete the fabrication and installation of the Herbert Dreiseitl water-based sculpture in front of the new city hall addition. That follows a $111,400 contract the city approved last December with QEA for design on the project.
Council members who voted against going forward with construction were Sabra Briere, D-1st Ward, Stephen Kunselman, D-3rd Ward, and Marcia Higgins, D-4th Ward.
In a separate resolution, the council voted unanimously to approve a $36,000 purchase order to ISCG Inc. for furnishings and equipment for the 15th District Court, which will be housed in the new building at the corner of Fifth at Huron streets adjacent to city hall. The city still plans to spend an additional $39,000 in another forthcoming resolution.
City officials noted the potential total cost for furnishings and equipment has been reduced from $160,000 to $75,000 through "increased use of adapted existing inventory combined with refurbished and new goods." The court administrator was criticized by council members at a recent meeting for the unexpected $160,000 price tag for furnishings.
But it was the public art installation that was the subject of scrutiny from council members at Monday night's meeting.
Under the contract, QEA will continue to oversee the final design and construction of the art installation. Conservation Design Forum will be a sub-consultant to QEA.
The proposal calls for a tall, tilted sculpture that incorporates metal, water, concrete and a series of LED lights intended to draw attention. The money to pay for the artwork is coming from the city's Percent For Art Program, which has been debated.
Briere said she thinks the council made a mistake three years ago in agreeing to dedicate 1 percent of capital project costs to public art. She said she thinks that should be reduced to 0.5 percent.
Kunselman said to this date, there has been no written opinion from the city attorney regarding the legality of the public art program. He questions taking money from dedicated funds like water, sewer, parks and streets and redirecting it to a purpose not originally intended.
"If it's so good, how come others aren't emulating it?" Kunselman said of the program, adding he thinks the sculpture being funded is "too extravagant." He said he'd rather have the city spread out its public art money rather than put so much of it into one project.
Sue McCormick, the city's public services area administrator, said the public art fund still will have $1.7 million left in it after spending money on the sculpture project.
Mayor John Hieftje said an insignificant amount of the money is coming out of the general fund, so it's a faulty premise to say the program has played a part in general fund budget cuts.
"There are cities that have 2 percent programs," Council Member Margie Teall, D-4th Ward, said Monday night in defense of Ann Arbor's 1 percent program. "This is a landmark project, and it's one that will hopefully draw people downtown."
Kunselman said he's still worried about the maintenance and repair costs the city will have to take on once the water-based installation is up and running. A representative from QEA said there have been no projections on what those costs might be.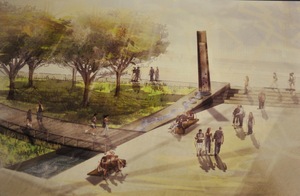 The cost to complete the design, fabrication and installation of the exterior artwork is $553,320, inclusive of all artistic, professional design and engineering fees, permits, fabrication and installation costs and reimbursable expenses, city officials said.
In June, QEA — with assistance from CDF and the artist — prepared and publicly issued a request for statements of qualifications to potential fabricators/installers. Two companies were considered, and the Future Fence/Future Fab Co. of Warren was selected.
The project will be delivered as it was presented to the city in June 2009, with the exception that the exposed metal will be bronze in lieu of weathering steel, city officials said.
While community concerns were expressed about hiring an artist from Germany, city officials said Future Fence has committed to including Michigan organizations on its fabrication team, including Leprecon Inc. (lighting and water technology) of Hamburg, the Center for Creative Studies (glass globes) of Detroit and the Fine Arts Sculpture Center (bronze) of Clarkston.
The installation is expected to be completed in the spring.
Ryan J. Stanton covers government and politics for AnnArbor.com. Reach him at ryanstanton@annarbor.com or 734-623-2529.