Posted on
Mon, Oct 29, 2012 : 5:47 a.m.
University of Michigan athletes sign social media policy in bid to avoid controversy as Twitter incidents multiply
By Kellie Woodhouse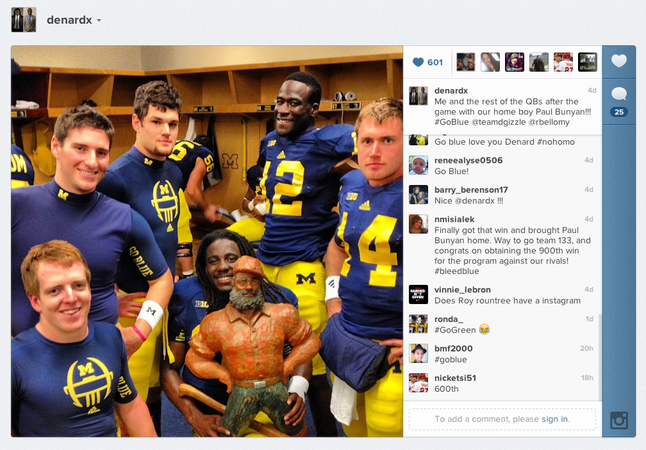 For college athletes, social media use tends toward the extreme: It's either a blessing or a curse.
In the past year, two University of Michigan football players earned their team secondary NCAA violations by inadvertently tweeting at a recruit; a third-string Ohio State quarterback became infamous when he tweeted that classes are "pointless;" and a top-rated recruit lost his chance to play with the Wolverines after he authored sexually and racially charged tweets.
These few Twitter snafus eclipse the tens of thousands of 140-character notes sent each day that reflect well on college athletes. "When blaming others you give up the power to change," Michigan quarterback Denard Robinson tweeted to his 50,000-plus followers in September.
But such positive tweets are rarely the ones that stick with people — it's the mistakes that fans never forget. That's part of the reason U-M's athletic department formalized its social media practices this fall.
The department now distributes the same set of guidelines to all teams and asks each athlete to sign a social media use agreement. Previously, social media practices were less streamlined and formalized.
"It was more reactionary," said associate U-M athletic director David Ablauf, who handles athletic department communications.
The policy is straightforward, advising students not to post when they're emotional, not to use offensive language or slurs and not to tweet during class. If athletes violate the policy they can be reprimanded or, worse, face suspension.
Ablauf says that since the rise of social media, U-M has suspended a "handful" of student athletes because of inappropriate posts. No suspensions, he said, occurred on the football, basketball or hockey teams.
Setting limits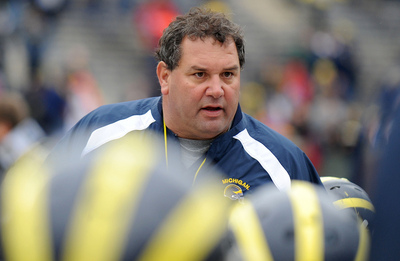 Angela J. Cesere | AnnArbor.com
Michigan's decision to set a formal policy and have students sign an agreement follows a national trend of colleges tightening their grip on student athletes' social media practices.
Some colleges go much further than Michigan, forcing athletes to allow school officials access to their private accounts (such as Utah State University), banning players from using a long list of words on Twitter (such as University of Kentucky), or forbidding the students from using Twitter altogether. Many schools have hired third-party companies to monitor athletes' posts around the clock.
Ablauf and his communications team monitor student athletes' social media use with applications like Tweetdeck, but the school does not pay a third-party company. The department does, however, bring in communications specialists to teach players social media dos and don'ts.
Lee Gordon, a media trainer who has worked with teams throughout the country, including some at Michigan, says social media becomes increasingly important to athletes and fans each year.
"Some athletes can rattle off to you, 'I have 14,000 followers on Twitter.' They know that more than they know how many points they got last year," he says.
Troubling incidents
"Used responsibly, social media can be a great way to interact with friends, fans and the public and promote your sport and the University," Michigan's current guidelines say. "Used irresponsibly it can be a quick way to destroy your reputation in 140 characters or less!"
The statement is all too true.
In September, Robinson completed just 11 of 26 passes in a 41-14 loss to Alabama that sent the Wolverines reeling into their 2012 season. As Robinson stumbled, Michigan State players took to Twitter to mock their rival.
"Even a blind squirrel can get a nut ever [sic] once in a while," a MSU running back tweeted. "Denard is soooo bad!" a safety tweeted in all caps. "Is this guy really a QB?" a Spartans linebacker asked on Twitter.
The tweets were deemed classless by sports commentators and gained regional media attention, especially after Michigan State football coach Mark Dantonio chastised his players publicly, saying "our guys need to keep their mouths shut."
Meanwhile Michigan coach Brady Hoke called the tweets a "reminder of how we want to represent this program."
Widely criticized incidents on social media have been relatively rare for the Wolverines. In March, receiver Roy Roundtree and linebacker Kenny Demens each earned the football team secondary NCAA violations for tweeting at Michigan recruit Mike McCray, who attends Roundtree's former high school.
Thinking he was sending a harmless tweet, Roundtree wrote "S/O to my lil brotha Mike McCray @MJM92013 for committing to Michigan today."
However innocent Roundtree's intentions, the tweet violated an NCAA bylaw that prohibits players from publicly contacting unsigned recruits.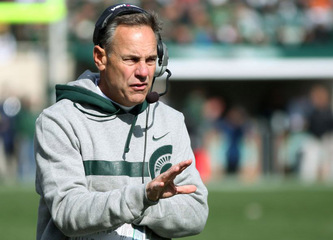 'Pulling the veil off their lives'
Many Twitter mishaps are more brazen.
For example, Michigan was strongly recruiting four-star New Jersey prep school cornerback Yuri Wright but backed off when offensive tweets he fired off to his 1,600 followers made national headlines. The tweets referred crudely to women and were racially charged.
The tweets turned off recruiters and got the teen booted from his private school.
Backup Buckeyes' quarterback Cardale Jones sent this missive to his followers, enraging fans throughout Ohio and reinforcing the stereotypical jock image held by many: "Why should we have to go to class if we came here to play FOOTBALL, we ain't come to play SCHOOL classes are POINTLESS."
In an instant, the tweet turned Jones into an exemplar of what's wrong with college athletics.
"They're just pulling the veil off their lives and letting the whole world see: this is who you are," Gordon said of such incidents.
Twitter, in sum, can be a dangerous tool. It can instantly cut down a student athlete's nascent career if used poorly, but used correctly it can mold their burgeoning brand.
"You're dealing with 17-, 18-, 19-year-old kids," says Gordon. "Everybody wants to see inside their life —fans and opposing fans. As a student athlete, they have the power to break news and influence people."
Earlier this year Hoke said he will not ban his players from Twitter and other social media. Doing so, he said, doesn't engender responsibility.
Instead, he emphasized the role of education.
"There's a maturity that goes along with it," he said. "You've got kids ... growing up who aren't getting coached on the use of Twitter. We try to educate our guys all the time."
Added Ablauf:
"We teach them about the value of a brand; of their brand, their team brand and their athletic department brand," he said. "We tell them (not to) put anything on social media that you wouldn't want your family reading on the front page of a newspaper."
Documents
Read the current agreement: University of Michigan social media agreement for athletes.pdf
Read the guidelines: University of Michigan social media guidelines for athletes.pdf
Kellie Woodhouse covers higher education for AnnArbor.com. Reach her at kelliewoodhouse@annarbor.com or 734-623-4602 and follow her on twitter.