Posted on
Fri, Nov 27, 2009 : 6 a.m.
Gov. Jennifer Granholm: Without big change, massive higher education cuts on horizon
By Juliana Keeping
At a student rally meant to build momentum for the recently slashed Michigan Promise scholarship program, Gov. Jennifer Granholm touched on a less-discussed issue - the state's decades-long divestment in higher education.
Years ago, the state gave a bigger slice of funding to its public universities. Today, Michigan ranks near the bottom of all states in terms of how much it offers up to those schools, Granholm said. She linked the decline to the state's once-robust, but now dwindling, manufacturing tax base.
Consider:
• In 1960 at the University of Michigan, the state appropriation made up 77 percent of the general fund budget, which pays for teaching and academic programming.

• Today, it comprises 22 percent of that budget, according to the U-M Office of Budget and Planning.

• Tuition weight has flip-flopped accordingly. Tuition made up only 21 percent of the general fund budget in 1960.

• Now, students are footing more of the bill, paying 65 percent of the general fund budget.
Granholm said without a massive tax re-structuring, things will only get worse. But she offered up few details.
"Long term, the way we have funded higher education and K-12 is based on an antiquated tax structure," she said. "The tax structure we have is based upon a 20th century economy and not a 21st century economy.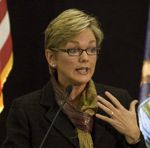 Tom Perkins | For AnnArbor.com
"I'm asking the Legislature to come back to Lansing and work with me on a grand bargain that would restructure taxes in a way that allows us to invest in the priorities of education, both K-12 and higher education," she said.
Stimulus dollars will be going away next year, which doesn't bode well for schools' 2011 fiscal year.
"If we allow that cliff to occur, we will see massive cuts to higher education and K-12," she said. "It just cannot continue to happen that way if we want a growing economy."
University leaders say less money from the state leads to tuition hikes. At Eastern Michigan University, President Susan Martin kept the tuition hike the lowest of the state's 15 public universities by looking for savings elsewhere, she said. 
For instance, by paying for natural gas a year in advance, EMU saved $1 million. But fiscal year 2011 isn't so far away, and she says the school is "very concerned."
"The governor mentioned states that have a higher number of college graduates are doing much better," Martin said. "We need to restore funds to all of our education programs - K-12, community college and higher education - because higher education is a great asset of the state."
So, what's a state to do? Who should foot the bill for higher education? Tell us what you think in the comments section below.