Posted on
Mon, Nov 23, 2009 : 12:22 p.m.
Gov. Jennifer Granholm: Freeze on tax credit considered to save Promise scholarships
By Juliana Keeping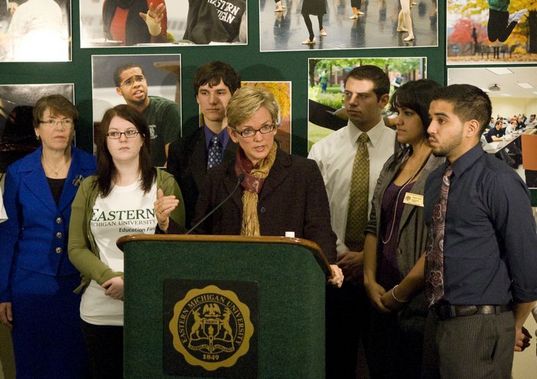 Tom Perkins | For AnnArbor.com
A freeze on an income tax credit that helps struggling families is being considered to save the merit-based Michigan Promise scholarship program.
Gov. Jennifer Granholm offered up the solution at a press conference today following a rally with students at Eastern Michigan University to drum up support for restoring the popular scholarship program.
The Michigan Promise program had provided up to $4,000 to in-state students in merit-based aid before it was cut out of the state budget Oct. 30 to save $140 million.
To save it, the state may freeze the Michigan Earned Income Tax Credit, a refundable federal tax credit available since 2008 that "helps working people achieve economic stability and security," according to the Michigan.gov Web site.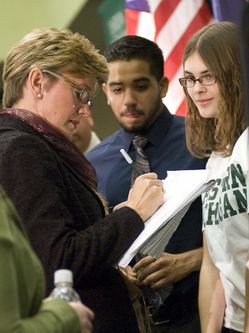 Tom Perkins | For AnnArbor.com
"That's a freeze on a scheduled tax cut, not an increase," she said.
At the rally, Granholm told an audience of about 140 from EMU, the University of Michigan and Washtenaw Community College that the extra tuition help will boost college access. She said the resulting graduates will help remake the state's economy, which is reeling from the loss of auto industry jobs.
She told students to make their voices heard.
"It's not too late to save the Michigan Promise, and I'm really here to ask for your help," Granholm said. "This promise should be kept, but we can't do it alone."
The stop was part of a tour of state colleges Granholm began last week to drum up support for the scholarship program.
Terry Stanton, spokesman for the Michigan Department of Treasury, said the credit was first available for returns filed in 2009. People who were eligible recieved a straight 10 percent refund based on income claimed on their federal tax return.
For the 2008 tax year, 706,600 returns claimed $144.6 million in Michigan EITC.
The Michigan EITC was scheduled to go to 20 percent for 2009 returns; Granholm is proposing keeping it at 10 percent or 12.5 percent, which would save between $125 million and $166.5 million.
Student leaders who addressed the audience before Granholm's speech encouraged their peers to vote and contact state senators. The Senate cut the program out of the higher education budget bill Granholm signed.
Four out of five students who spoke about the personal impact of the loss of the Promise Scholarship were low-income students paying their way through school. But only 300 of 2,400 EMU students who were due to receive Promise cash before the program was cut qualify for the federal, need-based Pell Grant, officials said.
Granholm also addressed "brain drain," the habit of Michigan college students to leave the state after graduating from college. She said progress is being made toward developing new sectors - like film, tourism, homeland security and alternative energy - to retain more college graduates.
Juliana Keeping covers higher education for AnnArbor.com. Reach her at julianakeeping@annarbor.com or 734-623-2528. Follow Juliana Keeping on Twitter